We may be lucky that there are so many party venues options available in KL, but what it really means is that choosing one can be a bit overwhelming and even more like a big business: cake to fancy, entertainment louder, And the venue is ever more colourfully decorated. And it is good news for parents that we covered it. Now it is easy to pull together a breaking party to impress the children too. Of course, if you want to leave it to the professionals (less cleaning after all), check out our list of the best children's party places in KL.
1. Marina Putrajaya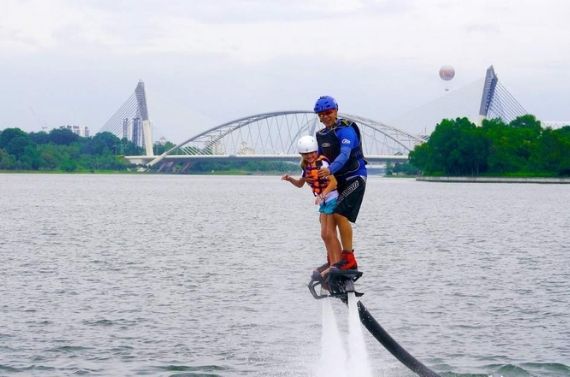 If you are looking for an outdoor place where children can have some fun in the water, Marina Putrajaya has a lake, where you can organize a terrific party, which teenagers will also enjoy. All you have to do is book the time of the boat and decide if they want to ride on ski skis, wakeboards, noise boards (ideal for younger people) or rubber inflatables. Parents have the option to bring their own food, orders can be organized from the wakeboard centre or restaurant located above the pizza delivery. Water and soft drinks are available for sale. There is the added attraction of a small, man-made sand beach within walking distance, which children will love to play.
Address: 1, Jalan P5/5, Presint 5, 62200 Putrajaya, Wilayah Persekutuan Putrajaya, Malaysia
Contacts: +60 3-8881 0648
2. SuperPark Malaysia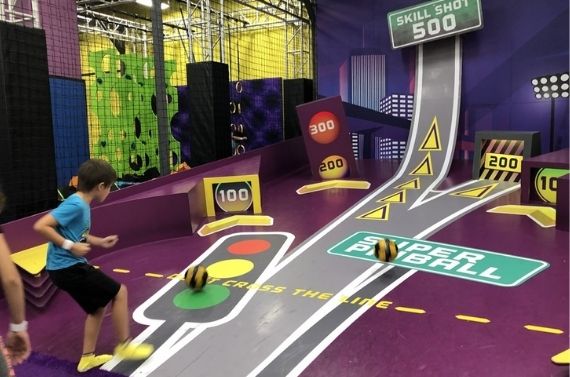 Opened in December 2018, the Finnish Superpark is an indoor activity park, with 25 different activities under one roof. Older kids can enjoy the challenges at a game arena such as basketball or baseball, or they can go to the freestyle hall for some fun on the trampoline and climbing walls. Young children can zip-line to the flying fox or drive the car on a pedal car track in the adventure area. A small party room accommodates 15 guests, or if you are going big, you can rent all six rooms for 90 people. There are three different packages to choose from: Adventure, Freestyle and Super, with prices ranging from RM80 to RM 119 per person. Each package includes admission fees, food, catch socks and a two-hour session in the party room and around the park. Rooms are available for two hours, but your party can enjoy the park the rest of the day. If you are feeling competitive, try entering SuperRace. Defeat your team top score and win some great prizes.
Address: Unit 4-1, Level 4, Avenue K Shopping Mall, 156, Jalan Ampang, 50450 Kuala Lumpur.
Contact: 03-27891408
3. Breakout & Hauntu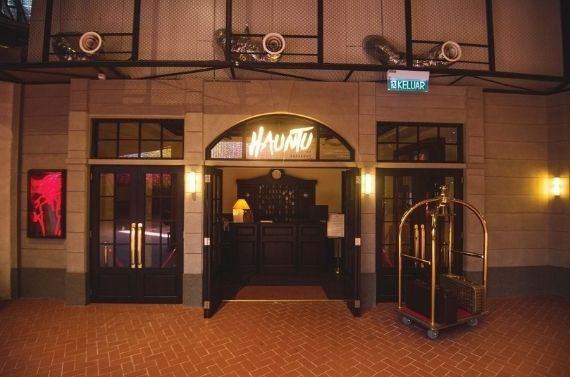 Breakout and Hauntu provide fun, interactive spaces that combine storytelling, role play and problem-solving skills. With five rooms in Avenue Cay, seven in Nu Sentral and three haunted episodes at the Haunted Colle Eastern Hotel in Hauntu, you'll be spoiled to decide which rooms and puzzles to choose from, you'll want to solve the breakout can have a maximum of eight players in each room. Packages range from RM45 to RM80 per person, depending on the number of sessions, and include light refreshments, balloons and a group photo. Each story must be completed within 45 minutes. A special award winner awaits the team. With Hauntu, you will be immersed in a haunted house experience, enjoying a live theatre experience for your guests with real actors. The fest package requires a minimum of 20 players, but only 10 players can play at a time. Players must pass through the rooms, where each session will last for 45 minutes.
Address:
1) Breakout Nu Sentral- L4- 09A, Level 4, Nu Sentral, 201, Jalan Tun Sambathan, 50470 Kuala Lumpur.
2) Breakout Avenue K- L2.16, Level 2, Avenue K, 156, Jalan Ampang, 50450 Kuala Lumpur.
3) Hauntu- 2-9, Level 2, The LINC KL, 360, Jalan Tun Razak, 50450 Kuala Lumpur.
Contact: 03- 22763705 (Nu Sentral)/ 03- 21811835 (Avenue K)/ 011-16869199 (Hauntu)
4. FlowRider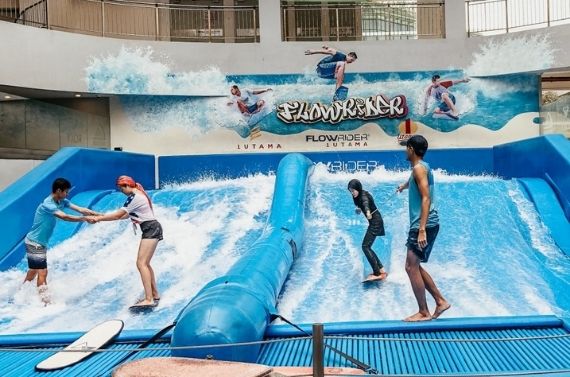 FlowRider at 1 Utama is the first indoor flow boarding and surfing simulator in Malaysia, perfect for children wanting to learn new tricks in the water. Enjoy a private session from RM450 to 12 guests an hour. Alternatively, you can book two lanes for 24 guests for one hour from RM900. To enjoy complimentary balloon decorations, birthday banners, signage and e-invites, you will need to book at least four hours on a single lane or two hours on a double lane. Refreshments can be arranged for at least 30 guests. Please note that if you wish to bring your own refreshment, an additional RM150 will be charged.
Address: LG601, Lower Ground Floor, 1 Utama E, 1 Utama Shopping Centre, No.1, Lebuh Bandar Utama, Bandar Utama City Centre, Bandar Utama, 47800 Petaling Jaya.
Contact: 03- 77100833
5. District 21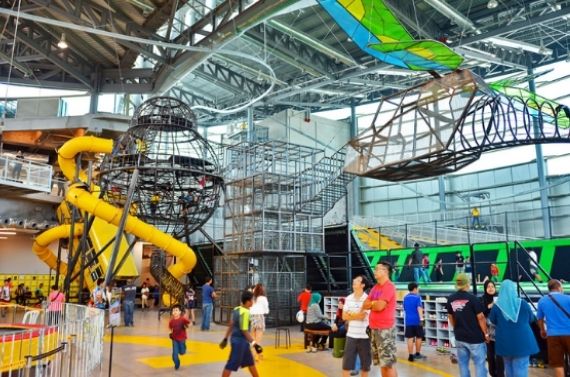 District 21 at the IOI City Mall is an apocalyptic-themed indoor park with lots of fun attractions, such as the maze and obstacle course named Ninja Warrior Course. Height and weight restrictions apply for some attractions. A minimum of 15 guests are required to enjoy the party package. This will include multiple-entry active passes for all guests for the day, a supplemental active pass for the birthday child, two non-active passes for parents, and party room access for one hour. Packages range from RM74 to RM95 per person depending on the number of guests and if the party takes place on weekdays, or on weekends and holidays. There are a lot of good options within the park if you want to provide refreshments for your guests. It is advisable to strictly prohibit outside food.
Address: AT6, Level 1, IOI City Mall, Lebuh IRC, IOI Resort City, 62502 Putrajaya.
Contact: 03- 83288888
6. Kids nation – Mont Kiara
Kids Nation is located at 163 Retail Park, Mont Kiara and has one of the largest soft play in the Klang Valley. Their aviation-themed playland aims to enhance the child's experience through their unique features such as donuts and spiral slides, trampolines, webbing bridges, crawling tunnels, magic mirrors, ball pools and more! Their interactive playlands are designed for maximum fun and safety! There will also be a library where children can learn by having fun because here at Kids Nation, they believe that the child's cognitive development is important while they are having fun!
Address: 3F-06,07 & 08, 8, Jalan Kiara, Mont Kiara, 50480 Kuala Lumpur, Federal Territory of Kuala Lumpur, Malaysia
Contact: +60 3-6419 4976
7. J kids – various locations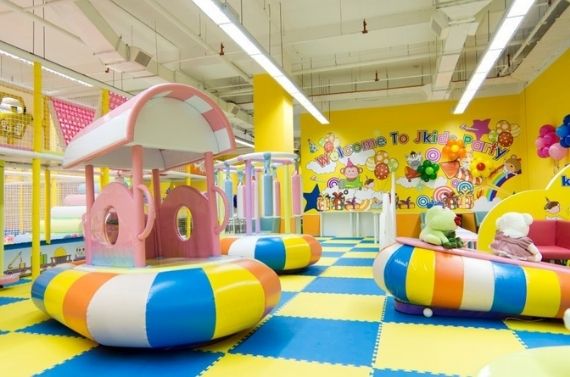 JKids is a colourful and vibrant indoor playground for children. It is unique due to the presence of movable rides that provide hours of fun to younger people. With its cheerful decoration, the place is equipped with many amazing rides like Spinning Palm Tree, Dancing Balloon, Sky Rider and Airball Pool. The floor piano for kids is great and fun for parents just to watch them play happily with their feet. what's more! You can also organize a birthday party here with lots of turnkey add-ons.
Address: Publika Shopping Gallery, No. G3-50, Jalan Dutamas 1, Soalaris Dutamas, Wilayah Persekutuan, 50480 Kuala Lumpur, Malaysia
Contact: +60 3-6206 3336
8. Kidzania – Damansara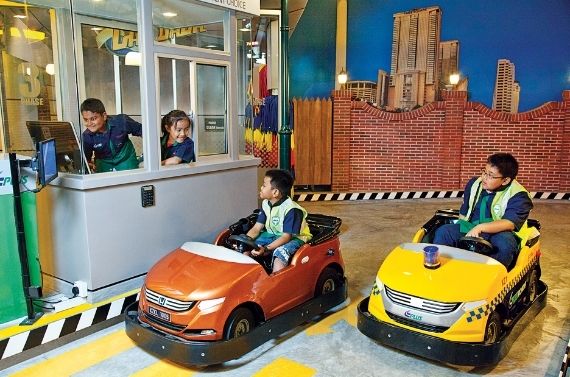 If you have children who are curious about a firefighter, pilot, or even a doctor. Kidzania Kuala Lumpur is where they can learn more! Here in our 80,000-square-foot child-sized city, in more than 60 establishments, children between the ages of 4-14 will find a fun yet engaging environment to experience these real-life businesses. What's more, they will learn to be independent, learn the value of teamwork, develop skills and financial literacy too!
Address: Curve Nx, 18, Jalan PJU 7/5, Mutiara Damansara, 47810 Petaling Jaya, Selangor, Malaysia
Contact: + 603-7839 9699