We are well aware that planning a romantic date can be quite stressful and thus, are here to ease (a bit of) your burden when it comes down to picking a romantic restaurant for whatever reason it may be. Here is the breakdown of the most romantic ones in the heart of our country.
1. Bijan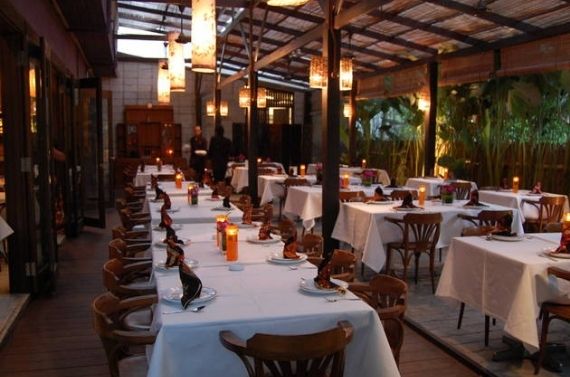 Bijan opened its doors in September 2003 to offer a unique dining experience to discerning palates. The Bijan experience is modern in presentation yet wholesome in flavour. Traditional Malay cuisine is taken out of hawker stalls and buffet lines, and served against a lush backdrop. Modern in its surroundings with distinctive Asian accents, Bijan is warm, yet chic; intimate yet spacious. They are having innovative ways of enjoying Malay food, introducing accompanying wine to enhance flavours and ways of preparing local delicacies in a fine balance of old and new. Their dishes are a mix of recipes handed down over the generations and innovations of the real thing, to produce forgotten favourites and delicious new flavours and textures. Located a mere stone throw's away from KLCC and Bukit Bintang, Bijan is the ultimate destination for fine Malay cuisine. It is an oasis where you can unwind with a cool glass of wine while the food remains deliciously and unmistakably Malay.
Address: No 3, Jalan Ceylon, Bukit Ceylon, 50200 Kuala Lumpur, Wilayah Persekutuan Kuala Lumpur, Malaysia
Timings: 12–11pm (daily)
2. Mandarin Grill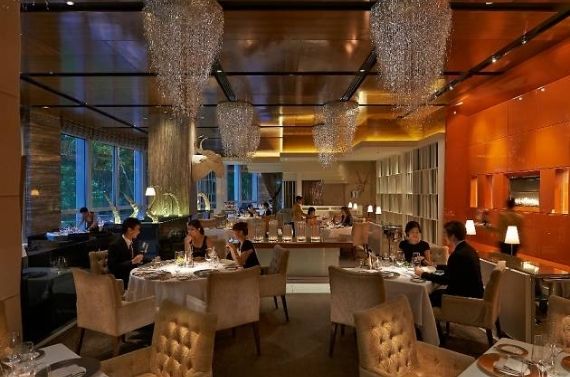 If you've got the budget, you've got to head to Mandarin Grill in the acclaimed Mandarin Oriental. The setting of the restaurant is beautiful and more importantly, romantic at every sight. Dark tones and warm hues, the space is tenderly lit with phenomenal chandeliers and sculptures. All we can say is that we hope your date is worth it!
Address: Mandarin Grill and MO Bar, Mandarin Oriental, 50088, Kuala Lumpur City Centre, Wilayah Persekutuan Kuala Lumpur
Working hours:
Every day: 12:00PM—02:30PM
Every day: 06:30PM—10:30PM
3. Tamarind Springs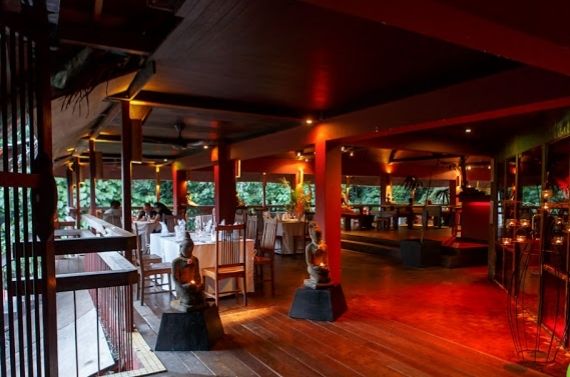 If spicy and savoury is more you and your partner, then Rama V Fine Thai Cuisine is the place to be. You can certainly feel the love in the air, aroma of assorted Thai goodness fills up your nostrils and the pool of lotus blossoms with artistic sculptures and wood-themed alfresco hints at romance. Dine on fine authentic Thai delicacies that hold nothing back to wow your taste buds and presentations that are full of colours and creativity. Delve down dishes like Steamed White Snapper Fish in Lime Juice & Chilli Sauce, Thai-styled Chicken Satay, Thai-styled Grilled Australian Tenderloin Steak with Tamarind Sauce and mouth-watering desserts while feeling unravelled from the hubbub of the city. On a side note, the main appeal for a romantic meal is once the sun sets over the city as the delicately-lid space pushes intimacy a degree higher.
Address: Jalan 1, Taman Tun Abdul Razak, Ampang, 68000, Kuala Lumpur, Kuala
Timings:
Every day: 12:00PM—03:00PM
Every day: 06:00PM—10:00PM
4. Nobu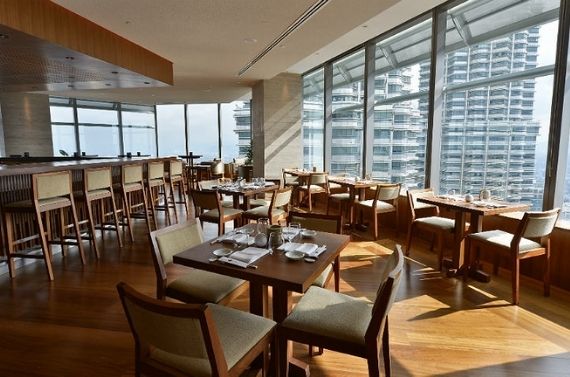 Located a level below Marini's on 57, Nobu is a Michelin-starred restaurant dishing out Japanese cuisine infused with South American flavours. Yes, you got that right. What reels you in at once is the appealing interior that has wood written all over and warm lightings that ooze intimacy. The mainstays on the menu are taco shells with sashimi, meaty rock shrimp tempura served with spicy sauce, velvety toro tartar and Chilean sea bass marinated with red jalapeno miso; we are only talking about a slice of their lip-smacking menu. Boasting as a vantage point, toss a few glasses of bubblies and adorn the photo-worthy views and return home filled with romantic vibes.
Address: Level 56, Menara 3 Petronas, Persiaran KLCC, 50088, City Centre, Kuala Lumpur
Working Hours:
Working days: 12:00PM—02:00PM
Weekends: 01: 00PM—04:00PM
Every day: 06: 00PM—10:30PM
5. Cantaloupe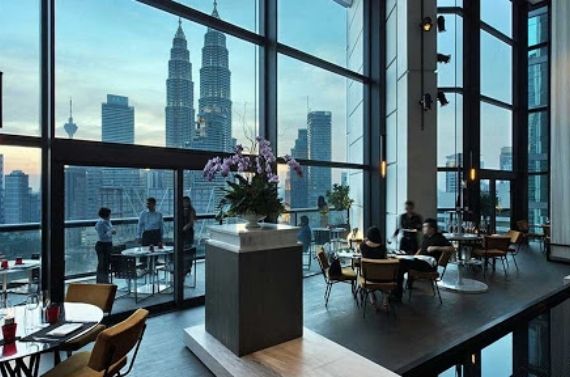 Kuala Lumpur's latest dining destination has opened at the iconic Norman Foster building, The Troika.Overlooking the KLCC park and the Twin Towers, Cantaloupe's stunning dining room by Melbourne interior designers Hecker Guthrie offers panoramic views of the city's skyline. Chef Christian Bauer presents a menu of beautiful dishes made with invention and integrity.
Opening Hours
Cantaloupe Bar: 18:00 to 23:00
Dining Room: 18:30 to 22:30 (last orders)
Address: Level 23A, Tower B, The Troika, 19 Persiaran KLCC, 50450 KL
6. Café Café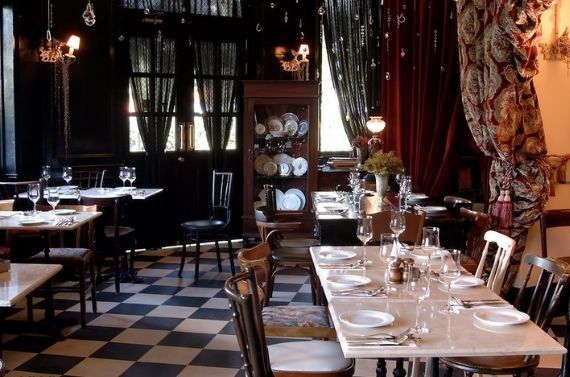 A romantic evening in Café Café will be enhanced with an unforgettable dining experience. Enchant your significant other on any special day with an array of customised menu featuring delightful delicacies that speak of passion and perfection. A romantic evening in Café Café will be enhanced with an unforgettable dining experience. Enchant your significant other on any special day with an array of customised menu featuring delightful delicacies that speak of passion and perfection.
With stylish décor and tender lighting, Café Café has become the perfect place to celebrate love. They host and have witnessed countless anniversary celebrations, engagements and marriage proposals over the years. If you should need a special arrangement in decoration, we are available to assist you. There are 2 basic arrangement. You are required to make payment online in advanced and 2 full days' notice is required for our team to arrange.
A) Fresh flower arrangement RM 200
B) Fresh flower and simple 5 ballons arrangement RM 260.
To know more about travel and food in Kuala Lumpur visit our website https://www.kualalumpurhospitality.com/. We have more information about food to have and place to go either with friend or with family.