For busy city dwellers, Yoga has been considered the cure-all to the stresses for a long time. Images of people bending in ways you never thought possible fill your head, while the promise of inner peace tempts your worn soul. Trust us- we all want it too!
If you seek adventure that is filled with fitness and relaxation, then Kuala Lumpur has both to offer with its multiple yoga studios and academies. Right from traditional yoga practices to modern Power Yoga, the yoga centres and fitness studios in Kuala Lumpur provide mindful fitness. We at Kuala Lumpur bring you the list of yoga centres and fitness studios to drop by perhaps once weekly and rejuvenate your soul (you can thank us later, people!).
So read on-
Mysore Room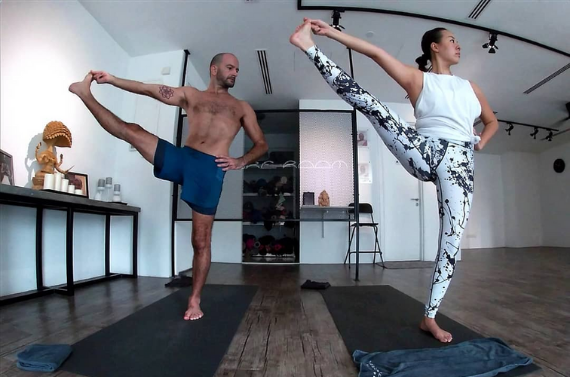 Situated in the heart of Kuala Lumpur in the KL City Centre, the Mysore Room tends to offers a range of yoga classes in Kuala Lumpur that includes Mysore-style and Led-style, starting from beginner level, and going up to yoga asanas for experienced practitioners. Walking in the footsteps of Ashtanga yoga teachings, the place holds open format classes where the teachers, Yan Ong& Manuel Ferreira, will match your pace and allow you to adjust to the practice (a win-win situation for all!).
Address: 2 Lorong Binjai, Binjai 8 Premium Soho Unit #7-6, 50450 Kuala Lumpur, Malaysia
Phone: +60 19-234 6290
Website:http://www.mysoreroom.com/
Hot Yo Studio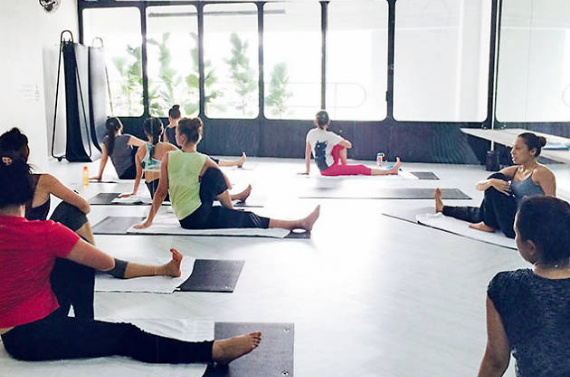 Young, energetic people who are minimalists at heart will love this monochromatic yoga studio. They call themselves "yoga by the millennials for the millennials," so you know to expect a young crowd here (wanna bet?!).
Just as its name suggests, Hot Yo Studio specializes mainly in hot Yoga- the studio is heated up to 36°C, which is hot enough to make you sweat by not too hot that you start feeling faint. The classes are suitable for both beginners and advanced yoga practitioners.
And do you know the best part? Your first class with Hot Yo Studio is absolutely free. So what are you waiting for, folks! Get ready to get that hot bod than you always dreamt of now!
Address: Jalan 24/70a, 26-2 & 28-2, Desa Sri Hartamas, 50480 Wilayah Persekutuan, Wilayah Persekutuan Kuala Lumpur, Malaysia
Phone: +60 3-6211 3263
Website: https://www.hotyostudio.com/
Art Printing Works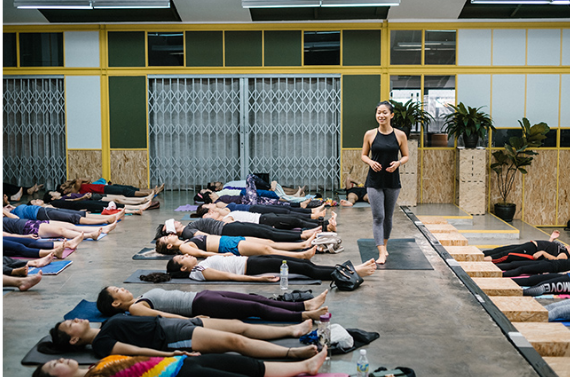 The Upbeat Uppercase of Art Printing Works located in Bangsar, Kuala Lumpur, tends to host yoga classes by well known certified yoga instructor Robyn Lou. He is very active since 2005 and teaches a multilevel and dynamic form of Yoga.
Art Printing Works also tends to organize community yoga classes every Saturday, and that is free of cost. A small tip- Make sure you bring your own yoga mat!
Address: 29, Jalan Riong, Bangsar, 59100 Kuala Lumpur, Wilayah Persekutuan Kuala Lumpur, Malaysia
Phone: +60 3-2282 3233
Website: https://apw.my/#home
Aravind Yoga Studio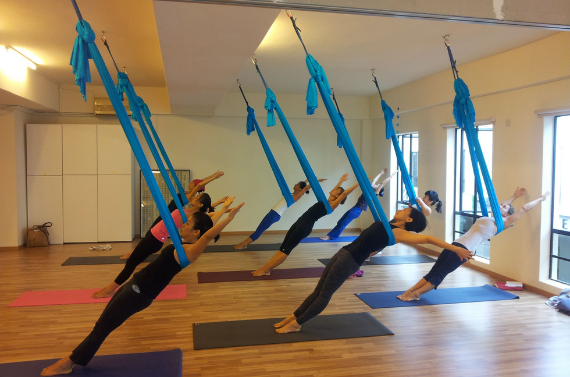 In Yoga, one of the most essential things is to get the basics right. And we at Kuala Lumpur Hospitality suggest that in order to get your basics right, and that includes breathing, alignment, strength, and balance practice, you should definitely join Aravind Yoga. This studio's classes focus on all that, encompassing from Hot Hatha, Hot Basics, Aerial Yoga, to Power Yoga, you name it they have it (you can thank us later people!).
Address: L-2-2, Plaza Damas Phase II, No. 60, Jalan Sri Hartamas 1, 50480 Kuala Lumpur, Federal Territory of Kuala Lumpur, Malaysia
Phone: +60 19-590 0457
Website:https://www.aravindyoga.com/
Omsphere Yoga
The majority of people tend to go for Yoga to get a sense of zen, but if you are looking to heal a specific part of your body, then Omsphere Yoga is the studio that should be on your bucket list.
Omsphere Yoga Studio has classes dedicated to certain health benefits, such as detox for blood circulation and a robust cardiovascular system, strength for healthy and flexible bone and muscle joints, or for a healthy digestive system and an overall strong immune system!
Address: A-1-5 Damai Hillpark, Jln Damai Perdana 6/1F, Taman Damai Perdana, Bandar Damai Perdana, 56000 Cheras, Kuala Lumpur
Phone: +6017-9198893
Website: https://omsphereyoga.com/
The Flow Studio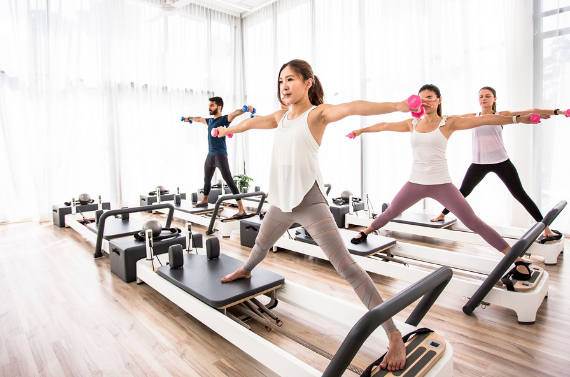 The Flow Studio can be considered as one of the most beautiful yoga studios in town, with its naturally sunlit rooms and airy space(heaven on earth indeed!).
But it is not just a beautiful space. The Flow Studio has been thoughtfully designed to deliver both the practicality and functionality of a workout, merged with a calming environment and beautiful aesthetics. Did you know- If you are not sure of what classes you should take, you can speak to anyone on its team who is more than ready to recommend your classes based on your fitness goals and level of expertise!
Address: 7, Jalan Riong, Bangsar, 59100 Kuala Lumpur, Wilayah Persekutuan Kuala Lumpur, Malaysia
Phone: +60 17-885 0865
Website: https://theflowstudio.co/
Sculpt Club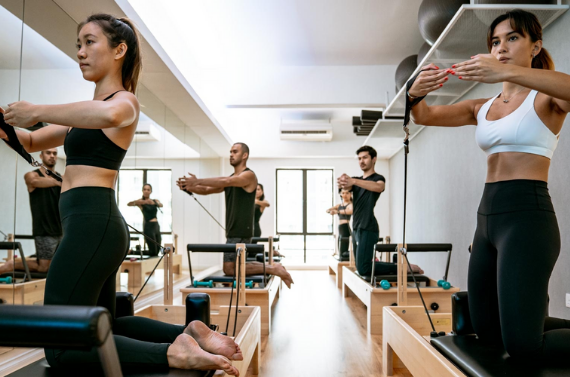 The idea behind Sculpt Club, created by Pilate's instructor Julia van der Drift, was to create a supportive community that felt confident and comfortable with their bodies, regardless of fitness levels.
Besides getting one step closer to your dream body, says Julia, this low-impact workout does greater magic than just promoting weight loss and body toning. Pilates is known to be an effective form of physiotherapy for those suffering from overall physical performance and back-related pain. Poor posture and a lack of muscular support are common causes of prolonged pain on the upper body, and Pilates incorporates core exercises, stretches, and controlled movements to build resilience (a win win situation for all!).
Address: Plaza Damas, Lot N-2-2,Block N, Jalan Sri Hartamas 1, 50480 Kuala Lumpur, Malaysia
Phone: +60 3-6211 1550
Website: https://mysculptclub.com/
Urban Springs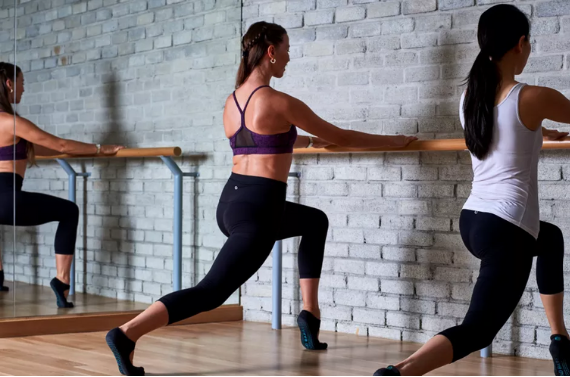 Relax and rejuvenate at Urban Spring, a boutique, lifestyle premise which promises comprehensive offerings for a true wellness experience. Experience various Pilates exercise repertoire designed to combat daily aches and pains leaving you worked out yet refreshed and energized.
Carefully-designed as a sanctuary for city-dwellers, Urban Spring houses a relaxation lounge, fitting room with lockers and shower rooms for men and women that are supplied with fresh clean towels for ultimate comfort and relaxation!
Address: 1, 57, Jalan Bangkung, Taman Bandaraya, 59100 Kuala Lumpur, Federal Territory of Kuala Lumpur, Malaysia
Phone: +60 3-2095 3998
Website: https://www.urban-spring.com/
While we all cannot afford to take time off and check ourselves into wellness many times, the least, we can do to calm the freneticism that the city life tends to make us feel is by checking in to one of the yoga centres' and fitness studios as mentioned above once weekly. So Folks, take out your yoga mat and ready to practice your way into a calmer version of yourself!