Often, we all tend to feel stuck, frustrated, and dissatisfied when it comes to the job or personal life! We at Kuala Lumpur Hospitality suggest that a quick weekend break might be the perfect answer that you might be looking for! Allowing stress to build-up tends to be toxic not only in one's career but also in one's interpersonal relationships. Having a short getaway helps rejuvenate and recharge and re-energize your overall mind, body, and soul.
Thankfully in our Kuala Lumpur, we do not have to travel far just to escape the concrete jungle. Hence we at Kuala Lumpur Hospitality have listed some of the best spots for a quick Nature-friendly getaway that can be reached within less than 2-3 hours from Kuala Lumpur (KL)!
So read on-
Ayer Hitam Forest Reserve- Selangor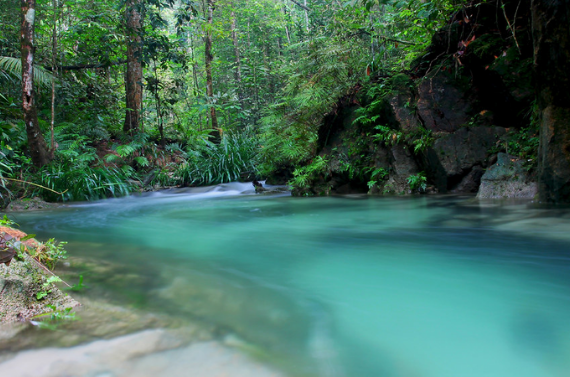 Located in Puchong, lush green Ayer Hitam Forest Reserve can be considered a hidden gem. The Ayer Hitam Forest Reserve, jointly managed by the Forestry Ministry and UPM, offers a quick respite from the city's hustle and bustle. And if you crave an adrenaline rush, the marked trail, about 2.8km long, is an easy hike to the peak (Yipee!).
Address: Ayer Hitam Forest Reserve, 47100 Puchong, Selangor, Malaysia
Kutu Hill - Kuala KubuBharu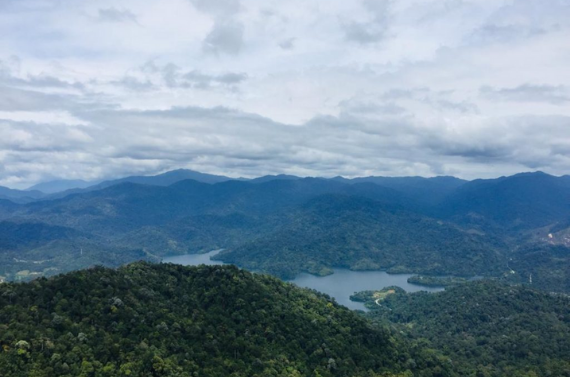 Fun fact- Did you know formerly known as Treacher's Hill, Kutu hill was once a colonial hill station explaining all the ruins that you must have seen near the peak of the hike (exciting isn't it?!). At Kuala Lumpur, we believe that if you are looking for something different, some variety in your getaways, Kutu Hill, should definitely be on your bucket list. River crossings, bamboo forest trails, root climbs, huge boulders, ruins of old structures, ladder climbs, and a breathtaking view to top it all off- Kutu Hill offers everything!
A small tip- Do not be fooled by the word "hill" as Kutu Hill is taller than other mountains in Malaysia. Be ready to spend a good adventurous half a day as you maneuver your way up steep inclines and climbing challenges along the way.
Address: Kutu Hill, Kuala KubuBharu, Selangor, Peninsular Malaysia
Batu Caves- Selangor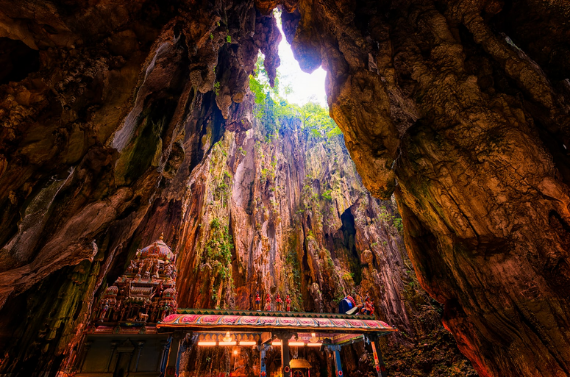 Batu Caves is a limestone hill with a series of caves and cave temples in Gombak, Selangor, Malaysia. Did you know Batu caves takes its name from the Malay word Batu, meaning 'rock' (exciting isn't it?).
These are prominent limestone caves that hold three large and various other small temples in them. Some of these caves date back to over 400 million years and are a sight to behold, and that's exactly why it is among the most visited places of Kuala Lumpur.
People who tend to visit the Batu Caves near Kuala Lumpur are pleasantly welcomed with some pretty amazing Hindu arts Cathedral Cave, Art Gallery Cave, and Museum cave are the three most paramount caves and are home to several Hindu shrines and depictions of Hindu Mythology. These caves are of great importance to the Hindu community in Kuala Lumpur. It lights up towards the end of January during the Hindu festival of Thaipusam, so don't miss out on that if you ever visit Kuala Lumpur during that time!
Address: Gombak, 68100 Batu Caves, Selangor, Malaysia
Forest Research Institute Malaysia (FRIM)- Kepong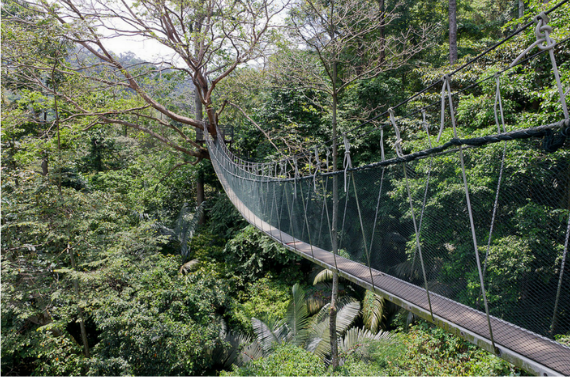 We feel that it is wonderful to absorb nature every once in a while. And what better place to do so than the Forest Research Institute Malaysia. With just a minimum entry fee, you can enjoy various activities like jogging, hiking, cycling, or a leisure stroll through the beautifully landscaped gardens. The best part- there are several trails to choose from if you are an adventurous person – Keruing, Salleh, Engkabang, Sebastian, and Razak (yay!).
Address: Forest Research Institute Malaysia (FRIM), Jalan Frim, InstitutPenyelidikanPerhutanan Malaysia, Selangor, Malaysia
Kanching Falls - Rawang Highway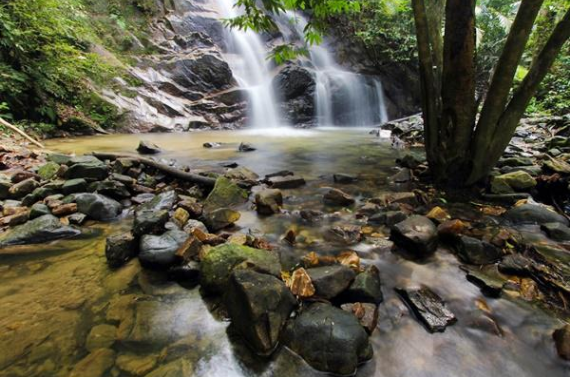 Kanching Falls can be considered as one of the famous local tourist destinations near Kuala Lumpur. As a result, it tends to get overcrowded, especially during the weekends and public holidays for peace and tranquility. Kanching Falls has seven levels that comprise ponds, waterfalls, vertical falls, and the waterfalls and host lands of Kanching Recreational Forest. They exist as an addition to Templer Park, off the Jalan Rawang.
A small tip - Flora and fauna are fascinating to watch, especially in this region. So we at Kuala Lumpur Hospitality suggest that carrying a camera or pair of binoculars is a must, especially for bird watchers (you can thank us later, people!).
Address: Kilometer 17, Jalan, Jalan Rawang, Templer Baiduri, 48000 Rawang, Selangor, Malaysia
(Read: https://www.kualalumpurhospitality.com/blog/beautiful-waterfalls-of-kl-and-nearby )
Pangkor Island Beach- Perak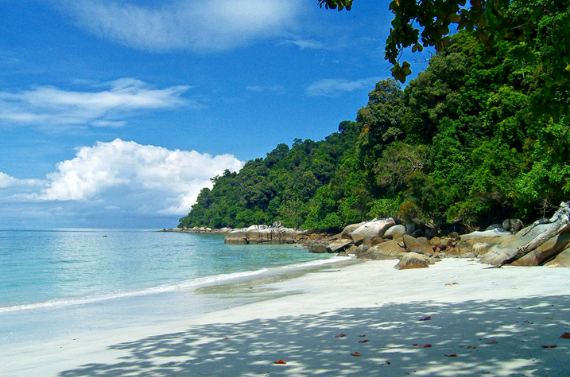 Pangkor Island is a 2-3 hour drive from Kuala Lumpur, making it one of Malaysia's most popular beaches. Among the island's most stunning beaches, the most popular is Pangkor and Teluk Nipah. Island boat and bike trips along the waterways are a popular draw here. Pangkor's west coast is remembered for its beaches, resorts, and luxury hotels. Pasir Bogak, Teluk Nipah, and Coral Beach are amongst the famous beaches there!
Over the crystal, clear waters and beautiful pristine beaches will make your visit, "oh so memorable."
Address: Pangkor Island, Pangkor, Perak, Malaysia
Sungai Pisang Waterfall- Selangor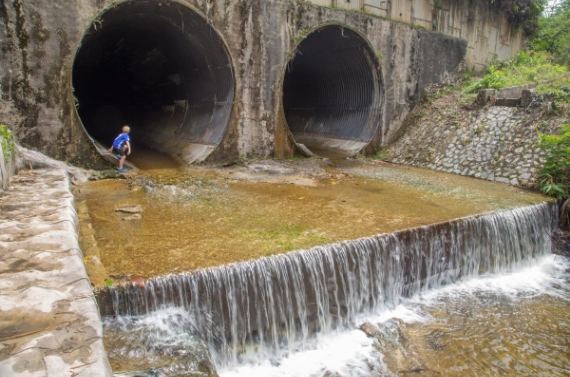 Sungai Pisang Waterfall is a chute waterfall that is situated 30 minutes from the heart of Kuala Lumpur. The majority of this waterfall's excitement is in hiking, and it's best enjoyed when the group is small because it's not a particularly vast area. Slip into sturdy rubber shoes, dry-fit garments, and get ready to soak up as you stroll across a shallow river!
Address: KampungGombak, 48200 Rawang, Selangor, Malaysia