There is no doubt that recycling of waste is a noble deed, which is highly imperative! And the best way to reduce the strain on our landfills is to eliminate waste altogether.
Zero-waste stores tend to offer environmentally sensitive shoppers the option of buying groceries in bulk, sans any sort of packaging, which often has the added advantage of being cheaper and fresher. By now, most of us are familiar with our country's eco-friendly target to reduce the use of single-use plastics and even plastic straws nationwide. It was an important step in the right direction, but you can do more by doing your regular shopping routine at one of these.
We at Kuala Lumpur Hospitality brings you the list of eco-friendly zero-waste stores present in and around Kuala Lumpur that subscribe to the zero-waste lifestyle and how you can start making a change in your homes too (you can thank us later people!).
So read on-
NUDE The Zero Waste Store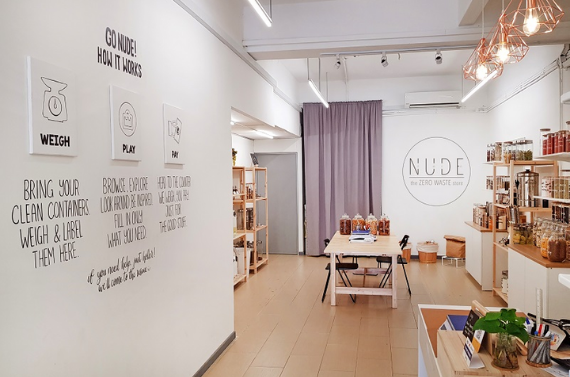 Just like the name of their shop, this minimalist PJ-based NUDE The Zero Waste Store is entirely package-free regardless of their foods and other daily items.
Cheryl Low, a former advertising professional, is an avid diver with love for the environment, which inspired her to establish Nude The Zero Waste Store. Together with partner Wilson Chin, they created a calm, welcoming space for others to shop and learn about the zero-waste lifestyle.
Basic living needs are met with a wide range of products that encompass four evocatively named sections. Goods are for cleaning supplies and insect repellents; Moods cover personal care and beauty products, Foods is for all edible dry produce including herbs, spices, and seasonings. While Pets - a nod to Low's love for her fur babies - includes an impressive list of food and treats for cats and dogs.
Address: 11A, Jalan 19/29, Seksyen 19, 46300 Petaling Jaya, Selangor, Malaysia
Phone: +60 11-3773 9639
Facebook Page: https://www.facebook.com/nudezerowaste/
Seedy Zero Waste Store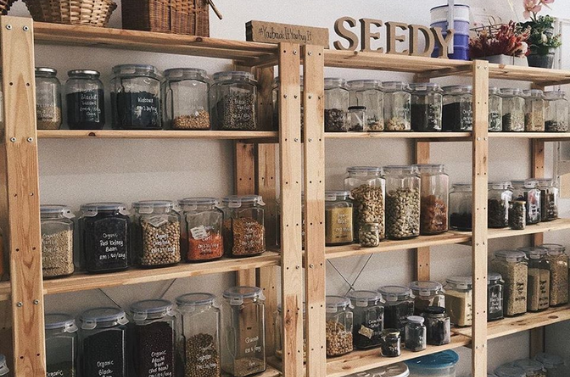 Situated in Kota Kemuning, Selangor, you can find a huge stock and varieties of organic and healthy foods such as beans, grains, unsweetened dried fruits, seeds, and nuts at Seedy Zero Waste Store. In addition to the food items, you can also find everyday household products, namely soap bars, bamboo toothbrushes, and lunch boxes.
Heads up - expect reasonable prices and friendly services, and keep in mind the shop does not provide plastic packaging since they adopt "bring your own container" policy!
Address: 9-1(Ground Floor) Suasana, 2, Jalan Anggerik Vanilla 31/93, Kota Kemuning, 40460 Shah Alam, Selangor, Malaysia
Phone: +60 14-338 3890
Facebook Page: https://www.facebook.com/SeedyZeroWasteStore/
Frangipani Bulk Zero Waste Store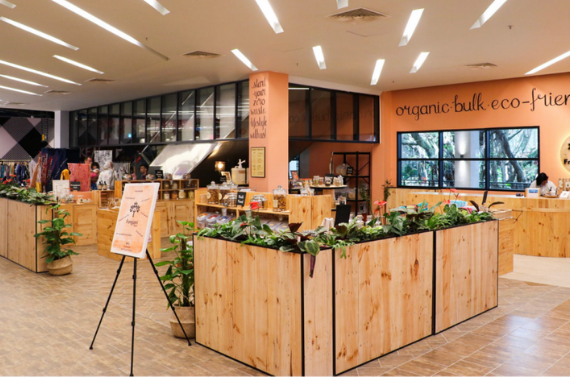 When founder Malika Bouqniss moved to Malaysia, she struggled to find zero-waste products that would suit her lifestyle. Determined to keep her household eco-friendly, she began Frangipani Bulk, focusing initially on bathroom products such as toothpaste and soaps, which was especially tricky to find. Selling her wares online, Bouqniss was thrilled to see that other people were also interested in the prospects of a cleaner, greener lifestyle.
Frangipani Bulk's items are made from sustainable, organic, and biodegradable materials. Some of the things you can find at Frangipani Bulk include zero waste kits (e.g., bamboo/stainless steel straw sets), organic cotton pouches, cotton facial rounds, and organic bees wrap.
Address: 15, The Linc KL - Lot 1, 360, Jalan Tun Razak, 50400 Kuala Lumpur, Malaysia
Website: https://frangipani-shop.com/
A Bit Less Bulk Store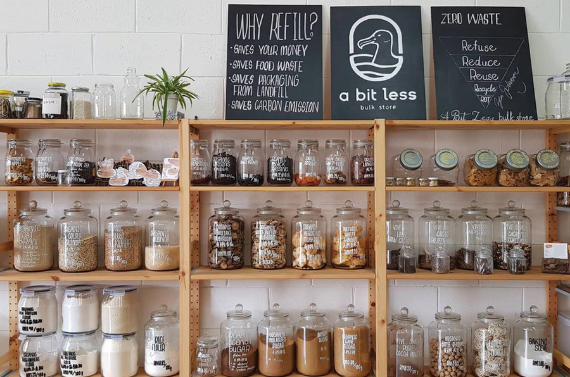 Founded in the year 2018, the main aim of this Kepong Baru-based A Bit Less Bulk Store is to reduce the use of single-use plastics. A small tip- If you plan to shop here, remember to bring your own container or tub to refill organic food products like nuts, grains, snacks, and sauces.
Besides, you can even find everyday household goods like lunchboxes, bamboo straws & toothbrushes, silicone bags, and collapsible silicone bowls. Besides selling eco-friendly and sustainable products, A Bit Less Bulk Store also conducts various workshops such as learning how to weave a simple basket or making your own natural herbal soap (exciting, isn't it?!).
Address: 20, Jalan Ambong 4, Kepong Baru, 52100 Kuala Lumpur, Wilayah Persekutuan Kuala Lumpur, Malaysia
Facebook page: https://www.facebook.com/abitlessbulkstore/
Zero Waste Earth Store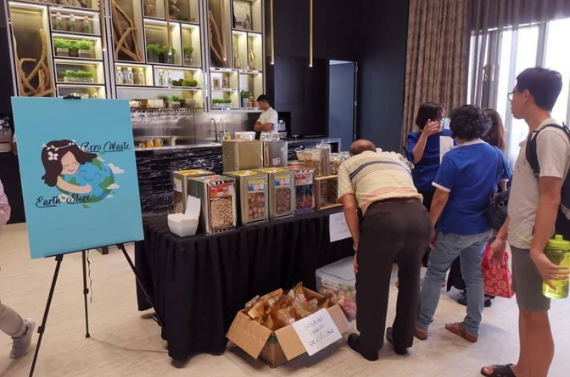 Zero Waste Earth Store can be considered the brainchild of Dr. Janira Kumari and Jaclynnd Wong, offering all kinds of daily grocery items at affordable prices. This includes the likes of biscuits, spices, beauty & personal care products, household liquids, reusable containers, and healthy snacks.
Address: No.15-GF, Jalan Setia Perdana BA, Seksyen U13/BA, Seria 88, Setia Alam, 40170 Shah Alam, Selangor, Malaysia
Phone: +60 11-1061 3629
Facebook Page: https://www.facebook.com/zerowasteearthstore/
The Mineraw Zero Waste Store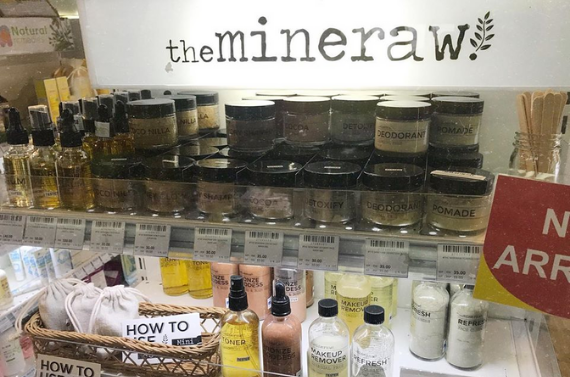 The Mineraw Zero Waste Store is well known for its natural skincare and beauty products - all of which are made using vegan- and vegetarian-friendly raw ingredients and packaged in reusable containers (girls are you listening?!).
They are also handcrafted in small batches and have no harmful chemicals such as parabens, fragrances, and sulfates whatsoever. The best part- their products are not animal-tested and safe to use for all types of skins. Some of their bestselling items include the multi-purpose Honey Glow scrub and the dry powder-based Refresh facial cleanser!
Address: LG 11A, Bangsar Village Shopping Centre, 1, Jalan Telawi 1, Bangsar, 59100 Kuala Lumpur, Wilayah Persekutuan Kuala Lumpur
Phone: +603 2202 0108
Website: https://themineraw.com/
BYOB Green Concepts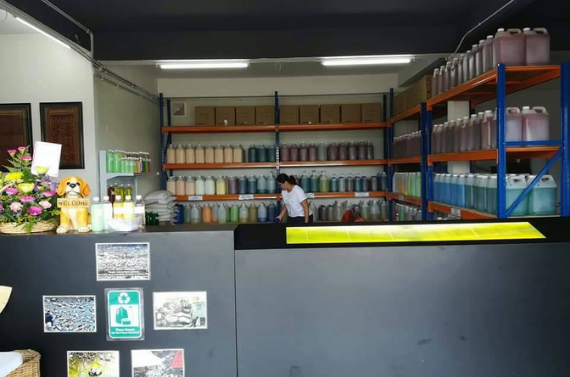 BYOB, which is short for "bring your own bottle," focuses on promoting the 3R concepts including Reuse, Recycle and Reduce.
We should keep in mind that it is not just plastic bottles that harm by choking our landfills; The kind of detergent we use can also have a negative effect on our ecosystem.
So if you are looking to shop here, simply bring your own (hence the objective of their shop's name) to refill daily household items such as laundry detergent, softener, floor cleaner, and dishwashing liquid. You can also find various car care products, namely wax polish, concentrated tire shine, and wash and wax car shampoo!
Address: 20, Jalan Dr. Wong Soon Kai, Pekan Sibu, 96000 Sibu, Sarawak, Malaysia
Phone: +60 16-878 1090
Facebook Page: https://www.facebook.com/BYOB.Malaysia