You won't find much in the way of attractions such as museums or galleries on the Perhentian Islands. However, the whole point of arriving here is to relax and unwind. It is also the best choice for anyone who loves underwater activities because diving and snorkeling are some of the best in these areas. For over 30 years, visitors have come to the Perhentian Islands for a glimpse of its paradise. Like Langkawi, Penang and other west coast islands in Malaysia, it has resisted the construction of flash hotels and maintained its regional feel. Here, we're going to help you to decide where to stay in the Perhentian Islands. At the end of this article, you will find the best places to stay in the Perhentian Islands! Read on_
Top 8 best places to stay in Perhentian Island
1. Bubu Resort Perhentian Island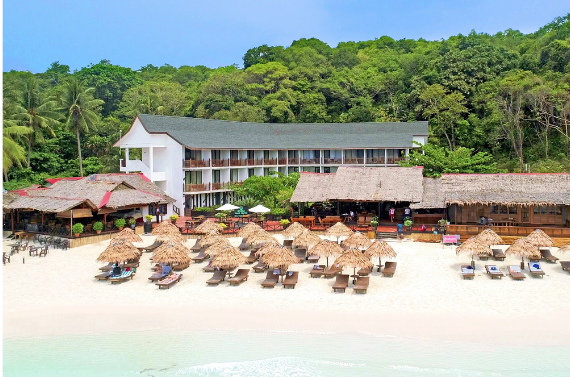 If you're traveling with your friend/partner and want a suitable spot to stay, this place is exactly where you'd like to visit! This place provides one of the best offers on the island, it has an unbeatable spot, and you will be assured a luxury experience as this is a 4-star hotel. Simply designed, the rooms are air-conditioned and often cooled by a fan. Drinking water is offered for your convenience. The en-suite bathroom includes a shower. Some units have a garden view or a private balcony. It's a beautiful tiny resort in paradise, and it'll undoubtedly provide you a pleasant stay at a reasonable price!
Location: Long Beach, Perhentian island, 22300 Perhentian Island, Malaysia
Website: https://www.buburesort.com/
2. Perhentian Island Resort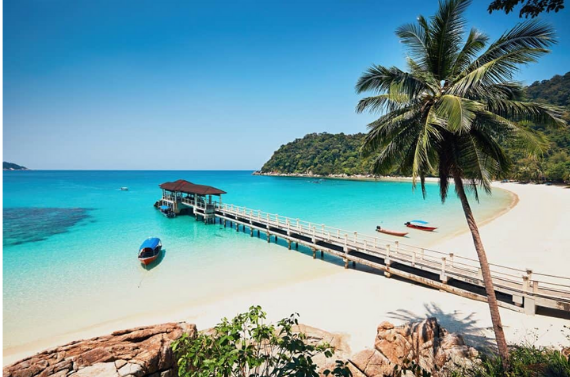 Perhentian Island Resort is the perfect beach resort for a luxurious family holiday in Malaysia. Surrounded by lush greenery, white sandy beaches, and a bright blue sea, Perhentian Island is a vacation paradise not to be missed. Perhentian Island, or Pulau Perhentian, as locals call it, is well recognized as a coastal paradise and forms part of Malaysia's National Marine Park. You'll consider a variety of stuff to see and do in the nearby Perhentian Island Resort. Enjoy a jungle walk up the hills under a canopy of large trees, and maybe you'll see wild magpies, giant fruit bats, or a Nicobar pigeon. Perhentian Island is located along this migratory bird's flight route. If you're coming between June and September, you may be fortunate to see giant green turtles laying eggs all along the beach. Enjoy your next family vacation at this paradise beach resort, where reality is just like a dream.
Location: Pulau Perhentian Besar, Terengganu – Malaysia 22300
Website: http://www.perhentianislandresort.net/
3. Beach Box Perhentian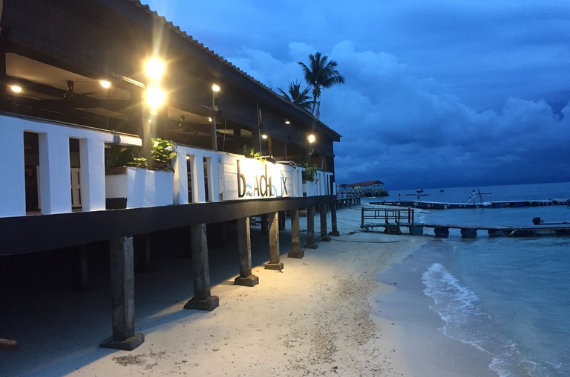 This comfortable 9-room luxury hotel situated on Pulau Perhentian Besar. It faces the turquoise blue sea with a sight of the local village on the surrounding island and the lush forest on the back. The owner, personally designed and constructed, gives the hotel a unique atmosphere with the elements of the ocean. It is equipped with facilities for a pleasant stay. Enjoy your foods at the 3 Fish Restaurant. Go and enjoy the sun, the sea, and the sand on the stunning island of Perhentian Besar, Trenggan.
Location: 141 Jalan Besar, 22300 Malaysia
Website: https://www.beachboxperhentian.com/
4. Big Island Teluk Dalam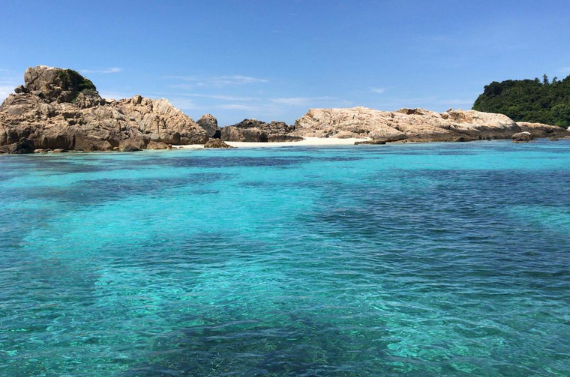 Situated in Kuala Besut, this place provides beachfront accommodation 700 meters from Tuna Bay and offers a range of amenities, including a bar, a garden, and a private beach area. The 1-star accommodation has air-conditioned rooms with private bathrooms and free WiFi. The accommodation includes room service, a tour desk, and a currency exchange facility for visitors. A complimentary or buffet breakfast is served at the hotel. Visitors at Big Island Teluk Dalam can enjoy activities in and around Kuala Besut, such as fishing.
Location: LOT 170 PULAU PERHENTIAN BESAR, 22300 Kuala Besut, Malaysia
Website: https://www.vacationhome.rent/property/big-island-teluk-dalam/BC-4628053?ref=search
5. Eco Marine Perhentian Island Resort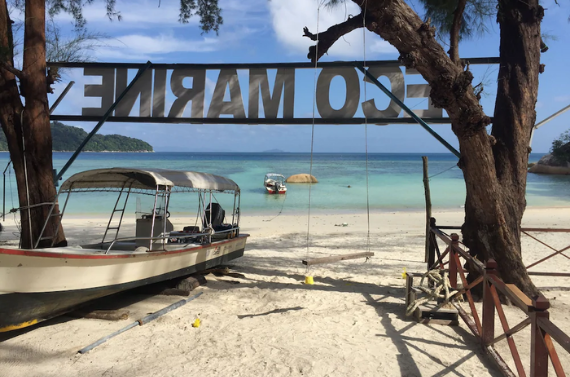 This place has 7 Superior Garden Views, and 2 Deluxe Sea View Rooms, 4 Superior Rooms, 2 Sea View Wooden Chalets, 3 Sea View Green Reflective Mirror Rooms, 6 Bedrooms, and Camping. The rooms and chalets are equipped with hot water shower and air conditioning. This resort is operating by private individuals and not by a private company. It is one of the resorts on Perhentian Island, which runs during the off-season ( November to March of the following year) with 12 hours of electricity and 24 hours of power throughout the full season ( April to October of the same year). Visit this spot, and enjoy the ocean's beauty. To book in advance for additional events, go to the website as given.
Location: Lot 174 Teluk Dalam, 22200 Malaysia
Website:https://in.hotels.com/ho637406336/eco-marine-perhentian-island-resort-hostel-pulau-perhentian-besar-malaysia/
6. Cozy Resort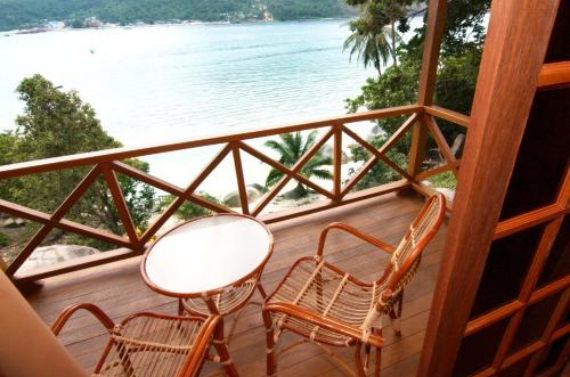 Cozy Resort is in Pulau in the Perhentian Besar region. The in-house restaurant prepares meals for guests. Restaurant sections offer free WiFi. Elegant wooden interiors and pleasant lighting are provided for the air-conditioned units. The seating room features a TV. The bathroom is en suite and features a tub.
Water sports activities such as snorkeling are available at a service fee. Tea/coffee can be served with an electric kettle. The restaurant is near the beach and great for having breakfast and dinner. The peak season will just start after the rains. You can quickly walk along the beach to the tip of the island, but you need to get a water taxi to cross over to the smaller island.
Location: No 102 - 103, Jalan Besar, Pulau Perhentian Besar, 22300, Terengganu, Malaysia
Website: https://www.booking.com/hotel/my/cosy-resort.en-gb.html?aid=356980;label=gog235jc-1DCAsooQFCC2Nvc3ktcmVzb3J0SDNYA2hsiAEBmAEJuAEXyAEM2AED6AEBiAIBqAIDuALukpL5BcACAdICJDQ2ODk1YWQyLTIyMTAtNGYxYi05NTI0LTA2MGRjOWNmZmNmZNgCBOACAQ;dist=0&keep_landing=1&sb_price_type=total&type=total&
7. Bayu Dive Lodge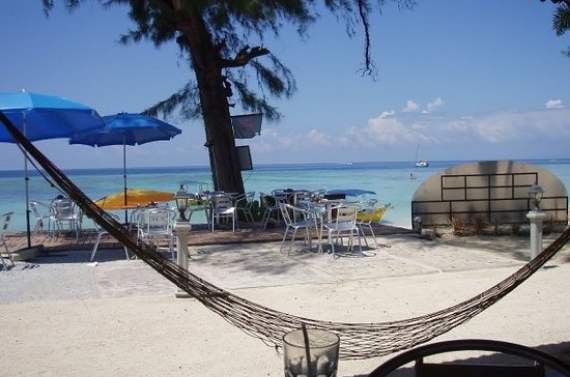 Unspoiled diving. The unspoiled landscape. Warm tropical waters. It's a conservation focus. And there are no crowds. All the reasons why those who discovered diving on Perhentian Island are coming back again and again. They aspire to give you the best possible experience every time. Their professional, multilingual staff and dive crew are ready to assist you and respond to all your queries. Always welcoming visitors with a warm, friendly smile, qualified staff are also trained to ensure that your journey is safe and enjoyable. Local dive sites are ideal for all types of experience, from beginners to experienced divers: experience crystal clear blue water, vibrant marine life, and beautiful reefs of coral. The wide range is the keyword on the beaches around Perhentian: soft and hard corals, sponges, and anemones abound, and you'll be amazed by the number of fish species in these waters.
Location: Teluk Dalam, 22300 Malaysia
Website: http://www.bayudivelodge.com/
8. The Barat Perhentian Beach Resort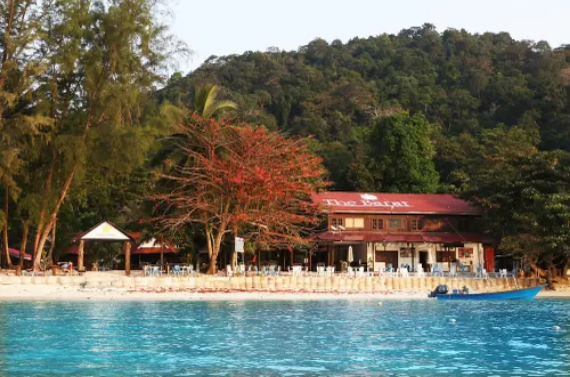 The Barat Perhentian Resort is a recently refurbished beachfront resort of 71 rooms with restaurants, bars, diving, snorkeling, kayaking, and retreat. A 3-star beachfront hotel with restaurant, near Perhentian Beach, here you can undoubtedly stay comfortably and enjoy your vacation. Basic wooden bungalows offer sea or garden views with en suite bathrooms and simple decor. Most of the rooms are lined with verandas or balconies; the family and dorm rooms include bunk beds. Children 5 or less are free to stay with an adult.
Location: Lot 136 GM 19, Kampung Seberang Genting Kuala Besut, 22300 Malaysia
Website: http://www.thebarat.com/
A decent accommodation provides convenience for all travelers, unaware of the new places. It also allows tourists to explore their desired area better. It improves the overall traveling experience. So the role of reasonable accommodation in several ways affects your holiday travel. Above are our best spots for you to stay and relax during your holidays.