Giving up on bad eating habits and breaking one's humdrum dining routine is not an easy job. In addition, when it comes to food in Malaysia you are spoilt for choice, as one is guaranteed to stumble upon a lip-smacking meal. The temptation is everywhere and the struggle to find diverse and nutritious meal options is real. The situation gets troublesome when you are keeping up with a hectic schedule and are unable to cook, or it can simply be that you're just plain lazy about getting a meal organized (okay, we hear you!).
If you find yourself nodding in agreement, then food delivery is your ideal partner! Healthy and convenient, there's no excuse not to start eating clean today!
Here is a list of top 10 food delivery services in KL(got your back!)
So read on-
1.Food Matters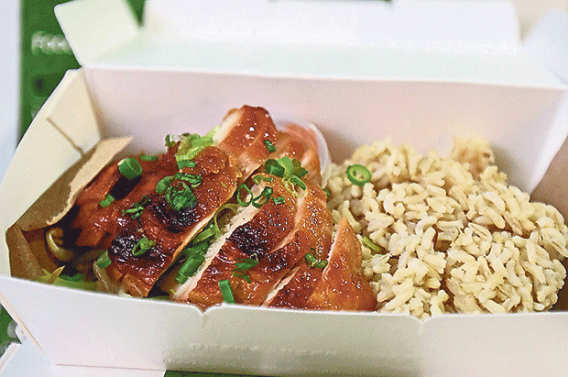 Food Matters can be considered new in the food delivery business, but its founder, a certified nutritionist and former food editor chef, Alexandra Prabaharan, certainly is not. Her passion for healthy food led to the creation of Lunch2U, which in turn redeveloped as Food Matters.
What makes this food delivery service stand out is its user-friendly website; beautifully designed with mouth-watering pictures of healthy dishes, meal descriptions with lists of health benefits and even the nutritional value of each dish. Dishes are available for as low as RM10 and Food Matters even has a mobile application for the added convenience of its customers.
In a bid to keep the service hassle-free, Food Matters simplifies the ordering process by getting customers to sign up or create a profile through which they may subscribe for a certain number of meal credits per month. Some of the must-try dishes offered include Tom Yam Pasta with Tempeh, Curry Leaf Pesto Pasta with Mushroom and Chicken, Mediterranean Fish Parcels, Vegetarian Quinoa Bibimbap and Falafels served in Pita with Garlic Mint Yoghurt. Visit their official facekbook page for more details.
Facebook page - https://www.facebook.com/foodmattersmy/
2.Rebellious Chickpea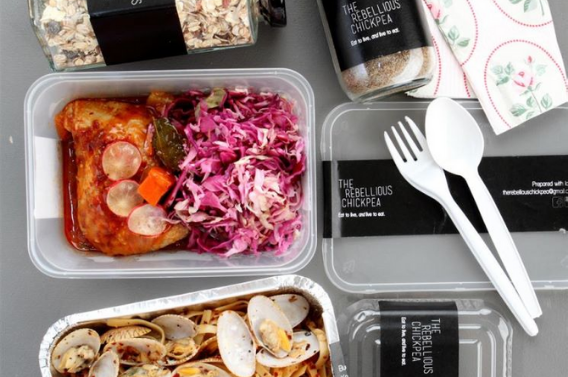 The Rebellious Chickpea which is run by formally trained chef Allison Xavier and Edeareena Nor offers delicious and nutritious food for health-conscious KL residents.
You won't be surprised to know that the signature dish offered by this delivery service is (*drumroll please*) Chickpea salad! If you need a mid-week thrill to get over a 'hump day' or the "midweek blues" then Rebellious Chickpea's Surprise me Wednesday could just do the trick! Meals are priced at a reasonable RM16 each. You should definitely try out Rebellious Chickpea's yummy all-natural snacks too and satisfy your cravings(you can thank us later!)
Some of the must-try dishes offered include Manhattan Clam Chowder, Thai Mango Clam Salad with Quinoa, Waffle Kampung Chicken with Maple Syrup, Mushroom Soup with Truffle Oil and Bread, Teriyaki Mackerel with Miso Rice, Cranberry Kampung Chicken with Quinoa, TRC Vegetarian Burger and Beef Skewers with Pita Bread. Visit their official website for more details.
Facebook Page: https://www.facebook.com/TheRebelliousChickpeahttps
3.Dah Makan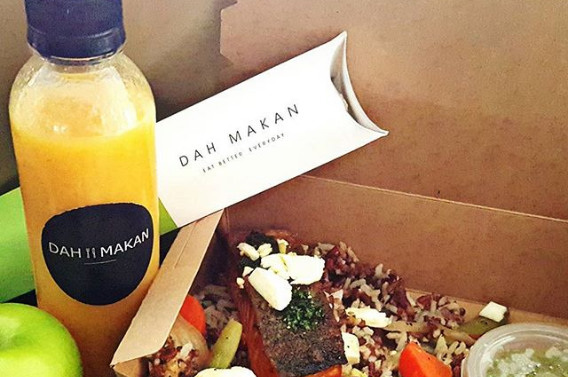 Dah Makan, the brainchild of 'crazy foodie' Jessica Li and cofounders Jon and Chris, gives you wholesome gourmet lunches and dinners right to your doorstep at a pocket-friendly price. Dah Makan takes busy office-bound customers on a culinary trip all around the world with the team's curated selection of dishes and flavors inspired by their own foreign tour visits – there's no risk of you getting bored with their ever-changing menu (you can thank me later!)
The website has drool-worthy food photos and meal prices listed currently vary between RM18 – RM22 (inclusive of GST). While you may think it is costly, just consider how much healthier it is than eating oily and fried foods every day. Health is wealth, people!
Some of the must-try dishes offered include Vietnamese Seared Beef with Rice Noodle Salad, Grilled Thai Curry Fish with Wild Rice and Siew Pak Choy, Honey Lime Grilled Chicken Breast with Toasted Mushroom Barley 'Risotto' and French Beans, Grilled Perch on Cous Cous with Roasted Eggplant and Zucchini and Mexican Chicken Taco Bowl with Brown Rice and Avocado. Visit their official website for more details.
Website: https://dahmakan.com/kuala-lumpur/food-delivery
4. Good Grub / Grub by ahong& friends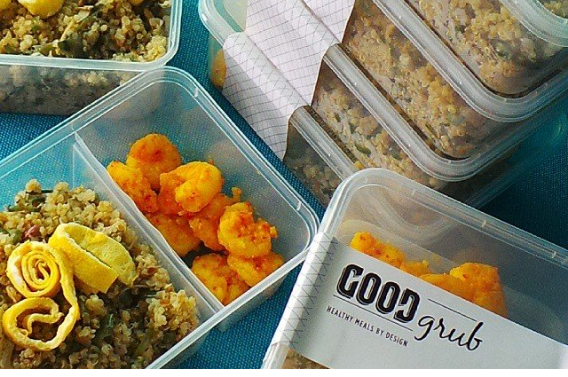 Good Grub was created in the bit to encourage healthy eating among people and also prove that healthy food can also be delicious. Each meal on the weekday menu has been designed to meet a guideline of 350 – 550 calories with largely organic ingredients and without any artificial flavouring. Meals are priced at RM20 each unless you place an order for two meals at RM18 each. There is no minimum order required with free delivery for selected areas.
Some of the must-try dishes offered include Vietnamese Calamari Salad. Quinoa Kerabu Salad with Spicy Garlic Prawns, Veggie Pasta, Indian Spiced Shrimp Salad, Teriyaki Chicken Quinoa Salad, Chicken Meatball Pasta, Veggie Meat-less Loaf with Sweet Potato Mash and Soto Ayam with Spirulina Noodles and Sweet Potato Patties. Visit their official website for more details.
Facebook Page: https://www.facebook.com/hongmasterchef/
Website: https://grub.beepit.co/?fbclid=IwAR09yA0q9LfXmVFFRpEnTrOWhTT4Htep7F2SNza6z586sL4pVi4SPxsI4y4
5. Eat Clean KL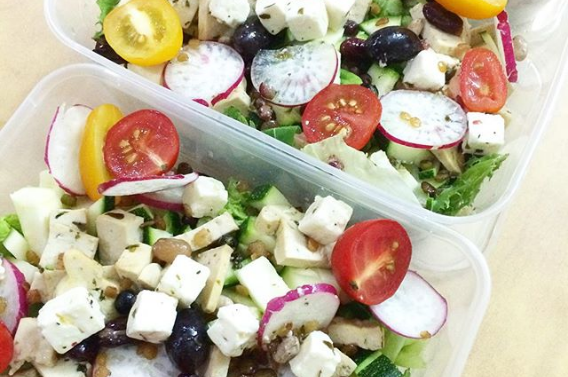 One of the main USPs of Eat Clean KL by Khairena is that it has a weekday lunch menu of dishes made with fresh produce, minimal salt, and no MSG keeping in mind the health of all its customers.
Eat Clean KL might not have a website, but it does have an interactive and informative Facebook page that you can refer to for weekly menus and place orders via email.
Some of the must-try mouth-watering dishes offered include Thai Beef Salad. Chicken Wrap with Salsa, Oven Broiled Tandoori Chicken in Wholemeal Chapati. Spirulina Noodles with Salmon and Brussel Sprouts, Sweet & Sour Singgang Tenggiri, Veggie Burger and Chunky Beef/Chicken Bolognese with Assorted Veg on Wholewheat Spaghetti.
Facebook Page: https://www.facebook.com/eatcleankl/
6.The Naked Lunch Box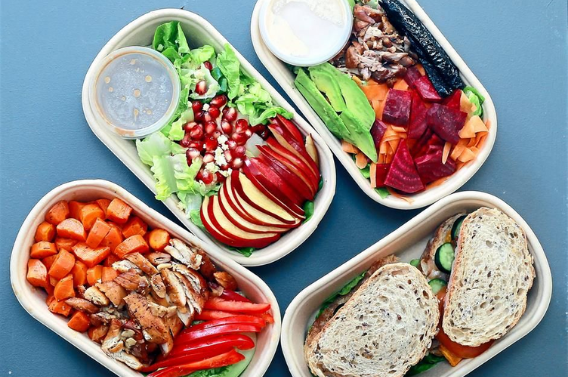 The Naked Lunch Box gives busy KL-ites, the option of ditching cheap and oily fast food for delivery of healthy 'no-nonsense food' alternative. The term 'Naked' refers to the fact that all its dishes are free of artificial sweeteners, softeners, and preservatives thereby prioritizing the health of all its customers.
The Naked Lunch Box offers a wide variety of food options such as raw, paleo, vegan, low sodium, gluten-free and dairy-free – great for anyone who is health-conscious with food sensitivity. The menu has a range of dishes with adorable names and each lunch box comes to you with a delightful handwritten motivational message – because we all do need a little encouragement now and then to brighten up our day. Dishes are priced moderately between RM12 – RM22 with an additional delivery charge.
Dishes Offered Includes Galaxy Box, Beat the Heat, Muscle Pack and Buckwheat on Fire. Dragon Box, Paleo Caesar, Taco Salad and Mulan. Visit their official website for more details.
Website: http://www.thenakedlunchbox.co/
7.Yumcious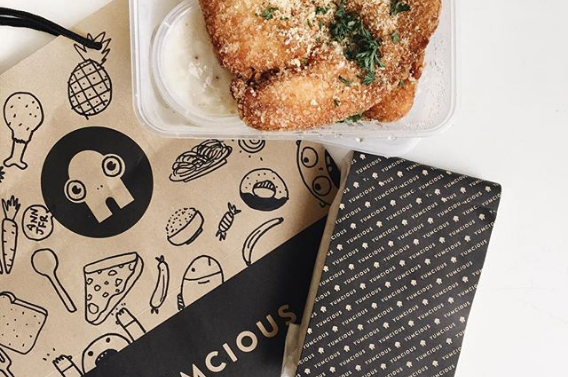 Yumcious can be referred to as a platform for the 'community for foodies' where people try their hand at selling what they cook or get sensational food by other talented chefs delivered right to your doorstep. On their official website, you can find a fantastic fare by renowned local chefs, wellness practitioners, and many food delivery startups – guaranteeing a decent variety of cuisines to satisfy your tastebuds.
The wide variety of dishes offered includes Grilled Chicken Panzanella, Spicy Seafood Olio Mussels and Salmon, Buttermilk Chicken and Rice, Nutella stuffed french toast. Japanese Goma Organic Pasta with Smoked Salmon, Slow Cooked Duck in Soy, Roasted Whole Leg Chicken with Pumpkin Puree and Sauteed Garden Vegetables, Honey Soy Spiced Chicken Wings and Vietnamese Roll with Five Spiced Pulled Chicken. Visit their official website for more details.
Facebook Page: https://www.facebook.com/yumcioushq/
8.HappyTime Kitchen
http://storage.unitedwebnetwork.com/files/476/79f348f4e87b8b5b9b917e61a0bdb2ff.png
HappyTime Kitchen is part of a healthy eating initiative that was set up by a team of passionate health coaches. Hearty breakfast and lunch sets are part of 3 or 5 day eating plans that are nutritious, pleasantly filling your tummy. You should definitely check out the HappyTime Kitchen`s official website and Facebook page to get an idea of its weekday menu offerings and submit an order or call to find out what's available.
Must have dishes offered include Chicken Breat Set Meal, Beef Set Meal, and Baked Salmon Set
Facebook Page: https://www.facebook.com/HappyTimeKitchen/
9. Picha Eats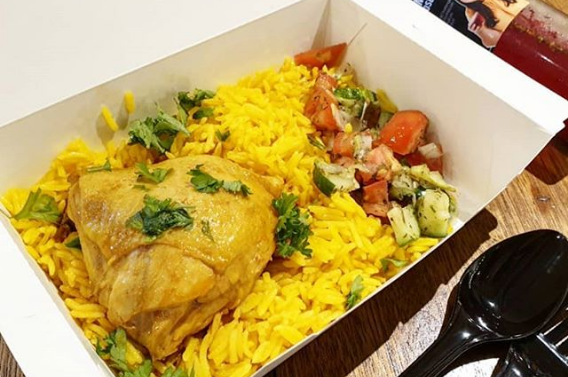 It all started in the year 2013 when a group of university students teaching in a refugee learning centre as volunteers decided to open up a food business the refugee community can cook and earn some money.
Since then, the good people behind PichaEats have announced that it will be business as usual for them, and this time they will be offering meal packages designed for families and smaller groups. For the uninitiated, PichaEats is a platform where refugee families sell homecooked food native to their countries to Malaysians. This includes talented chefs from Syria, Myanmar, Afghanistan, Palestine, Iraq, Pakistan, and more. Explore the world through their mouthwatering cuisine, delivered right to your doorstep.
Website: https://www.pichaeats.com/en/
10. Mamman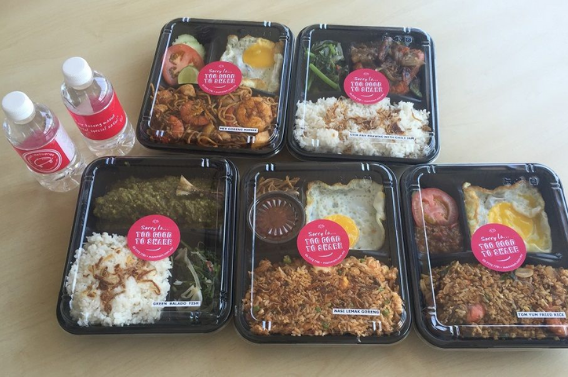 The next time if you feel like ordering fast food delivery due to traffic, weather or busy schedule, do check out Mammam Deliveries. They are probably the only fully local food delivery company that specializes in Malaysian and Asian delicacies.
Compared to the other food delivery services, Mammam is unique because they have pioneered the concept of app-based food delivery in Malaysia. Mammam operates a central kitchen that is able to handle 1000 orders daily and a team of dedicated chefs prepares and delivers mouth-watering dishes at your doorstep the dishes.
Be it the Malaysian local dishes like Char Koay Teow and Nasi Lemak or the famous Indian Butter chicken, Mammam has you covered.
Now for those who are worried about delivery fees and minimum order, please don't! Because there's no minimum order and no delivery charge imposed for using their service.
Facebook page - https://www.facebook.com/mammamdeliveries/