Brunch is making a comeback in Kuala Lumpur and we're sure to be delighted to have our Sunday plans looked after with the list of quality offers coming back to the city. The times of mass buffets, huge amounts of excess, and food that's dry around the edges of sitting for hours on the smorgasbord are gone! The modern brunch concept sees quite intimate spaces, starters, and often desserts arranged in a take-for-your-self display, and mains prepared on the spot and served straight at the table. Furthermore, Kuala Lumpur's weekend brunches are rated more fairly than ever. We've compiled the exclusive list of the top 7 locations in Kuala Lumpur to savor weekend brunch here. Read on_
1. Nero Nero Grandmother's Table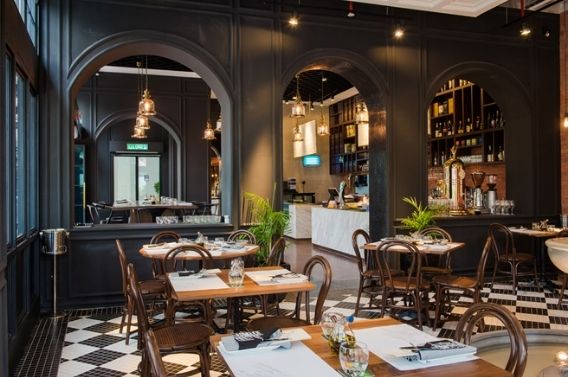 The Grandmother's Table at Nero Nero is the dream of a carbaholic! An unlimited supply of risotto, pasta, pizza, and bread, all made in-house, seem to trail uninterrupted from the kitchen. Italian Chef Giuseppe Lioce makes sure that not a single pocket of the stomach is left unfulfilled as he provides many of the dishes himself and, like your grandma, motivates guests to eat and enjoy wholeheartedly! :) Walking inside, the classy black and white decorations and the tall windows create an environment that is both stylish and welcoming.
Location: L3-02, DC Mall, Damansara City, 6 Jalan Damanlela, Damansara Heights, 50490 Kuala Lumpur, Malaysia
Website: www.neronero-dc3.com
2. Cicchetti di Zenzero Sunset Party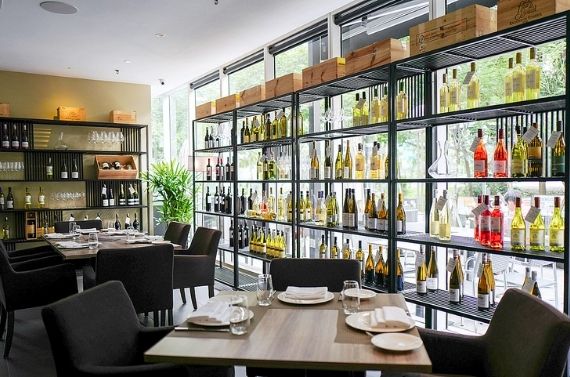 Cicchetti di Zenzero offers a party at sunset for those who want to laze in a little longer. Starting at 2:00 p.m. and continuing until sunset, an appetizer buffet, pasta, risotto and pizza, and mains and desserts are prepared with three glasses of wine, beer or cocktails, and a gelato stand. The food is light and of excellent quality, and the setup is the perfect location for a chilled date with friends. A DJ assisted by a percussionist and singer keeps the mood energetic. It's indeed one you should not skip!
Location: Cicchetti Di Zenzero, A-G-1 Menara Amplewest Jalan Puncak, 50250 Kuala Lumpur, Malaysia
Website: www.cicchettidizenzero.com
3. Drift Dining and Bar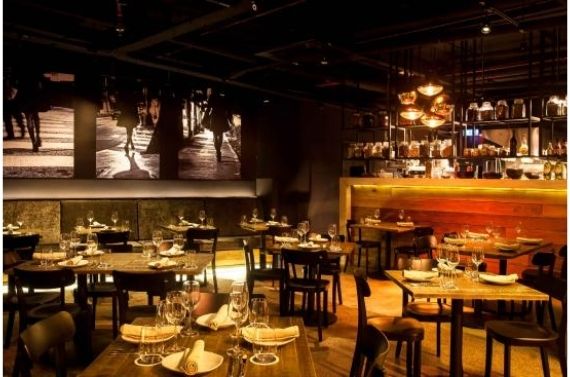 Drift Dining and Bar is a trendy restaurant situated in the center of Kuala Lumpur, well-patronized for its varied cuisine and comprehensive cocktail and wine list. Making the "perfect 10," a Sunday tasty brunch from Drift is something to look forward to. About once a month, the brunch continues from 12 noon until 4 pm; loads of time to get worth for your money. Highlights are the delicious pork belly served with a puree of apple fennel salad and ginger pumpkin and the fresh oysters and plump tiger prawns starters.
Location: 38, Jalan Bedara, Bukit Bintang, 50200 Kuala Lumpur, Wilayah Persekutuan Kuala Lumpur, Malaysia
Website: http://www.kuala-lumpur.ws/magazine/drift-dining-and-bar.htm
4. Birch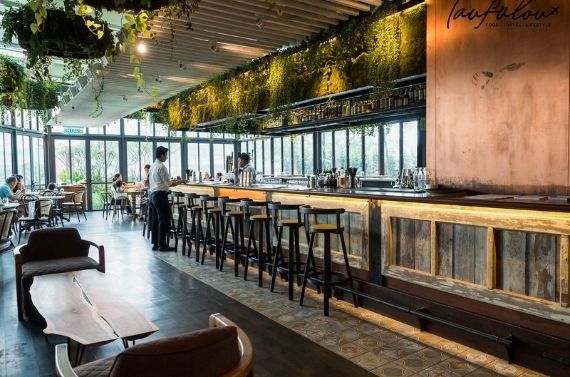 Represented by the people behind Huckleberry, Mezze, and Skullduggery, Birch is undoubtedly one of DC Mall's most visited eateries. Creating a rustic atmosphere with its mash-up of mixed furnishings, hanging leafy greens, and scruffy brick walls, the café provides menus for breakfast, lunch, dinner, and drinks, including a popular weekend brunch line-up. On the brunch menu, they have dishes such as muesli overnight oats (RM15), Japanese miso porridge (RM36), and sweet corn fritters (RM25), including sweet stuff such as brûlée French toast (RM26), lemon ricotta hotcakes (RM28), and cheese quesadilla (RM16). For heavier dishes, try Korean gochujang marinade (RM75) with the sambal linguine (RM35) and lamb cutlet, or try Korean chicken brioche (RM22) and brisket burger (RM59) and sirloin truffles.
Location: Lot G10/11, Ground Floor, Damansara City Mall, Jalan Damanlela, Damansara
Website: http://birch.com.my/
5. Dotty's Pastries & Coffee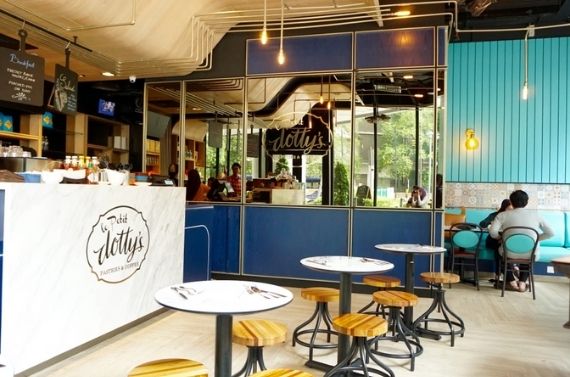 Appreciated for a glazed cronut (croissant + donut) salted egg yolk that surfaced its name to the public consciousness, Dotty's is much more than just pastries and coffee. Also famous for its cakes, brownies, cupcakes, and croissants, this place tempts you with the fragrance of baked goods every time you enter its blue doors. Not to mention the savory menu. If you have the willingness to resist sweets, fill in stuff such as eggs benny (RM28), breakfast burrito (RM23), french onion soup (RM19), and smoked salmon sandwich (RM24) – or spaghetti salted egg yolk (RM29) and seafood Aglio Olio (RM32) pasta-fied.
Location: Three locations, including 20-G, Jalan Tun Mohd Fuad 2, Taman Tun Dr. Ismail
Website: https://www.facebook.com/mydottys/
6. Bella by BIG Sunday Brunch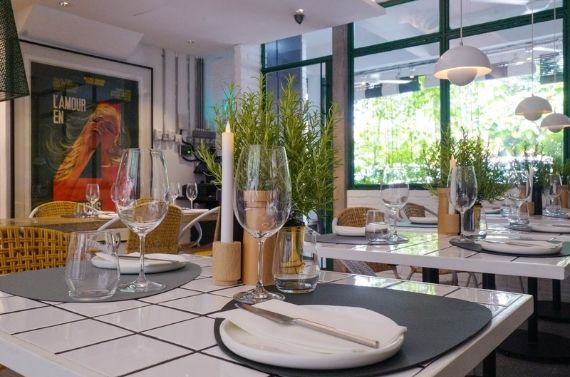 Established in a small shophouse in Lorong Kurau, Bella by BIG not only has a stylish rustic atmosphere but is also one of the brunches with good alignment. Instead of offering a wide range of gourmet salads, appetizers go far beyond the normal cheese and cold cuts. Consider pineapple and asparagus, pomegranates and artichokes, quinoa, and beans. Actually, this is perhaps the only brunch we would suggest to anyone seeking gluten-free choices. Until you get too worried, however, that your green girlfriend has fooled you into a meal based on vegetables, be assured that the mains are coming out of the Josper oven are meaty and plentiful. Back it up with a free flow of picked wine, beer, and bubbly and you have a very enjoyable afternoon for yourself.
Location: 15 Lorong Kurau, Taman Weng Lock, Bangsar, 59100 Kuala Lumpur, Malaysia
Website: thebiggroup.co/bella
7. Merchant's Lane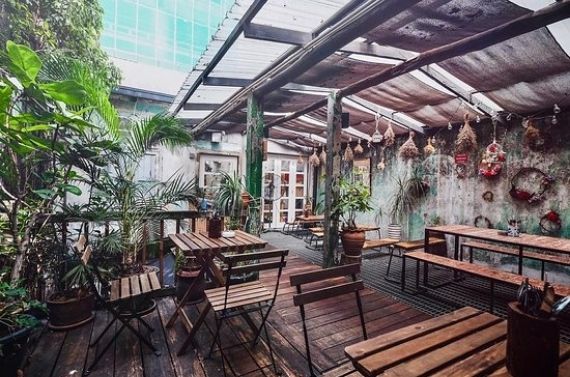 From the brothel of the 1980s to the hip café, Merchant Lane 's shophouse area has undergone a quiet transformation over the years – with a picturesque kind of charm that starts at the entrance from its old school signboard and flows via its quirky mix of rattan furniture, wooden floors, antique trinkets, floral paintings, and weathered walls. Sit down in a chair for a little relaxation from the Chinatown cacophony and order the large breakfast with fried eggs on toast (RM27) or kuli eggs with curry dahl and chickpea sauce, cream cheese, and roti canai (RM25). Likewise, Hongkie beef stew with mash (RM25) and Italian chow mein of stir-fried spaghetti with Malaysian chicken rendang (RM24) are signatures. And then there is the cheekily-named dessert, Better Than Sex (RM20), a pandan roti Jala plate of melted cheese, ice cream kaya toast, and a splash of gula Melaka.
Location: No. 150 Jalan Petaling
Website: https://www.facebook.com/merchantslane/
On those lazy weekends where the definition of time has little impact on our eating routines, the idea of a combination for breakfast and lunch is fantastic. This is much better the eateries that offer brunches all day long, for those who want pancakes, waffles, toasts, and eggs in all shapes every freaking time they prefer. So, what is your favorite weekend brunch in Kuala Lumpur?