Redang is one of the nine protected islands that make up the Redang Marine Park off the eastern coast of the Malaysian Peninsula. The island is riddled with forest and is surrounded by crystal clear waters teeming with marine life. The most popular activities on Redang are sunbathing on the white sandy beaches, swinging in the hammock underneath the palms, and floating through the azure waters. When you drag yourself away from the beaches, take the jungle path that crosses the island, keep a close eye out for the monkeys, and catch a boat back to your resort. It's just a magnificent island, from the jungle-covered hills to the white powdery sand to the crystal clear sea. It seems to be made for tourism and, fortunately, it's easy to enjoy the island as a tourist thanks to some great hotels and resorts in Redang Island. It's easy to visit Redang Island, too. Just a short boat trip from Kuala Terengganu, you can easily find yourself on the shores of this island within half a day of Kuala Lumpur. It's worth the effort! We have created a list of the top picks for the best resort in Redang Island to ensure you have the best possible experience on this island so you can choose the right resort for you!
Top 7 Best Resort In Redang Island
1. Laguna Redang Island Resort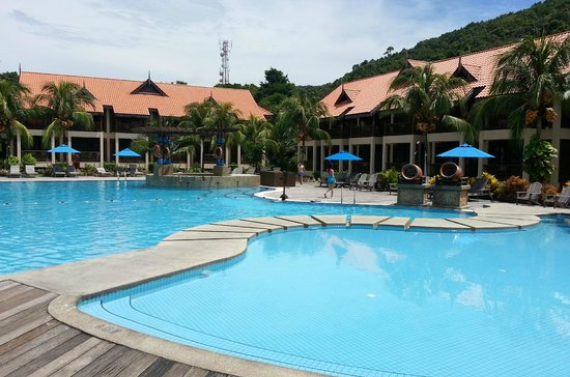 Our choice for the best resort in Redang is the Laguna Redang Island Resort. Situated on the south end of the main beach area on the east coast of Redang, this resort on Redang Island is a bit away from it all while being still close to other places to eat and shop, so you're not stuck at the resort. The Laguna is a perfect combination of staying in a beautiful location and getting a variety of options to eat nearby. The Redang Laguna Resort runs its ferry to and from the mainland, making it easy to get here, particularly since the resort is running well, and you always feel taken care of. The resort has several high-quality amenities, including a vast pool, day spa, dive area, and gift store if you tire of the beach. There is a leisure centre where the equipment can be hired. There are pool tables and board games and plenty of tours here, too. There is a wide range of room types, including those with three or four beds, making it much easier for families. The spacious and well-presented rooms are all fitted with air conditioning, tv, tea and coffee making equipment, and a mini-fridge. There are also rooms with sea views or a view of the pool. This is a good option for a Redang holiday resort if you want a spot not completely secluded but somewhat private in a beautiful location with lots of facilities and amenities.
Website: https://www.lagunaredang.com.my/
2. Taaras Beach & Spa Resort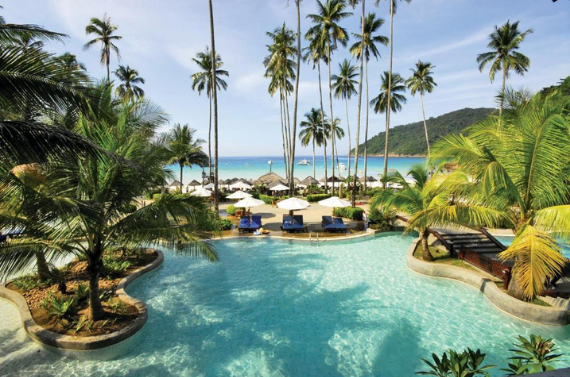 If you're looking for a luxury resort in Redang, you can find it at Taaras Beach & Spa Resort Redang Island. On the north coast, Taaras is located on a majestic beach with powdery white sand that is not as busy as the beaches on the east coast. This is more separated than staying in one of the resorts, but Taaras provides you enough to be happy. Even if you're looking for a romantic break or a family vacation, Taaras Beach Resort Redang has everything! With rooms varying from double rooms to family rooms, you can choose a cliff-top place or one by the beach. For the most excellent treat, there's also a fantastic 5-bedroom villa on the top of the cliff with incredible views, its infinity pool, elevator, and butler. The resort has a lot of facilities as well as an excellent tour desk. You can swim in the resort's pool, sing in the karaoke room, or relax in the day's spa. You also can take a cooking class or a water sports kayak on site. There are several excellent restaurants, and we particularly suggest seafood. You could even enjoy a meal on a floating platoon in the middle of the sea! There's also the beautiful Bayu Bar right on the beach where you can have a drink or a meal.
Website: https://www.thetaaras.com/
3. Sari Pacifica Resort & Spa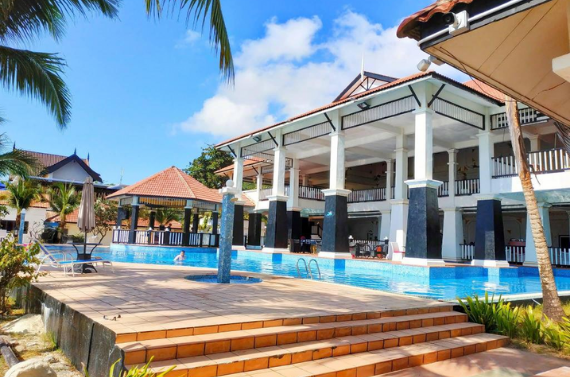 Another choice for the Redang beach resort is the Sari Pacifica, situated on the eastern strip of the beaches towards the north end. It's beachfront, and it's a lovely beach. In addition to the beach, there is a large beachfront pool, a gym, a day spa, a bar, and a restaurant that serves a range of dishes. Villas are accessible for 2 – 4 people, and you can choose to be on the seafront or have a garden/pool view. They all come with air conditioning, a minibar, and a TV. There is a variety of room rates, and you can go with an all-inclusive plan or just breakfast and dinner or only breakfast included. It's a healthy meal. If you're looking for a swimming pool in the central resort part of the island on a beautiful beach, you can get that at Redang's best resort.
Website: https://www.saripacificaredang.com/
4. Redang Bay Resort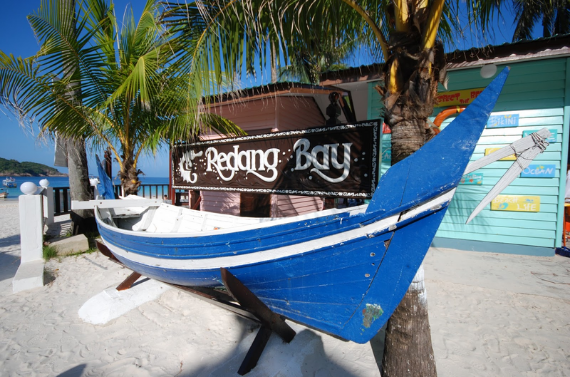 Redang Bay Resort is a beach resort in Redang, just north of the Laguna, with a beautiful beach setting and quick access to other restaurants and amenities in the most popular Redang strip. In addition to the beautiful beach right in front of this Redang beach resort, there is a swimming pool, a dive center, a souvenir shop, a restaurant, and a beachfront bar with live music in the evenings. It's also one of the affordable resorts on Redang Island if you want direct access to the beach, and you're traveling on your own – as there's a sleeping accommodation option. With the starting price of over RM300, this spot is certainly not cheap – only relatively inexpensive. After all, given that the price includes all meals, which can add to Redang, this is not a bad option given the location. This is a good option if you want a cost-effective option in a great area with all foods included. It's especially excellent for solo travellers with the choice of dorm beds.
Website: https://redangbay.com.my/
5. Redang Paradise Resort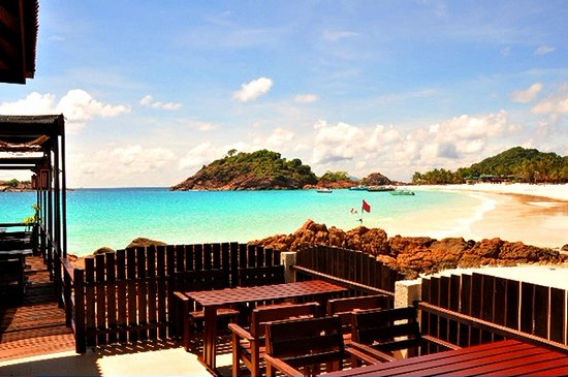 This option of the Redang Island resorts is situated next door to the Redang Bay Resort. With direct access to the beach, you can enjoy one of these wooden chalets with air conditioning. There are spacious beds and private bathrooms in the cottages too. They come with beds for five makes this a perfect option for group or family bargain hunting. You will pay extra for a view of the water. This is an option worth considering for low-budget travellers on the famous Redang beach.
Website: https://www.facebook.com/RedangParadiseResort/
6. Redang De' Rimba Resort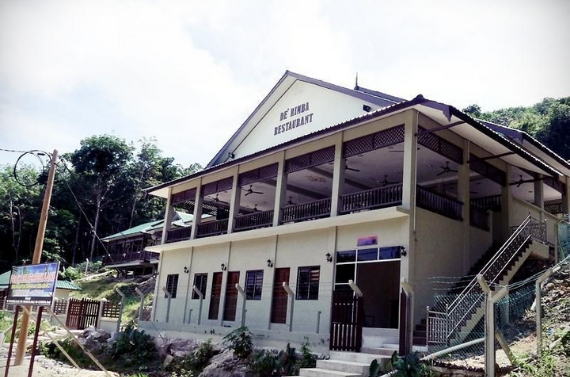 If you want a budget solution, the Redang De'Rimba Resort is a winner in this most beautiful resort on the Redang Island list. It is the best value on the list and is of a decent standard. This two-star resort is a short distance from Teluk Dalam beach (10-15 minutes) and Taaras Resort, but you don't have access to the beachfront. There are twin, double, and quad rooms here, and they all come with separate bathrooms, TV, air conditioning, and balconies. If the cost is everything, then this is a reasonable price for this island resort. As long as you don't mind a walk to the beach and a basic hotel, the lovely beach and restaurants in the Taaras can be enjoyed at no high price.
Website: https://redangderimba.com/
7. Redang Island Resort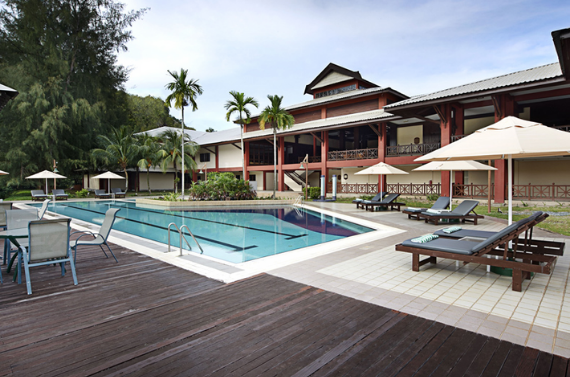 The Redang Island Resort is situated on the island's more quiet south side and is another right choice for Redang Malaysia resorts – as long as you don't mind getting a beautiful beach outside the front door. The resort has fantastic sea and surrounding forest scenery, there is a free shuttle to take you from Taaras Beach & Spa Resort to the better beaches on the north side of the island. The beach resort on Redang Island has a pool and children's playground and will arrange events for you around the island. Games space, gym, and day spa are open. There are a café and a restaurant and a lounge on-site.
Website: https://www.redangislandresort.com/