Though Malaysia's capital city is Kuala Lumpur, Putrajaya is the federal administrative centre. Aside from Kuala Lumpur and Labuan, this is the third of Malaysia's Federal Territories. The town covers an area of nearly 5,000 hectares and lies 25 km from Kuala Lumpur. Putrajaya takes over the administrative functions of the capital city Kuala Lumpur and is part of the Malaysian government's Multimedia Super Corridor program. Although Putrajaya has many government offices located there and most of the official signing and work is carried out there, it is very popular as a tourist spot, and there's plenty to offer. Read on and explore the wonderful buildings, monuments, attractions, and more to see in Putrajaya.
Top 10 attractions in Putrajaya you must visit
1. Putrajaya lake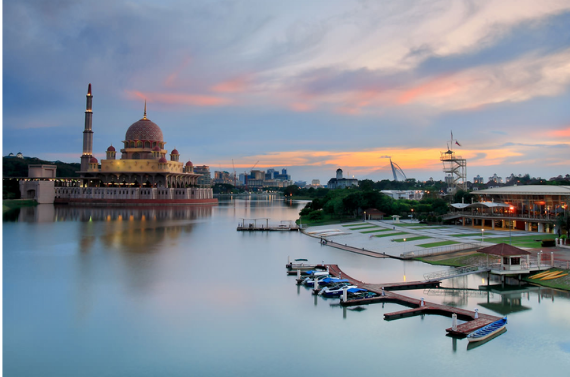 The Putrajaya Lake (Malay-Tasik Putrajaya) is a lake located about 33 kilometres south of Kuala Lumpur in the centre of Putrajaya, Malaysia. The 650-hectare man-made lake is built to serve as a natural cooling facility for the city as well as for leisure, fishing, water sports, and water transport. Enjoy the lake's beautiful scenery on foot, rent a bike, or take a boat around the lake on a ferry. It is a famous jogging and picnic site for locals, who are mostly civil servants employed in Putrajaya, staying close by. From time to time, you may even have the opportunity to watch some water sports activities such as water surfing, jet skiing, boat races, and many more. In addition, Putrajaya Lake is a great attraction for major international and local sports events. The Red Bull Air Race World Championships, the F1 Powerboat Championship, the Asian Canoeing Championship, and the latest SEA Games are one of them.
Address: Putrajaya, Wilayah Persekutuan Putrajaya
2. Putra mosque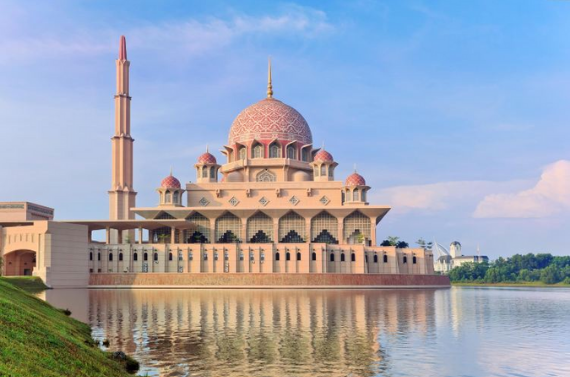 Putra Mosque is the main mosque in the Putrajaya Federal Territory. Opened to the public in 1999, the Putra Mosque is situated in a strategic area in Putrajaya, close to the current office of the Prime Minister, Putra Square, and Putrajaya Lake. The Putra Mosque, facing the scenic Putrajaya Lake, is undoubtedly the most iconic landmark of Putrajaya, and one of the most modern mosques in the world. The mosque is designed upon Safavid Period Persian Islamic architecture with elements extracted from other Muslim cultures. Even though it isn't as sparkling as the Kuala Terengganu Crystal Mosque, the Putra Mosque's architecture is eye-catching, and it's full of minarets, domes, and interior designs. The mosque was built using granite dyed in rose. On the other side, its minarets are inspired by the architecture of Sheik Omar Mosque of Iraq. The minarets are among the highest in the region. There are three major areas in the Putra Mosque complex. Those are the function rooms and learning facilities, the area of worship, and the Sahn (courtyard). The mosque can hold up to 15,000 worshipers at any time.
Read more: beautiful mosques of Malaysia
Address: Persiaran Persekutuan, Presint 1, 62502 Putrajaya, Wilayah Persekutuan Putrajaya
3. Seri Perdana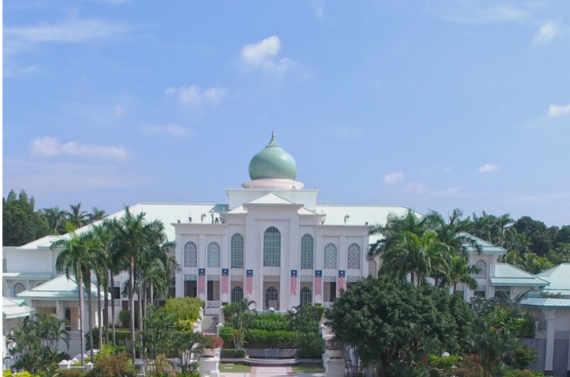 The Seri Perdana Complex is Malaysia's prime minister's official residence that is often used to host heads of state, heads of government, state dignitaries, and the public. Seri Perdana was formally introduced in 1999. Visitors will take a look at the official residence by booking a tour in advance. The architecture of the complex is very close to that of Perdana Putra. The complex has three separate halls, namely the Banquet Hall, the VIP Hall, and the Meeting Hall. You will of course also visit other areas of the building. This includes the North Garden, the Prime Minister's main house, the South Garden, the Administration Office, and the Quarters house.
Address: Persiaran Seri Perdana, Presint 10, 62250 Putrajaya, Wilayah Persekutuan Putrajaya
4. Millennium Monument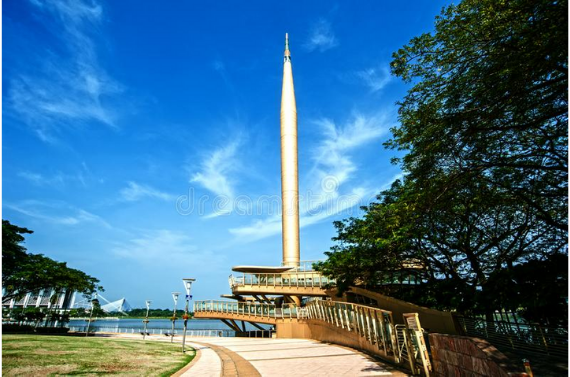 What are the common characteristics of the Washington Monument and the Millennium Monument? Well, both monuments are architecturally similar. In Putrajaya, the Millennium Monument is designed like an obelisk. It is a significant monument for history lovers that says a lot about the country's achievements and vital periods from Post-Independence to current days. Even, Millennium Monument plays a vital role in the cruise boats at the lake nearby. The monument's lights are the main guide to the cruise boats at night. Constructed using solid metal structures, this is an out of the ordinary landmark, so you need to get a 360 ° view of it. Do not even forget to take a few pictures!
Address: Lebuh Ehsan, Presint 2, 62100 Putrajaya, Wilayah Persekutuan Putrajaya
5. Alamanda Putrajaya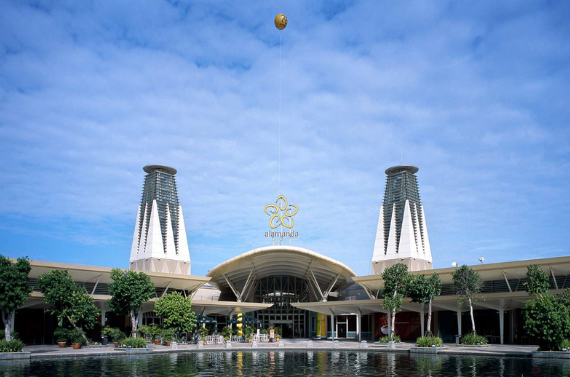 Situated in modern Putrajaya, Malaysia 's administrative capital, Alamanda Shopping Center is an iconic shopping destination for local and international buyers. A world-class complex of over 1.05 million square feet, it is the spot to go for a wonderful experience of shopping, dining, and entertainment. Ask any local where Putrajaya's greatest shopping haven is and they'll suggest Putrajaya Alamanda. There are 160 retail stores to choose from in this one-stop shopping centre. Including the latest fashion items to high-tech electronic gadgets and electrical items, there's something for everyone. At ARL Power Bowl you can enjoy a bowling game, lounge on the Bamboo Walkway, look for souvenirs and presents at S&J or dine in at the Rasa Food Arena. In the evening, at the Esplanade, you can enjoy the fountain and a colourful light display. It's a perfect place to relax and catch a glimpse of the night scene.
Address: Jalan Alamanda, Precinct 1, 62000 Putrajaya, Wilayah Persekutuan Putrajaya
6. Putrajaya Equestrian Park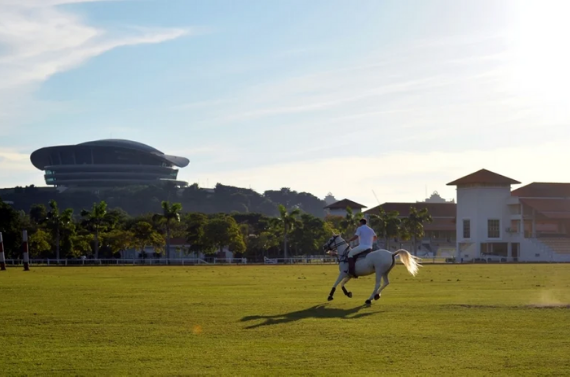 Can you recall the last time you hopped on a horse or took your children on a pony ride? If you really miss those memorable moments, head over to Equestrian Park Putrajaya, which was established in 2006. Despite being a major training centre for experienced horse riders all across Malaysia, this park is also available to new to horse riding visitors. There are various varieties of horses that you can rent, based on your experience level. Kids are going to love the Joy Ride and the Riding School, where they get to become a cowboy for a day and discover how to ride a pony. Besides that, you can go on a visit to the horse stables. You'll find out who maintains the horses, what food they eat, and also about the aspect of grooming.
Address: Jalan Kandang Kuda, Presint 5, 62200 Putrajaya, Wilayah Persekutuan Putrajaya
7. Putrajaya Wetlands Park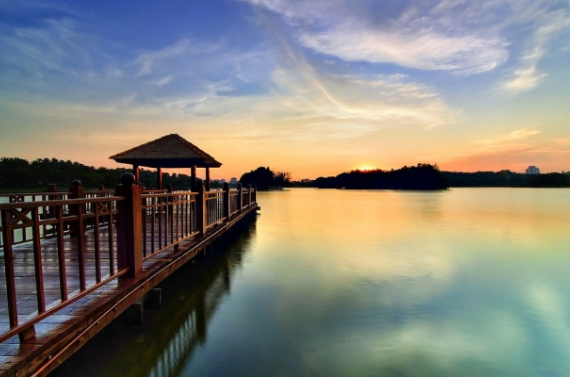 The wetland environment includes Taman Wetland (138 ha) and Wetland Areas (197 ha) with an entire area of 335 ha. One of Putrajaya's most popular tourist destinations, the wetlands includes 24 wetland cells constructed along the arms of the rivers Chua and Bisa. If you're searching for a spot to go cycling, observe birds or have a picnic, then the spot is in Putrajaya Wetlands Park. The Wetlands Park is not only a key destination for birdwatchers and researchers but also a UNESCO-recognized central Ecohydrology Demonstration Site. Putrajaya Wetlands Park is one of the most extensive man-made tropical freshwater wetlands. Climb up the park observation tower to have a clear view of the whole city. Try to put in your binoculars and see the various bird types. More than 100 bird species are found here including Buffy Fish Owls, Purple Swamphen, Swans, and Jungle Fowls. If you are interested to know more about different varieties of rare plants, stop by the nearby plant nursery too!
Address: 62000 Putrajaya, Wilayah Persekutuan Putrajaya
8. Putrajaya Botanical Garden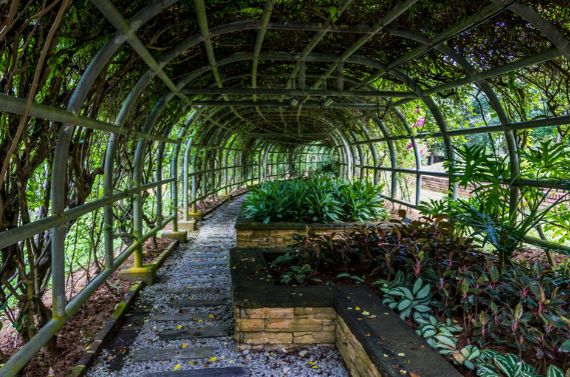 Want some fresh air and can't get enough of nature? Then you should visit one place: Putrajaya Botanical Garden! Opened in 2001, this is now the country's most extensive botanical garden. Situated in the northern part of Precinct 1, this park is planned as an arcadia or national sanctuary for Malaysian plant taxonomy and also an educational and research centre. The park's initial phase is now open to visitors. The Botanical Garden in Putrajaya has over 700 types of plants from different regions, spread over 3 major sections. Visitors can walk down the Floral and Sun Garden, take a walk along the Explorer's Trail, and know more about the various plant species at the Visitors' Interpretative Centre. Peruse through the gift shop before you leave the botanical garden where there is a variety of environmentally friendly delights.
Address: Persiaran Sultan Sallahuddin Abdul Aziz Shah, Presint 1, Putrajaya, Selangor, 62000, Putrajaya, WP Putrajaya, 62000
9. Perdana Putra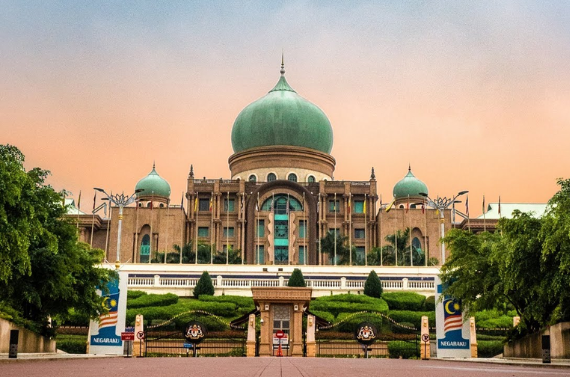 A trip of the administrative city is not complete without a visit to the Perdana Putra site. The structure was built in 1997, on Putrajaya 's main hill. The complex includes several government agencies and houses. The building's style is mainly influenced by a mix of European, Malay and Islamic architecture, so it's a perfect location for photoshoots too. Among the special features of the Perdana Putra are the clay-like, coloured buildings and the green dome. You can see the numerous halls and also the Deputy Prime Minister's and Prime Minister's offices in the complex.
Address: Bangunan Perdana Putra, Persiaran Sultan Salahuddin Abdul Aziz Shah, Presint 1, 62000 Putrajaya, Wilayah Persekutuan Putrajaya
10. Skyride Festivals Park Putrajaya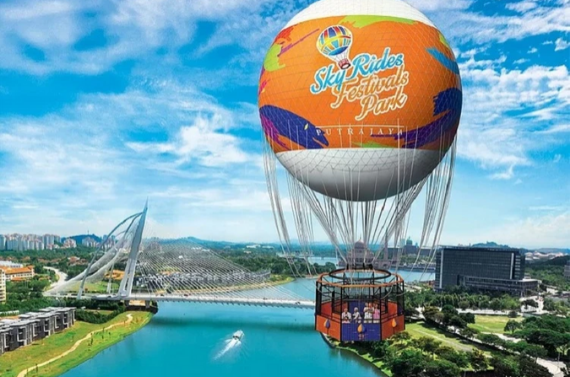 Skyrides Festivals Park is the first and largest tethered helium balloon theme park in Malaysia. Skyrides Balloon lets you enjoy a 360-degree ride across the gondola to experience Putrajaya's mesmerizing views up to 500 ft in the sky. Hot air balloon rides nowadays are quite famous and Malaysia is on the trend, too. The city's largest hot air balloon agency is SkyRides Putrajaya, and SkyRides Festivals Park is the designated park that provides for events and hot air balloon rides. It is the country's very first park offering hot air balloon rides. However hot air balloon rides are not the park's only crowd pullers. SkyKids Warrior, SkyWarrior Rainforest Challenge, SkyDemo, SkyStage, SkyGallery, and SkyTaste are several other thrilling attractions.
Address: Jalan P2M, Presint 2, 62100 Putrajaya, Wilayah Persekutuan Putrajaya
How to reach Putrajaya from Kuala Lumpur?
Putrajaya is very near to Kuala Lumpur International Airport, making it a suitable destination to be included in your travel plans after booking your flight (try Momondo or BookingBuddy) Wide cycling lanes and also some eloquent waterways make it a unique attraction in peninsular Malaysia.
The most comfortable, quickest, and fastest way to get to Putrajaya is via the KLIA Express Train service at KL Sentral Station. (For adults the one-way train cost is 9 RM (around $3). It's RM4.50, for kids.)
You also can catch the E1 bus from the Pasar Seni LRT station which is part of the LRT line Kelana Jaya-Putra to get to Putrajaya. Rapid KL operates this bus, which also stops at Jalan Tun Sambanthan Lane, which is near KL Sentral.
It is also reasonable to call a taxi and ask the driver to take you to Putrajaya all the way. By law, when transporting passengers daily taxis must have always used the meter. Note-(For an estimation guide, take note that Putrajaya is closer to KL than the airport of KLIA2. Taxis normally charge to travel to the airport from RM 80-100.)
So, you must visit Putrajaya on your next trip! The beautiful road bridges, impressive landmarks, and also the different things to do, see, and experience here will surely impress you. It is a heaven for foodies and includes great food items among top countries. This is also the best option for a lively holiday which makes it a must-visit destination.