Asia Art Show is not just a normal showcase of art. Asia Art Show aims to change and impact the artistic scene in Asia especially in Malaysia. This is due to the general view and appreciation towards the art industry in Asia is way lower than in other parts of the world.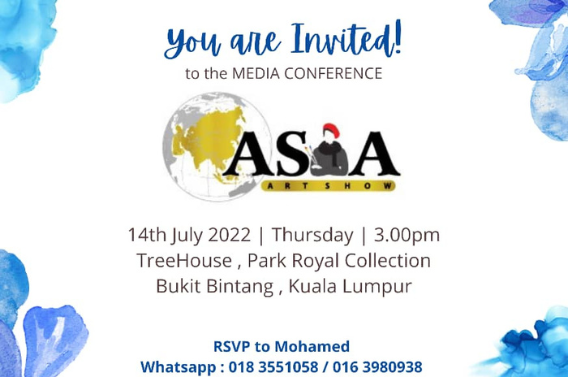 Visual art is usually considered a minority industry and the stigma that comes with it is that it does not guarantee a stable and probable future. Even though we have a great number of talented artists in Asia but only 10 percent of them eventually make a living from selling their artworks.
Thus, here is where the Asia Art Show exhibition comes into play as we take daring steps to host a high-profile art showcase event for the first time ever in Malaysia. This event may not be as prestigious as the Art Basel but we are confident that this is the vital first step towards uplifting the Asia art industry.
Now, the question is, why Asia? Not Malaysia?
The answer is that Asia Art Show aims to become an annual event that connects Asian countries with one objective to bring the spotlight to talented artists across the continent. The event will be featuring artists from Malaysia, Indonesia, India, Korea, Germany and many more. Asia Art Show would also like to gather ASIAN CONGLOMERATES in support of the Asian art industry especially Malaysia and neighbourhood countries.
Asia Art Show is a three-day event held with the National Day celebration in mind. Even though it is held in the midst of economic crises, we believe that all of these challenges will increase the virtues and values of artists in order to produce more amazing artworks. Isn't art a form of emotional release and expression? Not only that but art also serves as a therapeutic means for people troubled with various challenges and we are certain that our fellow artists are some of the strongest creatives in the scene.
Over the years, we has been making efforts to promote and sell artworks via charity fundraising events, sponsorships, garage sales and online websites. We strive to connect artists and buyers through these platforms and many more. Asia Art Show will invite over 1000 potential buyers on the second day followed by the opening of the gallery to the public on the third day. The best thing about art exhibition in Malaysia is that we offer FREE ENTRY in order to encourage more people to embrace the uniqueness of the various expressions of art.
Another big feat of our efforts is that we have managed to gauge the interest of a big Fintech specialist company to sponsor the building of our very own e-commerce website www.asiaartshowgallery.com which will be officially launched on the 26th of August 2022.
YAB Perdana Menteri Dato Seri Ismail Sabri has been invited to officiate the Charity Dinner taking place on Friday, 26th of August 2022. This programme includes Special Needs Artists from our respected CSR allies Pusat Latihan Pemulihan Perindustrian Bangi. These unique artists consist of those with various diseases such as autism, bipolar disorders, physical deficiencies, cancer and also stroke patients. Moreover, there will also be a special auction for 20 pieces from these talented artists. A portion of the proceeds will be channeled to selected NGOs.
We are aiming to sell at least 200 artworks as a bench mark of our success of organizing this grandiose event. In our eyes, this event does not only benefit one party, but it sincerely will benefit so many parties involved in this event. Our success will majorly depend on the sponsors, artists, buyers, art enthusiasts, media parties and also everyone who put in efforts to make this event a reality.
Thank you.
Author : HAZRITA MOHD HATTA | Founder of Asia Art Show | Art Market Malaysia 016 3980938
Translated by : Siti Zaleha Sheikh Othman