Malaysia has a rich cultural heritage. While this country has predominantly an Islamic inclination, it embraces mutual peace between different religions. The country has been deeply influenced by Indian, Islamic, Chinese, and Buddhist cultures. You may find places of worship belonging to the different religions in close neighborhoods, and often even the same street or row. The city center provides a range of cultural attractions with magnificent mosques, Catholic churches, Buddhist temples, and Hindu shrines harmoniously coexisting alongside KL's gleaming skyscrapers and contemporary architecture. Most of these impressive religious buildings in KL are over 100 years old and feature intricate Persian, Chinese, Indian, and Victorian-style buildings with imported materials like precious stones, gold, and marble.
This is what we are bringing for you today! Here are our top 6 picks for you of the religious attractions in Kuala Lumpur, Malaysia, you must visit during the country tour-
1. Thean Hou Temple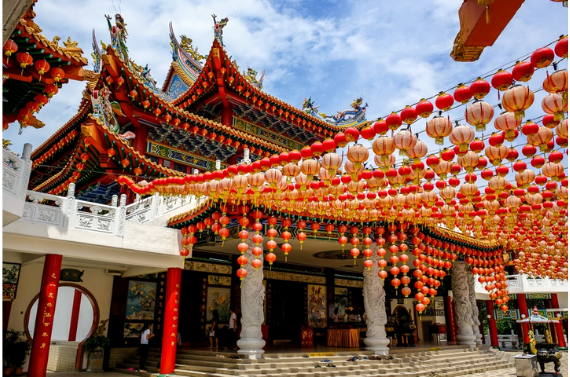 The must-visit religious building in KL is Thean Hou Temple, one of Southeast Asia's largest and oldest temples. The six-tiered Buddhist temple, located along Jalan Klang Lama Road, is also recognized as the Temple of the Goddess of Heaven and commemorates Tian Hou, a goddess had supposed to protect fishermen, as well as Guan Yin, the Goddess of Forgiveness. Thean Hou Temple was built in 1894 and features contemporary architectural patterns and traditional designs with elaborate embellishments, decorative carvings, and hand-painted murals. This iconic temple also houses a medicinal herb garden in China, a turtle pond, well, and a sacred tree in Bodhi. Often you will see both believers and tourists burning joss sticks, kneeling in prayer, and placing offerings at the statue's feet. Thousands of devotees attend the temple during Chinese festivals like Wesak Day and Mooncake Festival.
Opening hours: Daily: 09:00 - 18:00
Address: 65 Persiaran Endah, Off Jalan Syed Putra, Kuala Lumpur, Wilayah Persekutuan 50460
2. Sri Mahamariamman Temple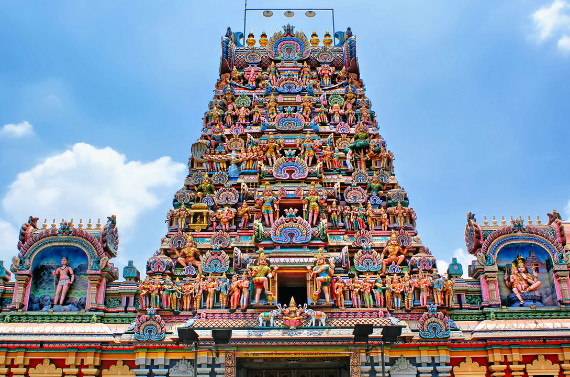 Sri Mahamariamman Temple, one of the most visited temples of Indian immigrants, has now become a crucial cultural and national heritage site. Sitting on the edge of Chinatown, this temple is the oldest and richest Hindu temple in Kuala Lumpur, dedicated to the Hindu god, Mariamman, considered a savior of the Tamils during their stay in distant nations. The temple contains the main prayer hall with a decorated ceiling that tells the story of Hinduism, three major shrines in the main temple, and four smaller shrines in the periphery of the main temple site. The shrines were dedicated to Lord Ganesha, Goddess Lakshmi, and Lord Murugan, among many others. The temple is decorated with precious stones, Italian and Spanish tiles as well as gold. However, the top tower or the 'Gopuram' is the most remarkable feature of the temple. The gopuram was sculpted by South India specialists and embraces 228 Hindu idols carved into it, recreating scenes from the Indian epic, Ramayana.
Opening hours: 06:00- 21:00 (Daily)
Address: 163, Jalan Tun H. S. Lee, Kuala Lumpur
3. Holy Rosary church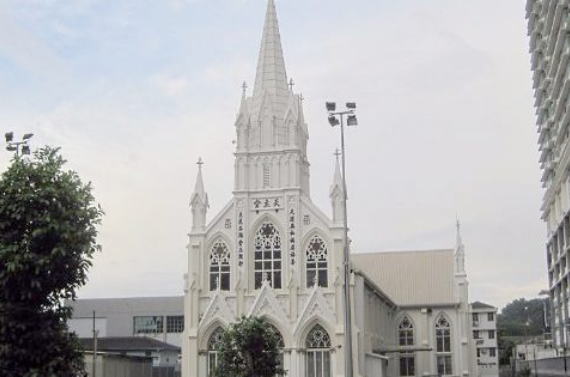 Built-in 1904, Holy Rosary Church Kuala Lumpur is a wonderful monument in the Neo-Gothic style that caters to the Chinese Catholic community of the city. It is one of the few best-preserved religious buildings in KL, available within a 10-minute walk from Kuala Lumpur KTM train station. Standing out against the endless modern-style condominium, office buildings, and hotels surrounding, the church was blessed by French missionary Father Francis Emile Terrien and is decorated with European-style features like stained glass windows, a pointed arch, ribbed vault, and flying buttress. Located along Jalan Tun Sambanthan, the church is close to many landmarks within the Kuala Lumpur City Centre, including the Malaysian National Museum, the Negara Planetarium Malaysia and the Sri Kandaswamy Kovil Temple.
Opening hours: Saturday 17:00 – 21:00, Sunday 08:30 – 12:00
Address: 10, Jalan Tun Sambanthan, Kuala Lumpur
4. Kuan Ti Temple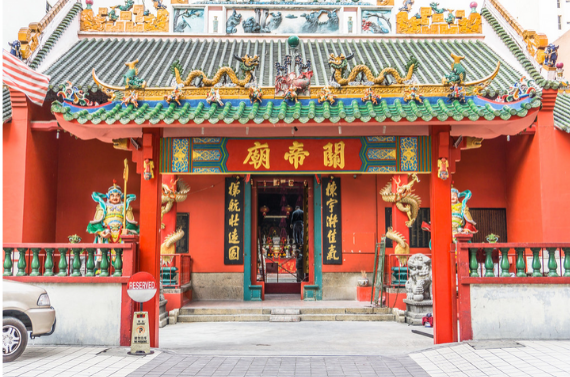 Kuan Ti Temple is a 121-year-old Taoist temple is situated along with Jalan Tun HS Lee. An easily identifiable structure with a bright orange façade, dedicated to Guandi, the Taoist God of War and Literature; on the back of the temple is a red-faced, long-bearded statue of Guandi. There is a counter inside the temple where joss sticks and incense are sold. Colorful dragons are coiled around the two central pillars within the temple. Kuan Ti Temple is situated at Jalan Tun H. S. Lee, a street parallel to Petaling Street. This street is generally full of citizens and visitors. It's got a lot of stalls selling all kinds of imitation pieces, just like in China.
Opening hours: Daily, 07:00 – 19:00 (opening hours may change, so please check with the temple guard)
Address: Along with Jalan Tun H. S. Lee
5. Chin Swee temple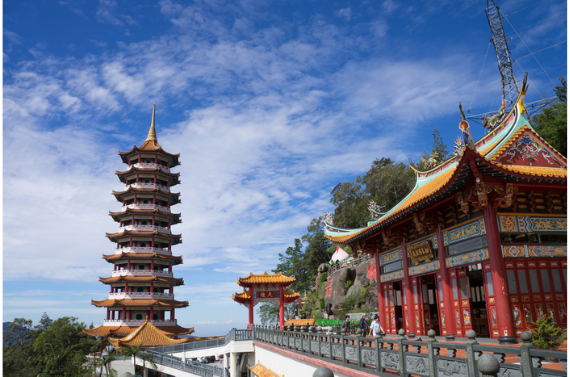 Start exploring this great religious site on a sheer, rocky slope close to the peak of the World Genting Resorts. Embark on a cultural journey via a visual representation of the afterlife, or simply enjoy the beautiful mountain landscape of the temple. Vital landmarks include the iconic nine-storey lamp-lit pagoda, the open-air SkyTerrace, and the 15-meter-high Buddha statue. Chin Swee Caves Temple's main square also houses many prayer halls for worshippers to pray and meditate during their visit, while those who want to know more about Buddhism can explore the representation of 10 Hell Chambers situated on the square's fringe.
Opening hours: Daily 07:00 – 19:00
Address: Genting Highlands, Pahang
6. Batu Caves temple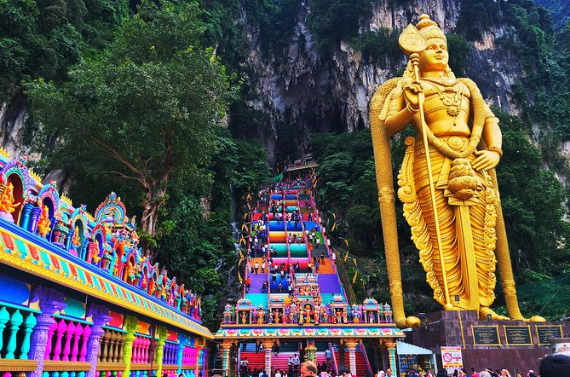 Batu Caves Temple is a popular tourist attraction in Malaysia and one of the key attractions for the Hindu crowd visiting Malaysia. The Batu Caves are three central caves dedicated to various Hindu gods. To enter the caves you need to climb a total of 272 steps. One of the major attractions in the Batu Caves is Lord Murugan's 42.7 m tall holy statue, a favorite among the Tamil gods, that was built in front of the cave. Amusingly the main cave's entrance is in the form of the spear of Lord Murugan, a factor that inspired the statue's construction. The caves mostly during the Hindu Thaipusam Festival, a major Hindu festival in Malaysia, are a great attraction for the visitors. Another reason to visit the Batu Caves is the stunning view over the skyline from the top of the steps. Batu Caves Temple is one of India's most famous Hindu Temples and is a must-see for all visitors.
Opening hours: 6:00 - 21:00 (Daily)
Address: Gombak, 68100 Batu Caves, Selangor, Malaysia
7. Sin Sze Si Ya Temple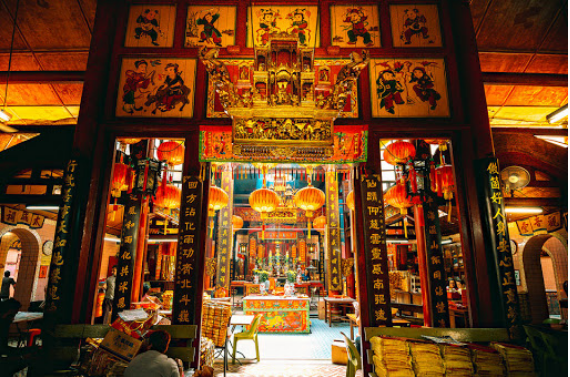 Well-known as the oldest Taoist temple in Kuala Lumpur, Sin Sze Si Ya Temple also serves as a cultural center for the Chinese community of the city, especially during celebrations such as the Chinese New Year. Founded by Yap Ah Loy in 1864, it is devoted to the patron deities Sin Sze Ya and Si Sze Ya. Comprising the main prayer hall and two smaller side rooms, the temple grounds are host to open-air pavilions where worshippers have light incense and joss sticks. A special custom is crawling under a table right in front of the statues of Sin Sze Ye and Sze Ye to help reduce mortal pressures. Worshippers also believe that three times the circling of the main altar of the temple will deliver positive fortune. The easiest way to get to Sin Sze Ya Temple is by taking the LRT train to Pasar Seni or Masjid Jamek station, which is effortlessly accessible via public transport. The temple is only a six-minute walk away from both stops.
Opening hours: Daily 08:00 – 20:00
Address: 113A Jalan Tun HS Lee, 14A Leboh Pudu, Kuala Lumpur
8. Masjid Raja Fisabilillah Cyberjaya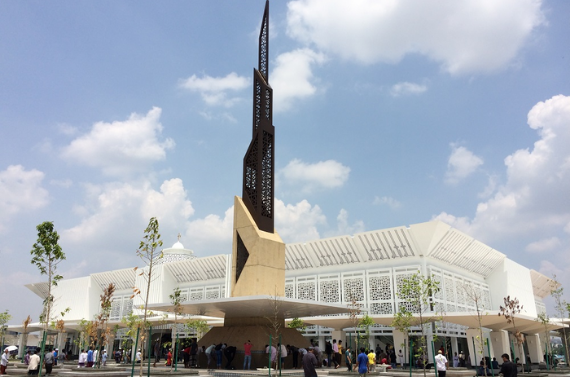 Masjid Raja Fisabilillah Cyberjaya is Malaysia's first Platinum award-winning mosque in the Green Building Index, utilizing energy-efficient LED lights, natural air ventilation, rooftop solar panels and a rainwater harvesting system to accommodate more than 5,000 worshippers. Established in 2016, this futuristic mosque as well organizes a wide range of activities, such as bazaars in Ramadan, wedding ceremonies, and markets on Friday. This is within driving distance of other popular mosques, including the Iron Mosque and the Putra Mosque in Putrajaya. When visiting the mosque, do dress conservatively because it is a holy place and be respectful to worshippers.
Opening hours: Daily
Address: Lot A, Persiaran Semarak Api, Cyberjaya
How many are you adding to your bucket lists? These religious spots are not only beautiful in their architecture and design, but each of them has a fascinating story to tell.
Selamat Tinggal!
[Related Article- 7 must-visit Beautiful Mosques in Kuala Lumpur]