The breathtaking mosques in Kuala Lumpur serve as holy places of worship for the local Muslim community. They feature expansive prayer halls, unique architectural styles, and picturesque surroundings (truly marvellous). Most of the mosques in the city centre are greatly inspired by Moorish, Islam, and Mughal architectural styles. Still, we bet that you can also find a number of modern and environmentally-friendly religious structures, most of which are accessible by train and car.
Whether you are a traveling Muslim looking to fulfil your spiritual duties or a Non-Muslim foreign traveler who is simply curious and want to learn more about the Islamic culture, do make sure to check out our guide to the famous Islamic landmarks in Kuala Lumpur that are worth a visit. (You can thank us later!)
So read on-
Putra Mosque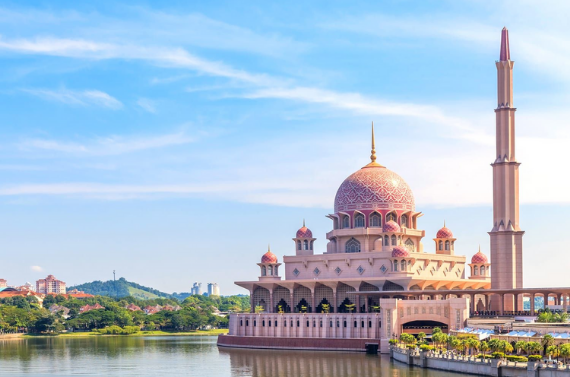 Build in the year 1997, Putra Mosque, also known as the 'Pink Mosque' is named after Tunku Abdul Rahman Putra Al-Haj, the first Prime Minister of Malaysia. The most striking feature of the mosque is the bright pink dome that is made up of pink granite is highly influenced by the Safavid architecture found in Iran. You will be able to see the main 116-meter minaret that dominates the sky, as well as five-tier minarets representing the five pillars of Islam for a distance.
The Putra mosque also consists of an auditorium, a prayer hall, lecture rooms, the dining hall, and the library. One of the spacious mosques in Malaysia, Putra Mosque can take shelter around 15,000 worshippers at a time (massive isn't it?!). Moreover, because it is centrally located in the heart of Putrajaya, you can walk to the Prime Minister's office or stroll around the Putrajaya lake (a win-win situation for all!)
Address: Persiaran Persekutuan, Presint 1, 62502 Putrajaya, Wilayah Persekutuan Putrajaya, Malaysia
Masjid Jamek Mosque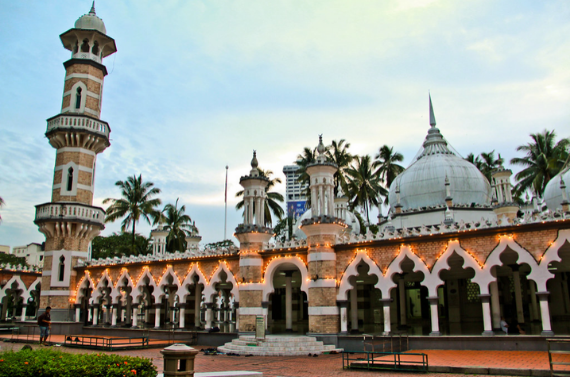 One of the oldest Islamic places of worship in Kuala Lumpur, Masjid Jamek Mosque, was built in the year 1907. With the perfect combination of ancient Moorish, Islam, and Mughal architectural styles, Masjid Jamek Mosque provides breathtaking photo opportunities for travellers. Viewers can also overlook the Klang River and several KL city landmarks all at once.
The magnificent Masjid Jamek Mosque constitutes of three domes that surround the prayer hall, the tallest of which measures at 20 meters. Flanked by two brick minarets that stand over 25 meters high, Masjid Jamek Mosque is worth visiting.
Address: Jalan Tun Perak, City Centre, 50050 Kuala Lumpur, Wilayah Persekutuan Kuala Lumpur, Malaysia
Blue Mosque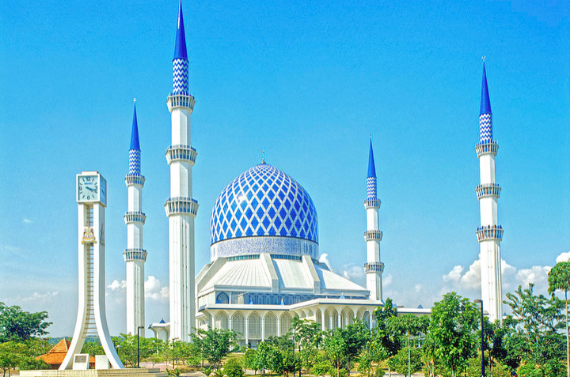 Masjid Sultan Salahuddin Abdul Aziz Shah, more commonly known as the Blue Mosque, can be hailed as the largest mosque in Malaysia. With its blue-and-silver dome measuring at a massive 106 meters in height, flanked by four 140-meter-tall minarets, and the two-story prayer hall inscribed with various Koran verses, the Blue Mosque is one of the most visited tourist attractions in Kuala Lumpur.
Facing the Garden of Islamic Arts, a park inspired by Jannah- Quranic Garden of Paradise, the blue mosque is definitely worth a visit, as well as a number of Instagram shots. So, make sure that during your trip to Kuala Lumpur, you pay a visit to this "one of a kind" blue mosque!
Address: Persiaran Masjid St., Sekysen 14, 40000 Shah Alam, Selangor, Malaysia
National Mosque of Malaysia – Maszid Negara
The National Mosque of Malaysia which is also known as Masjid Negara, can be considered as the nationwide symbol of Islam.
Situated within the Kuala Lumpur Lake Gardens, this massive blue-hued building includes a main prayer hall with 48 smaller domes, a 73-metre minaret and a 16-pointed star concrete main roof.
While the roofing and ironworks adorns beautiful contemporary interpretations of traditional Islamic art and calligraphy, abstract shapes and geometric lattices , the walls of the Grand Hall are beautifully inscribed with verses from the Koran.
Small tip- Non Muslim visitors are only allowed to visit at certain times of the day and robes are lent to those who are not dressed in modest clothing.
Address: Jalan Perdana, Tasik Perdana, 50480 Kuala Lumpur, Wilayah Persekutuan Kuala Lumpur, Malaysia
Tuanku Mizan Zainal Abidin Mosque or IRON MOSQUE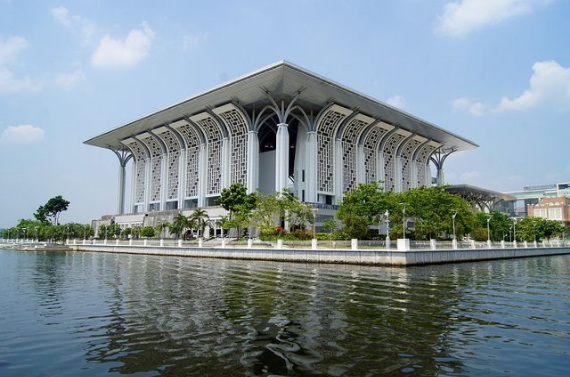 Another gem that is located in Putrajaya, Tuanku MizanZainalAbidin Mosque, or which is more commonly known as the Iron mosque took almost five years to complete (surprised much?!) Made up of 70% steel, the sturdy Iron Mosque can accommodate more than 24,000 worshippers at once making it nearly double the size of Putra mosque!
One of the most striking features of the mosque that attracts visitors is the unique interior- the ceiling of the mosque was constructed using a special glass panel, creating an illusion of Quran verses floating in the air (splendid!). Also, it was built without a minaret, which unusual for a mosque!
Address: 25, Jalan Tuanku Abdul Rahman, Presint 3, 62100 Putrajaya, Wilayah Persekutuan Putrajaya, Malaysia
Federal Territory Mosque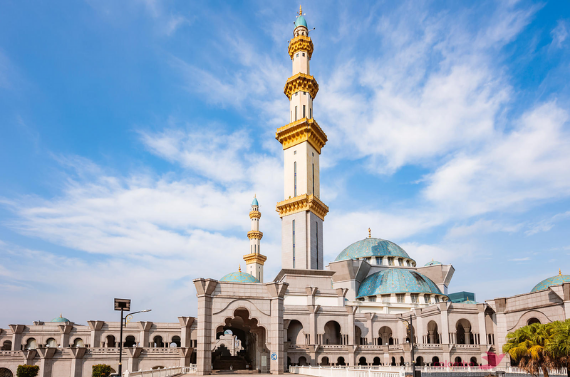 Constructed in the year 2000, Federal Territory Mosque is among the crowd-favorites because of its exquisite architecture. Its most outstanding feature is the fusion of the Ottoman and Malay architectural styles. Also known as Masjid Wilayah in Malay, the main prayer hall can accommodate up to 17,000 worshippers at any time.
Situated in the middle of a large artificial pond along Jalan Sultan MizanZainalAbidin, it's also home to several classrooms, a children's religious school.
Address: Jalan Sultan Mizan Zainal Abidin, Kompleks Kerajaan, Kuala Lumpur, Malaysia
Raja Haji Fisabilillah Mosque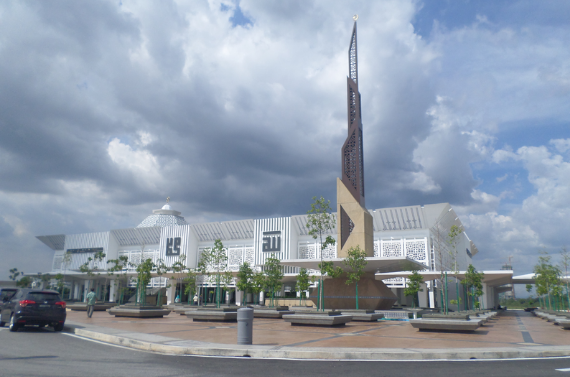 Raja Haji Fisabilillah Mosque can be considered Malaysia's first mosque given a Platinum award in the Green Building Index, using natural air ventilation and energy-efficient LED lights rooftop solar panels and a rainwater harvesting system. In addition, it can accommodate over 5,000 worshippers at once.
Constructed in the year 2016, this futuristic mosque is also well known to host a wide range of activities such as Ramadan bazaars, marriage ceremonies, and Friday markets. What a great initiative to make the visitors aware of Islam and Islamic architecture, right?!
Address: Persiaran Semarak Api, Cyberjaya, 63000 Cyberjaya, Selangor, Malaysia
A small tip- If you are a non-Muslim visitor and want to explore these landmarks,make sure to check the timings accordingly because mostly all the mosques have limited visitor timings, also be sure to dress appropriately (some mosque even provide veils and robes to wear for free), remove your shoes before entering and take care not to disturb those who are praying in the vicinity!
Happy Exploring!