Waiting for Suhoor but want to cook a quick and easy Ramadan recipe for Suhoor? Ramadan can be considered as the holy month of fasts and feasts. This year Ramadan has started in the month of April. These are the peak summer months with long days and shorter nights. In summer, it is not an easy task to stand in the kitchen and prepare multiple dishes early in the morning while observing fast.
But don't worry, we are here to help you out with some easy Ramadan recipes that you can cook for Suhoor and have a delicious meal before the breaking of dawn! Now you do not have to spend any unnecessary time on the menu planning and rather spend your time on Ibadaat or prayers and reciting of the Holy Quran (you can thank us later!)
So have a look at the deliciousness below to try for your next iftar. Read on
Spicy Vegetable Chicken Noodle Soup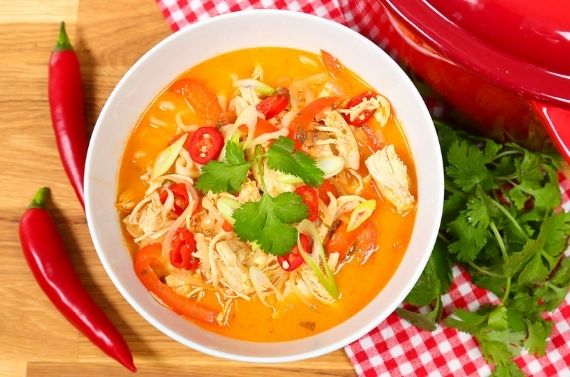 Quick and easy homemade vegetable soup makes a tummy-warming meal for families during Suhoor!
This dish is full of the "goodness of vegetables" (Yes parents, you heard it right!) A rich mixture of a fresh bunch of veggies with mouth-watering chicken pieces and soft noodles makes this dish "oh so delicious". You can enjoy this dish with a slice of bread or two for added crunch!
Things you need:
Noodles (any type of our preference), shredded chicken pieces, chilli, pepper, onion, garlic cloves, cumin powder, black beans, radish, avocado, vegetable stock.
How to make it:
Boil the Noodles and the shredded chicken pieces. Saute them with chilli pepper. Heat some olive oil on medium until hot. Add the shredded chicken pieces, veggies, and vegetable stock. Season it with salt and pepper to taste. Simmer it for a few minutes. Divide the soup between the bowls. Add the noodles. Top the soup with the remaining avocado, radishes. Serve hot!
Afghan Salad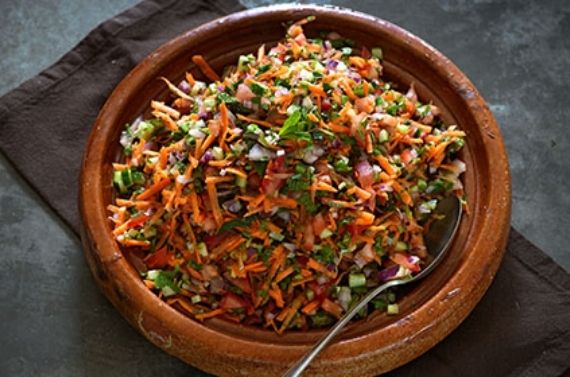 Not in the mood of the usual fare? Then this AFGHAN Salad is perfect for you and your family for the Suhoor feast. This interesting salad has a wholesome mix of diced tomato, cucumber, onion, carrot, cilantro, mint, and lemon juice. An all-in-one meal is a perfect way to start your day!
Things you need:
Tomato, cucumber, onion, carrot, cilantro, cottage cheese,mint, and lemon juice
How to make it:
Chop all vegetables, mix well in a glass bowl, Pour the lemon juice and sprinkle salt according to your taste. Refrigerator for an hour. Garnish with cilantro and serve cold!.
Kasundi "Sea Bass" with Strawberry Chutney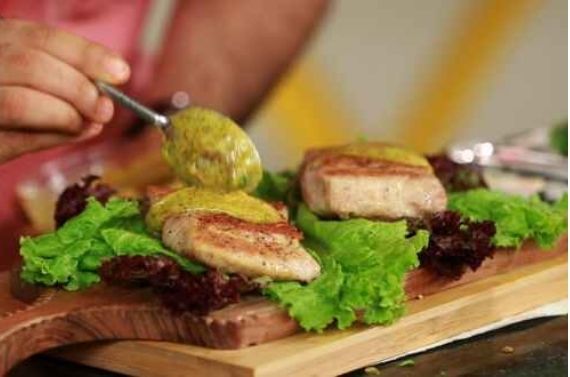 Juicy "fish fillets" covered with strong Kasundi (mustard) - heavenly! You can serve this dish with a freshly made strawberry chutney - a great way to use up the sweet seasonal produce. The sweet and tangy flavours of strawberries balance out the pungent kick of mustard and fish really well and make the whole dish "oh so delicious"!
Things you need:
Sea bass fillets, strawberries, olive oil, vinegar,cumin, black salt, pepper powder, sugar, mustard sauce, salt
How to make it:
Season the fish fillets with salt & pepper powder & fry it in olive oil. In another pan add strawberries, vinegar, and the other spices. Add sugar and allow it to cook for a few minutes. Serve the fish with some mustard sauce (pre brought from the market) mixed with olive oil on it followed by strawberry chutney.
Wild Berries and Lavender Kheer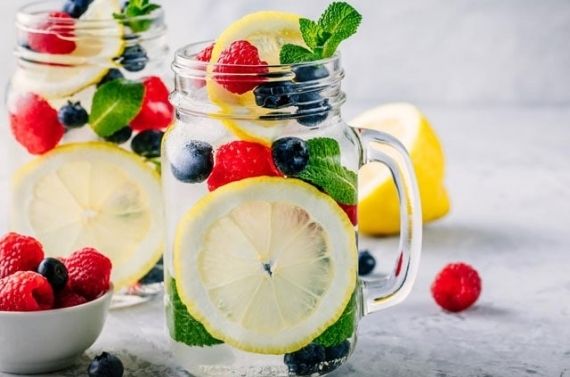 Here's a sumptuous way to use up all the winter berries that have been lying in your house and give your dessert a beautiful floral touch. Floral seems to be one of the hit trends today and this recipe is a great way to make the most of it. A refreshing and creamy blend of berries, rice, milk, and lavender flower essence that your family would love during Suhoor!
Things you need:
Full cream milk, whipped cream, rice, pistachio cardamom, cloves almonds, lavender flower essence, assorted seasonal fruits, sugar, and fresh lavender flower
How to make it:
Take milk in a heavy bottom pan and give it a boil. Add rice and sugar. Keep stirring until the rice gets cooked and milk reduces to half. Reduce flame, let it cool. Add dry fruits, lavender essence, whipped cream, and fresh seasonal fruits to the chilled kheer. Garnish it with fresh lavender flowers, serve cold!
Hara Bhara Kabab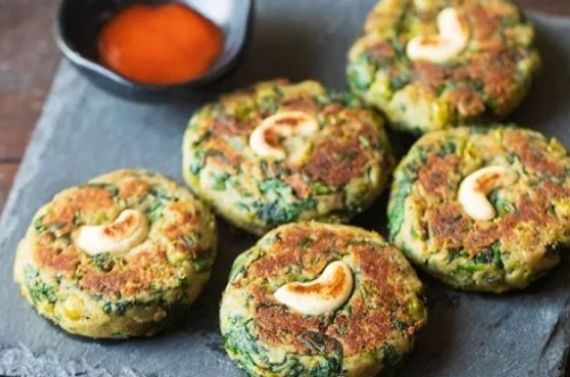 The quintessential Indian delicacy, Hara Bhara Kabab tends to never go out of style! It is easy to cook and deeply satisfying to eat.
Filled with the "goodness of vegetables", Hara Bhara Kabab will be the best dish for the Suhoor feast. This classic dish includes dish also includes potatoes for starch and onions for sweetness (Small tip- You can also try this recipe with roast beef or chicken)
Things you need:
Spinach, Potatoes, boiled, Green Peas, Green Chili, Ginger, Garam Masala Powder, Dry Mango Powder (amchur powder), Breadcrumbs, Oil, and Salt to taste
How to make it:
Boil potatoes, green peas, and spinach separately. Leave in salted water until soft. Roughly chop the blanched spinach. Heat some oil in a pan over medium flame. Add green peas, blanched spinach, spices, and salt. Let it cool. Then grind the mixture until medium coarse texture. Mash or grate the boiled potatoes in a medium-size bowl. Add the grated mixture. Grease your palms with oil and divide mixture into equal portions. Take each portion and give it a round shape of a ball. Press it gently between your palms to flatten it and give a shape like pattie. Shallow fry them until the bottom surface turns light brown. Serve hot!
Dry Fruit Milkshake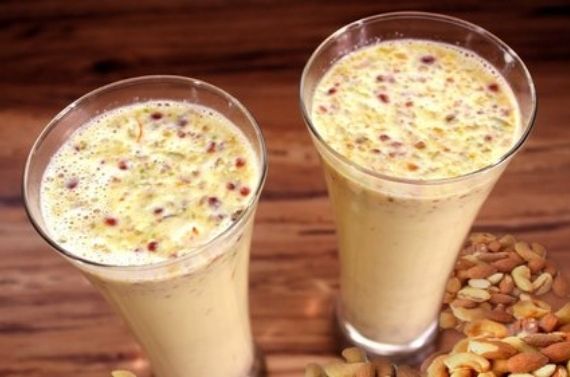 Nothing is more nutritious than milk and dry fruits. So, start your day with a Glass of Dry Fruit Milk Shake. Making this healthy milkshake will not take much of your time. You can easily prepare it while cooking some other dishes for Suhoor fast
Things you need:
Dates, Figs, Walnuts, Almonds, Chilled Milk, and Honey
How to make it:
Soak all the dry fruits. Peel them. Now transfer the dry fruits into Blender and add honey, chilled milk in Blender, and Blend till you get a thick paste. Serve chill!