Dining out with kids is an eternal conundrum with lots of factors to consider before you finally decide on a place to go. Restaurants and cafes that have a children's play area are great for just that. You may be able to recharge yourself with some coffee, or just relax over a cup of cold tea. If you want to make a plan, at the same time, trips can also be obtained for your child's birthday party. Check out SIX kid-friendly cafes around KL here.
1. Namoo Korean Dessert Café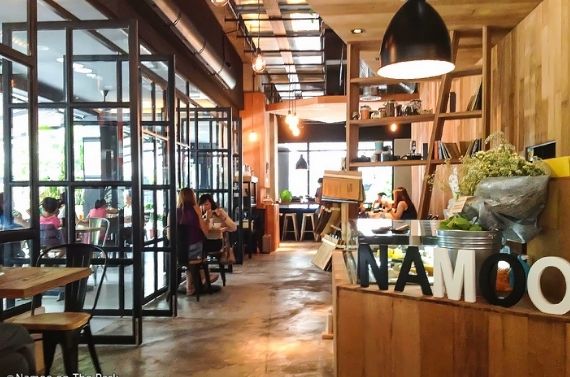 There is a Korean dessert cafe and bistro on Namu Park, located in the Publika Mall. A quaint, understated restaurant, it is located directly above the MPH Bookstore and would not immediately attract your attention, were it not from the delicious smell. With it seek back vibe it is the perfect place to catch a latte. The café decor is whimsical yet stark gray concrete walls with inspirational quotes and bare light bulbs, wooden tables with black bar stools and knives scattered around. An old suitcase and a photo album with a guitar and comic book on the floor, camera, jam jar and bookshelf are many examples of some of its eclectic decorations. It even has a cosy corner with bright blue sofas and shelves stacked with comics and books - an inviting place to curl up with a good book while enjoying the artistic namu on the park's whimsical atmosphere. And also, a sports area for their entertainment.
ADDRESS - Solaris Dutamas, 50480 Kuala Lumpur, Federal Territory of Kuala Lumpur, Malaysia.
2. Playground cafe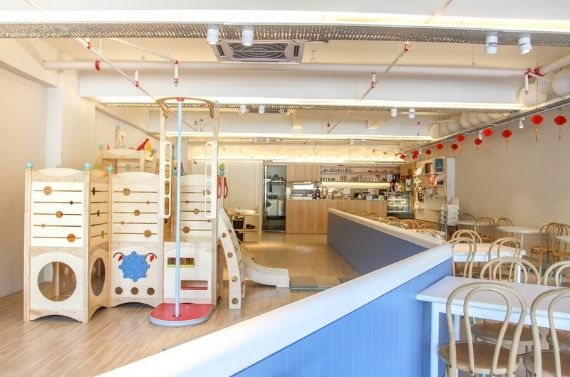 As its name suggests, Playground Cafe is billed as the 'Play Cafe', a safe, controlled and compact environment for preschoolers. Children enter the area for RM15, as their guardians relax and snack on sandwiches and pasta at the cafe location. In late 2019 Arcoris moved from Mont Kiara to the Playground Café neighbourhood, Versace. It took barely three months for public businesses to make their way to the new space before everything changed. Even in the event of this epidemic, they are taking full precautions to protect children. To ensure hygiene, the café has covered the number of toys available to children. Larger toys such as cooking sets and workspaces are available, but smaller toys, such as building blocks, are not. Nevertheless, parents are reassured by safety protocols that include standard temperature probes. Play-zone children should wear socks to minimize surface contact with the skin, while customers view food menus by text message to avoid physical menus. Even cashless payments are encouraged.
ADDRESS - Lot 1-3A, Verve Shops, No8, Jalan Kiara 5, Mont Kiara, 50480 Kuala Lumpur, Malaysia
3. Noriter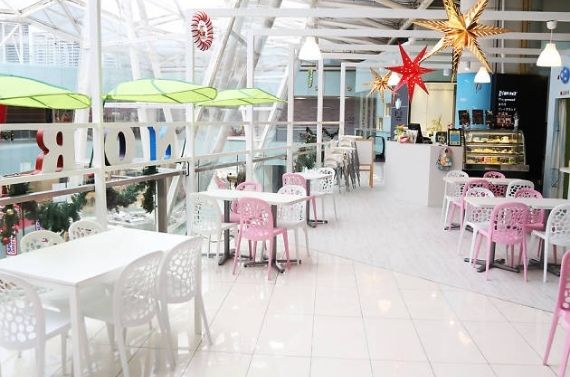 Another list that is located in the migratory suburb of Mont Kiara, Noriter is known for impeccable service and a healthy menu. The cafe is well lit, colourful and has lots of fun options for children such as ball pits, playhouses, kitchen sets and building blocks. Although there may be enough space in the play area, as toy types are available, we recommend this place for children 5 and younger. The owner has made available for customers to use baby wipes and hand sanitizers and even created a parking area for pedestrians, which is convenient for parents with infants. Kids will definitely like the warm plain udon (RM18) from the children's menu with rice shells and kimchi, while parents can feast on the grilled chicken sandwich.
ADDRESS - 2-21C, 2nd Floor, 1 Mont Kiara Mall, No.1, Jalan Kiara, Mont Kiara, 50480 Kuala Lumpur, Malaysia.
4. The Workshop, Sri Petaling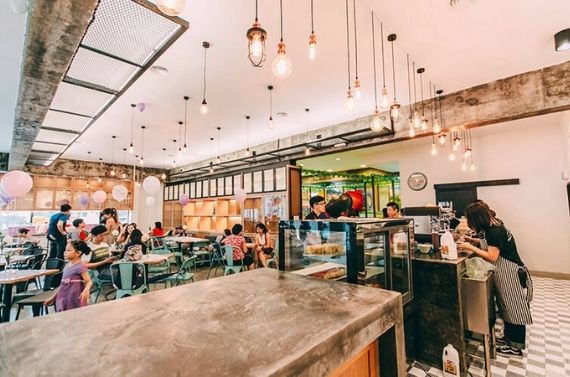 Finding a cafe can be a bit tricky, you should look for the stairs leading to the Beko Korean BBQ and then take the lift to the third floor. They also have child menus but are not very extensive. Their interior is very simple as space is used for children's parties, adults and children in the near future for various workshops such as cooking classes, arts and crafts and more. The main attraction here is a mini play gym in one corner of the cafe, with a few slides, a trampoline and a ball pit that presents the perfect solution for parents with active children as you enjoy your meal. Little people can play to their heart's content in a safe area while you eat in peace.
ADDRESS - 3rd Floor, No.2, Wilayah Persekutuan, KL, Jln Radin Bagus 7, Sri Petaling, 57000 Kuala Lumpur, Malaysia.
5. Bucket B Café, IPC Shopping Centre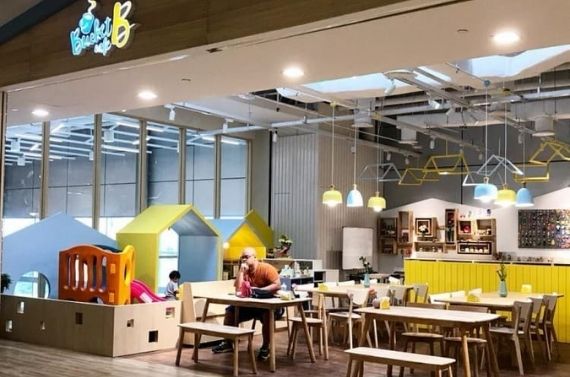 The cafe is inspired and owned by a mum, when her son was first born, he wanted coffee shops for Mum to enjoy with her younger people, creating a place for families to enjoy them. Was perfect to meet Mummy. Stay with each other and grab a coffee, and where children can play in a safe area. When looking for kid-friendly places in the city, this lovely café really ticks all the right boxes. The café has a good option for lots of seating, eating and drinking and is located right next to the new free C IPC Funland, so there is an additional reason to stop and drink coffee. When it comes to the menu, there is a good selection of some classic children's favourite drinks, healthy juices, snacks and hot staple food. Their cute little play area is suitable for children under 120 cm. The games are filled with house and ball games, a slide and small trampoline, trains and cars, and wooden puzzles for the young crowd. For older children, they have a large selection of board games and books, and their latest attraction to some retro video games which was a real favourite.
ADDRESS - Level 2, IPC Shopping Center, Mutiara Damansara, 47800 Petaling Jaya, Selangor, Malaysia.
6. Marmalade, Bangsar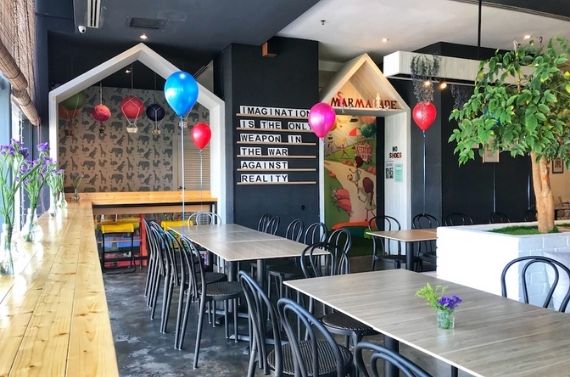 Located on the first floor in Bangsar Village, Marmalade has been operating for over 15 years. It is an ideal destination for spending time with your children. The restaurant has a dedicated playing space that is in sight of the dining area. The space for kids has everything to keep them occupied, and interested- from IKEA kitchen accessories to stuffed toys and animals, the restaurant even has books that your kids can enjoy while chilling on the comfy beanbags while you relish their delectable menu.
The restaurant truly caters to all. With an expansive brunch menu that covers interesting concoctions to wholesome meals, the best thing about Marmalade is that everything there is fresh & healthy! The menu is simple and essentially great for your picky eaters. They have generous, healthy sandwich & salad options and fresh, healthy juices that not only entice your eyes but your taste buds too! The owners have put in a lot of thought while creating the place- keeping in mind to keep everything (even the interiors) simple and cozy as well as maintaining a healthy menu for kids and adults alike.
Marmalade indeed is one of the best kid-friendly cafés in the whole of KL.
ADDRESS- Level 1 F18 Bangsar Village, 2 1, Jalan Telawi 2, Bangsar, 59100 Kuala Lumpur, Malaysia