With schools and daycares being closed due to holidays keeping children moving and brains active is all the more important. Finding new ways to keep kids occupied will also help take the pressure off parents and ease them while they are at home and managing the households. With a creative mind, there are countless forms of entertainment, both indoor and outdoor, that can be done with your little ones.
We at Kuala Lumpur Hospitality have compiled a few exciting activities in and around Kula Lumpur for a fun-filled and educational school holiday with the family (parents are you listening?!)
So read on-
Nurture your Inner Scientist at Petrosains Discovery Centre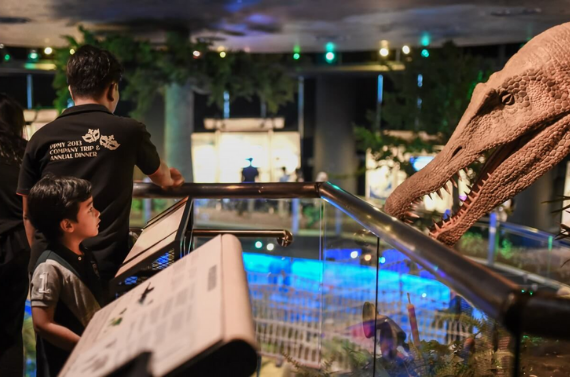 Teach your young ones about STEM (science, technology, engineering, and mathematics) in the most interactive science museum in our Kuala Lumpur (KL) that is mainly dedicated to the petroleum science industry! Situated on the top floor of Suria KLCC's shopping center, Petrosains Discovery Centre can be considered as KL's leading science museum with futuristic-themed rides. You can explore different sections ranging from a 'village' with exhibits introducing how petrol is used in the local daily life, a dinosaur exhibit, a music and art zone, and plenty more. We bet that it will take more an hour to explore the whole (if you don't get too caught up in one of their attractions!).
We recommend starting off with the 'Dark Ride', a round-shaped 4-seater ride that takes you through a journey through Malaysia's rainforest, mountains, seas, and the country's advancement throughout the years (the little ones will love it!). There will be plenty of buttons, experiments, mini rides, and two IMAX 3D cinemas to keep your young ones(and you) entertained all day long!
Address: Petronas Twin Tower, Level 4, Kuala Lumpur City Centre, 50088 Kuala Lumpur, Malaysia
A Visit to Aquaria KLCC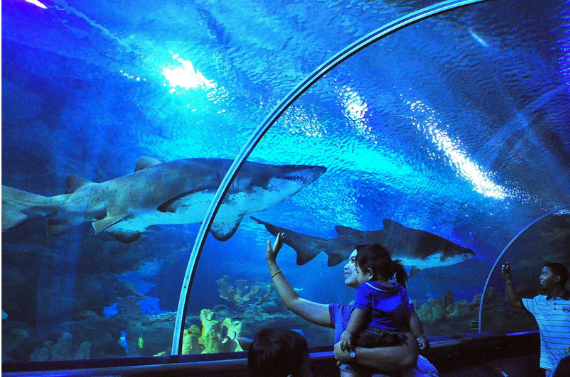 Considered as one of the top tourist attractions in our Kuala Lumpur (KL), Aquaria is said to be one of the largest aquariums in Southeast Asia and is ideal for all age groups (you can thank us later, people!).
Do you know Aquaria is the home to around 150 species and 5000 varieties of marine life? (exciting, isn't it?!). Some of the star attractions of Aquaria may include tiger sharks, seahorses, the sea snakes, the bright coral fish, the Amazon Basin, and the coral reefs. You can also keep a lookout for all the fish feeding activities (we bet your little ones will love it!).
Location: Kuala Lumpur Convention Centre Complex, Kuala Lumpur City Centre
A day out at the Lost World of Tambun - IPOH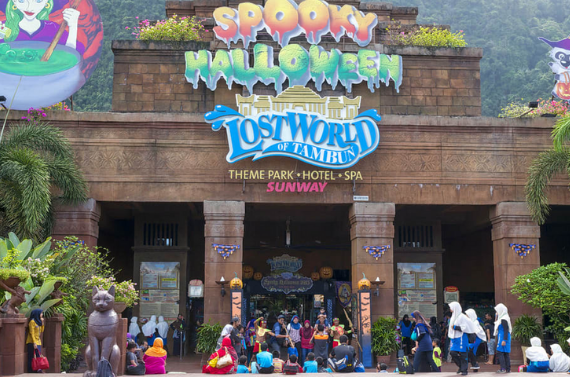 If you want to enjoy a fun-filled adventurous day with your little ones, the lost world of Tambun should definitely be on your bucket list!
This unique wonderland is surrounded by lush green and dense forest, which consists of natural hot springs, beautiful limestone hills, which is as old as 400 million years and has almost seven different theme parks. It is a paradise in itself (you can thank us later, people!).
Location: 1, Persiaran Lagun Sunway, Sunway City, 31150 Ipoh, Negeri Perak, Malaysia
Visit the fascinating Batu Caves.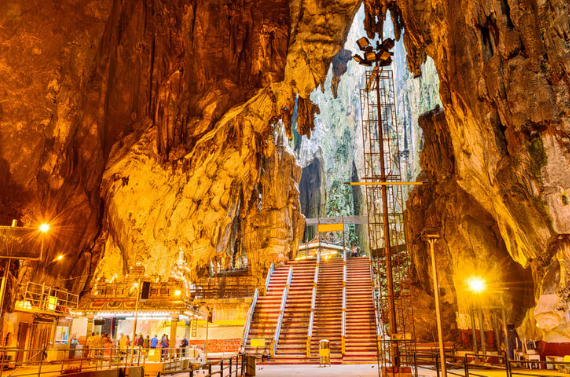 People who tend to visit the Batu Caves near Kuala Lampur are pleasantly welcomed with some pretty amazing Hindu arts. The three main caves that constitute the Batu caves are considered one of the most famous Hindu shrines outside India. This attracts thousands of worshippers every year, especially during the Thaipusam, a famous Hindu festival celebrated annually. One of the most striking features of the Batu cave is the giant statue of the Hindu god. It can be reached by climbing around 272 steps to the Cathedral Cave. Teach your little ones about the richness of traditional Hindu culture with a visit to the iconic Batu Cave for a fun-filled and educational day out!
Location: Batu Caves, Sri Subramaniam Temple, Kuala Lumpur, Malaysia
Learn interesting things at the Telekom Museum - Muzium Telekom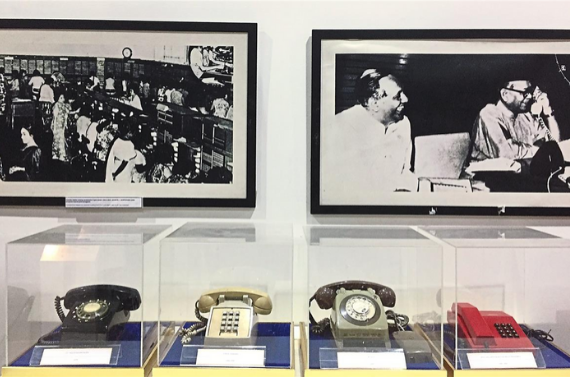 In today's digital age, the idea of a phone with real wires hanging down (apart from the ones in your office) might sound a little weird isn't?! (wireless technology, duh!). How many of us do actually remember what it was like to pick up a phone and physically dial a phone number, or to use a rotary dial altogether? Must be distinct childhood memory!
Telekom Museum will help you to go down the memory lane and revisit that iconic era! The lower floor has all the information and exhibits about early communication in Kula Lumpur and how it transformed the city. Interestingly you would be able to peruse old telephones and learn about the evolution of communication. At the same time, interactive (ironically digital) display boards make for an overall engaging and educational learning experience, especially for your little ones. Head up the spiral staircase to view an assortment of digital communication devices (fun isn't?!).
Address: Jalan Raja Chulan, Kuala Lumpur, 50200 Kuala Lumpur, Wilayah Persekutuan, Kuala Lumpur, Malaysia
Dine in the "Plane in the city."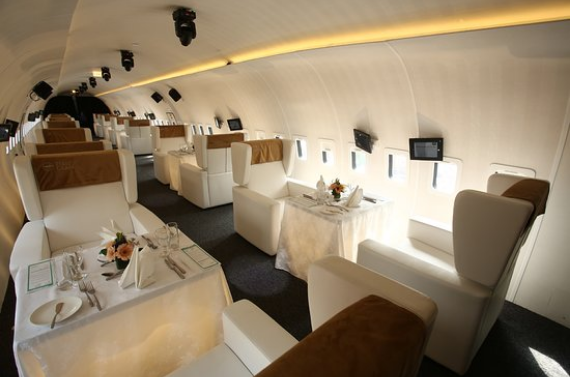 Located in the heart of Kuala Lumpur (KL), "Plane in the city" restaurant tends to provide a unique 90 minutes experience while enjoying a nice family dinner in a grounded Boeing 737 aircraft. One could experience having a delicious meal prepared by the 5-star hotel, Le Meridien Kuala Lumpur (KL), in addition to enjoying nice music. The little ones (and you) could enjoy walking on the wings of the aircraft, take a selfie while sticking your head out of the pilot's cockpit. One could also take photos with the beautiful interiors and the turbines of the plane with an exciting real-life flight simulation experience(impressive, isn't it?!).
A small tip- You could book Economy class, Business class or First class package as per choice or requirements. For more details, one should definitely visit the official website (your welcome people!)
Location: 231, Bukit Bintang Street, Kuala Lumpur, 55100 Kuala Lumpur, Federal Territory of Kuala Lumpur, Malaysia
Revisiting History with National Museum of Malaysia - Muzium Negara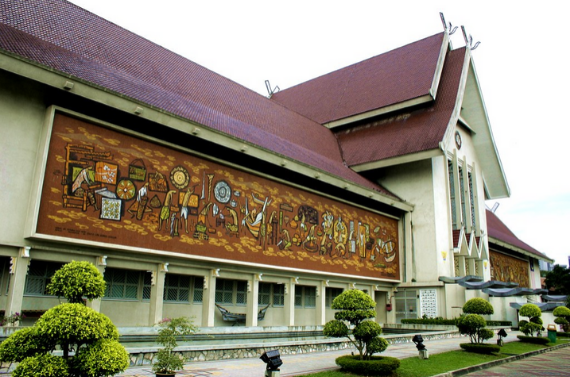 No museums list is complete without the addition of our National Museum of Malaysia, which more commonly known as the Muzium Negara. Constructed in 1963, the National Museum was designed as per the features of a Malay Minangkabau Gadang palace. It was the third official Agong king of new Malaysia after the independence of Malaya from the colonial forces of Britain.
Please spend a few hours with your little ones for a fun-filled and educational day out exploring among the many artifacts, flora and fauna, cultural artworks, currency, and structures on which Malaysia was built and which continue to preserve its identity. There are four halls in the museum – the Prehistoric gallery, the Malay Kingdoms, the Colonial era, and Malaysia Today, each focusing on a different period of our country with informational exhibits. We bet it's money well spend!
Address: Jabatan Muzium Malaysia, Jalan Damansara, Tasik Perdana, 50566 Kuala Lumpur, Wilayah Persekutuan, Kuala Lumpur, Malaysia
Enjoy Ice-Skating at Sunway Pyramid Ice Skating Rink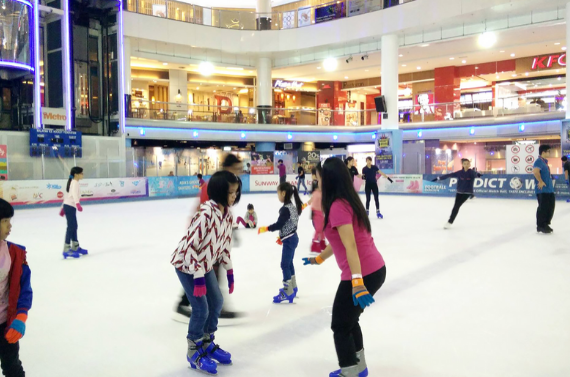 With the hot KL weather, what better way to spend the day than visiting the indoor ice-skating rink in a shopping mall? (isn't it?!).
You can also occasionally watch the national team practice or even international tournaments at the rink! It'll be a fun day out, especially for your little ones!
A small tip- If you have never ice-skated before, do not worry. Sunway Pyramid ice also offers 30-minute basic skating skills at a minimum price! (yay!).
Address: 3, Jalan PJS 11/15, Bandar Sunway, 47500 Subang Jaya, Selangor, Kual Lumpur, Malaysia
Learn about Islamic culture with a visit to the Masjid Jamek Mosque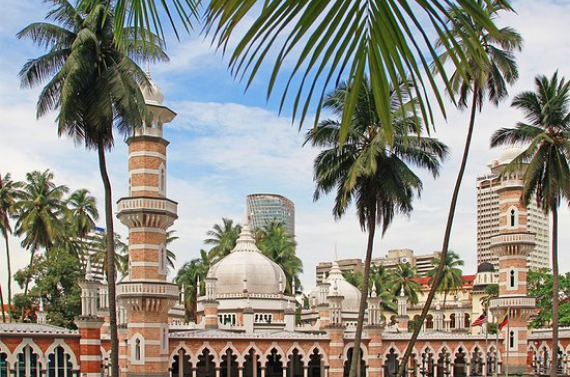 Teach your little ones about the rich Islamic culture with a visit to one of the oldest Islamic places of worship in Kuala Lumpur, Masjid Jamek Mosque. It was built in the year 1907. With the perfect combination of ancient Moorish, Islam, and Mughal architectural styles, Masjid Jamek Mosque provides breathtaking photo opportunities for travelers. You can also overlook the breathtaking Klang River and several KL city landmarks all at once.
The magnificent Masjid Jamek Mosque constitutes of three domes that surround the prayer hall, the tallest of which measures at 20 meters. Flanked by two brick minarets that stand over 25 meters high, Masjid Jamek Mosque is worth visiting.
Address: Jalan Tun Perak, City Centre, 50050 Kuala Lumpur, Wilayah Persekutuan, Kuala Lumpur, Malaysia
Enriching experience at National Mosque of Malaysia – Masjid Negara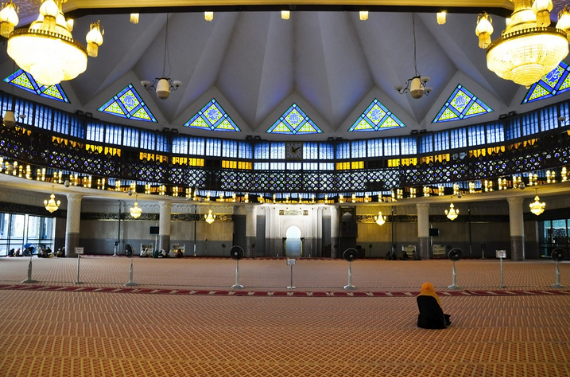 The National Mosque of Malaysia, also known as Masjid Negara, can be considered a nationwide symbol of Islam.
Situated within the Kuala Lumpur Lake Gardens, this massive blue-hued building includes a main prayer hall with 48 smaller domes, a 73-meter minaret, and a 16-pointed star concrete main roof.
While the roofing and ironworks adorn beautiful contemporary interpretations of traditional Islamic art and calligraphy, abstract shapes, and geometric lattices, the walls of the Grand Hall are beautifully inscribed with verses from the Koran. In short, a fun and enriching experience for your little ones (and you!).
A small tip- Non-Muslim visitors are only allowed to visit at certain times of the day, and robes are lent to those who are not dressed in modest clothing.
Address: Jalan Perdana, Tasik Perdana, 50480 Kuala Lumpur, Wilayah Persekutuan, Kuala Lumpur, Malaysia
Visit the Army Museum in Port Dickson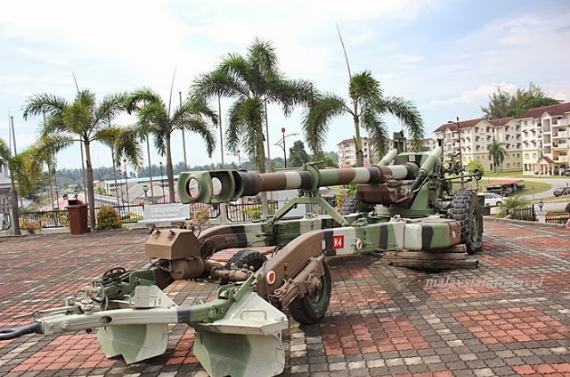 Port Dickson Army Museum can be considered as one of Malaysia's best museums alongside the Royal Malaysian Police Museum with similar style and presentation.
It is located next to an Army base at Port Dickson, which have long been a military town as well as being a leading beach
The various galleries include a look at the army through the ages from the 16th century Melaka Sultanate, through the Portuguese and Dutch eras and then on to the British era from which the modern Malaysian army can trace its roots.
One of the most fascinating exhibits in the museum is the Communist Party of Malaya (CPM) Tunnel which is a mock-up of an underground network of tunnels of the type used by the communist terrorists during the Emergency. Inside these tunnels, the bandits slept, ate, planned their attacks, treated wounds and illnesses, and carried out target practice. The tunnel is a little dark in places but well ventilated. In the grounds of the museum are a steam locomotive, named Alor Gajah, various military aircraft and helicopters, a selection of armoured vehicles and a number of field guns and artillery pieces. In short, a fun and enriching experience for your little ones (and you!).
Address: Kem, Persiaran Pahlawan, Kampung Baru Sirusa, 71050 Port Dickson, Negeri Sembilan, Malaysia
Visit Royal Malaysian Police Museum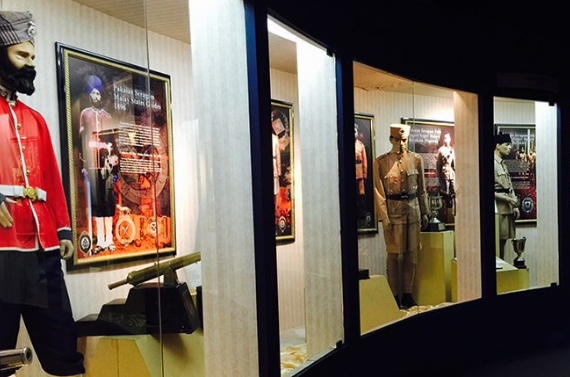 With fully loaded armored vehicles and cannons in its courtyard near the entrance, it is pretty hard to miss the Royal Malaysian Police Museum where there's a carefully curated collection of artifacts and exhibits showcasing the history and roles played by the royal police force of Malaysia (#respect)
In the first hall, you would come across the various uniforms and weapons used by the police throughout history, recording their evolution from the time of the Melakan Sultanate into what they are at present. The second hall will take you through the various eras that Malaysia went through, and includes weaponry exhibiting items confiscated from various communists and Secret Societies at the time of emergency. The last hall focuses on the Malayan Emergency period, with displays and information about that time alongside communications equipment used by the various communists and the police force's development in combating organized crime over the last few decades!
Address: 5, Jalan Perdana, Tasik Perdana, 50480 Kuala Lumpur, Wilayah Persekutuan Kuala Lumpur, Malaysia
Visit the Jump Street Asia in Petaling Jaya, KL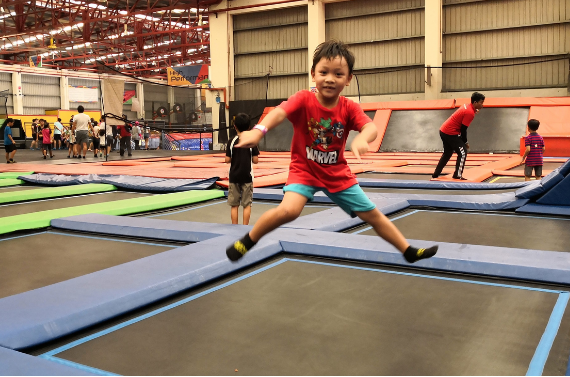 Located in a warehouse behind Jaya One, this indoor trampoline park is made for people of all ages. The park is divided into several sections: a main court featuring over 9,000 square feet of interconnected trampolines, two dodge ball courts, a foam pit, basketball and kids' courts, a high performance area with six Olympic-spec trampolines and vertical running walls of different heights. Want to practice your aerial moves? The Big Bag – a massive seven- by ten-metre airbag – provides the ultimate soft landing. And kids after you're done jumping, you can relax at Jump Café upstairs (you can thank us later, people!).
Address: 8A, Jalan 13/6, Seksyen 13, 46200 Petaling Jaya, Selangor, Malaysia