Often, we all tend to feel stuck, frustrated, and dissatisfied when it comes to the job or personal life! At Kuala Lumpur Hospitality, we suggest that a quick nature retreat might be the perfect answer you might be looking for! Allowing stress to build-up tends to be toxic not only in one's career but also in one's interpersonal relationships.No worries, we got you covered!
Thankfully in our Kuala Lumpur, we do not have to travel far just to escape the concrete jungle. Hence we at Kuala Lumpur Hospitality have listed 11 Must-Visit Nature Retreats Near Klang Valley within Selangor!
So read on-
Tiarasa Escapes Glamping Resort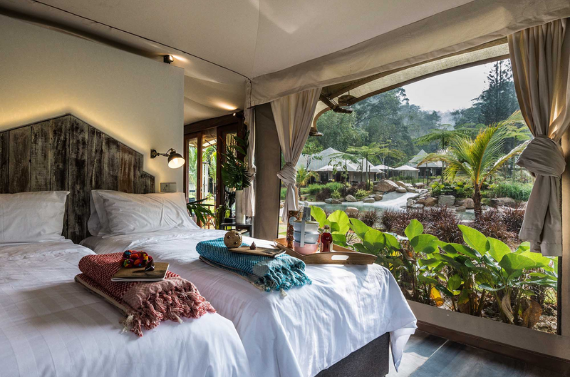 Located on a leafy 3-hectare estate 2 km from the Coniferous Forest nature preserve, this upscale Tiarasa Escapes Resort has aptly described themselves as a place for glamping at its finest.
Tiarasa Escapes Resort's 20 luxurious safari-style tents and five dreamy treehouses, is truly dreamlike! Various facilities and amenities may include refined air-conditioned permanent tents (no TVs though!) feature decks, tea, and coffeemaking facilities, and complimentary Wi-Fi, plus en suite bathrooms with free-standing baths (full five-star experience, duh!).
Surrounded by the beautiful lust green Janda Baik rainforest, we guarantee that there is so much to do at the Tiarasa Escapes Resort - jungle trekking, soaking in the natural stream, picnics by the river, movies under the moonlight and so much more. Kids are more than welcomed too as there are programs specially catered to them also ( a win-win situation for all!)
Address: Tiarasa Escapes Resort, Persiaran Enderong, Kampung Janda Baik, 28750 Bentong, Pahang, Malaysia
Phone: +60 12-887 7777
Website: https://www.tiarasaescapes.com/
Dusuntara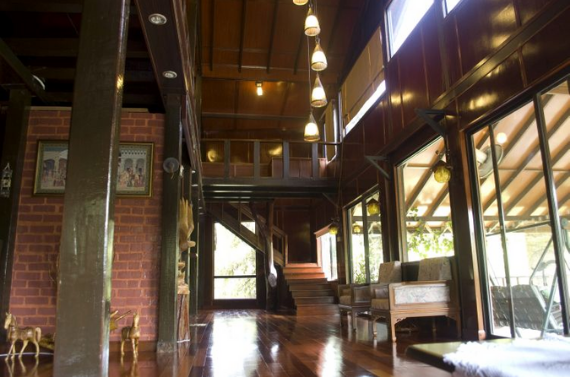 Dusuntara Jungle Retreat, is a well-kept secret paradise sitting amidst orchards, lush greenery, the tropical rainforest at the foothills scenic and majestic mountains. It is the place to Rejuvenate, Recharge, Rediscover.
A casual family-run jungle resort, Dusuntara offers a saltwater pool, a BBQ area & 8 simple quarters.
Walk-in for absolute relaxation and dip in the rejuvenating pool and dig into the mouth-watering BBQ in the BBQ area. This exclusive resort will luxuriate in your ideal getaway and help you regain equilibrium and rediscover your sense of true self!
Address: Dusuntara, 48200 Batang Kali, Selangor, Malaysia
Phone: +60 19-318 4189
Facebook Page:https://m.facebook.com/Hawkam141414/
Rumah Kebun- Hulu Langat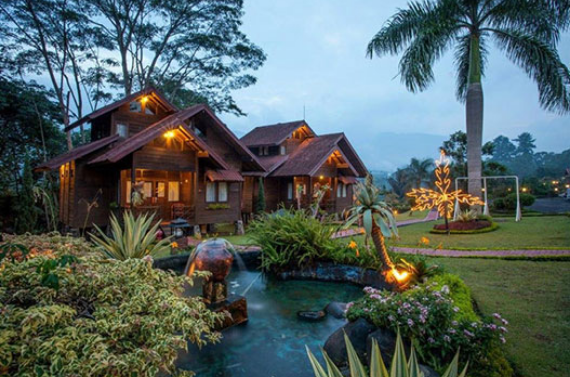 With a mere 30-minute drive from the main city of Kuala Lumpur, Rumah Kebun can be considered as a breathtaking spot hidden in the beautiful dense green forests of Hulu Langat. Rumah Kebun is a private villa that can house up to 12 people – perfect for trips with your family and close friends! Take a refreshing dip into the natural spring water pool right in front of the villa. You can also go ahead and dip your toes into the Semungkis River that runs across the spectacular and scenic Rumah Kebun resort.
Address: Kampung Sungai Semungkis Batu 14 1/2 Hulu Langat, Selangor.
Website:https://www.airbnb.co.in/rooms/9844235?locale=en&_set_bev_on_new_domain=1592372771_NDVjNjQ2MWE1YzIy&source_impression_id=p3_1598338913_GUgieEq6wCYN8lUJ
Sekeping Serendah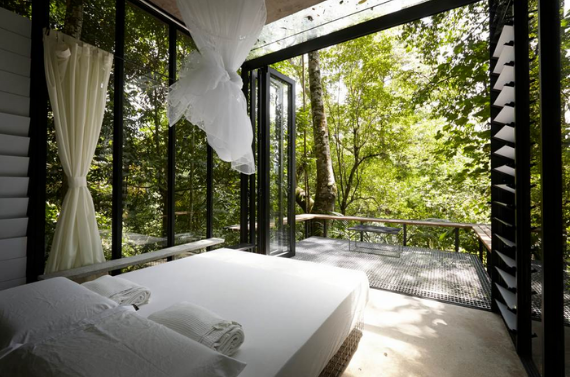 Surrounded by rainforest, this remote SekepingSerendah resort which is just 10 minutes' walk from Serendah Waterfall, will surely Rejuvenate your soul.
Built on platforms, the airy TV-free quarters of SekepingSerendah resort range from simple glass-and-steel chalets to multi-level industrial-chic structures with forest views and kitchenettes mosquito nets, and open-air showers and ceiling fans.
Fun Fact- Pets are welcome (all pets lovers are now most welcome with their fur friends!).
Address: SekepingSerendah, SERENDAH FS, 43300, 48200, Selangor, Malaysia
Phone: +60 12-324 6552
Website:https://www.sekeping.com/serendah/
Templer Park Rainforest Retreat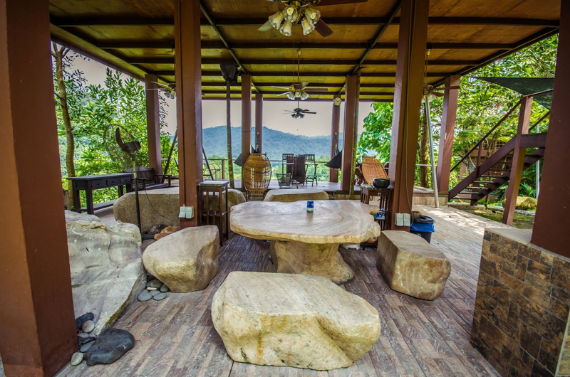 Most of us must surely have had heard of or been to Templer Park in Rawang district. Now, you have even more reason to visit its famous gushing waterfall. The Templer Park Rainforest Retreat has both villas and container houses, so you can choose whichever fits your budget. There's really nothing like waking to the spectacular view of majestic mountains and chirping of birds and insects, making it hard to believe you're just minutes away from the city.
This tranquil retreat has a modern 4-bedroom villa, and an industrial-chic 5-bedroom house built from shipping containers includes flat-screens and balconies. All have open-air kitchens and dining areas. Some rooms have bunk beds. Wi-Fi is available (heaven on earth indeed!).
Address: 22, Jalan 3/2, Templer Height, Templer Park, 48000 Rawang, Selangor, Malaysia
Website: https://www.tprr.net/
Dusun Bonda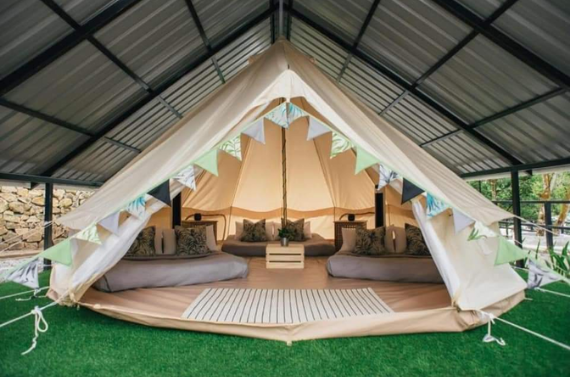 If you are thinking of something with fewer frills but still has everything you need to be packed for a memorable adventure trip, then Dusun Bonda should definitely be on your bucket list!
Dusun Bonda provides the perfect glamping spot for a weekend getaway with families and friends as there are tons of activities for everyone to enjoy. Feel the rushing waters from UluTamu River or even have a go on its wooden swings built right on top of the river!
The serene & tranquil natural environment allows every guest to chill, relax, destress & rejuvenate. This natural retreat also has an infinity pool for swimming with a jet spa, splash pool, and an outdoor sauna for guests' use. BBQ & charcoal, firestarters, steamboat pots, gas stove, and other kitchen tools are provided for one's cooking needs (foodies are you listening?!).
Address: Lot 2121 (2996) Jalan UluTamu, Kampung Orang Asli Gurney, UluTamu, 44300 Batang Kali, Selangor, Malaysia
Website: https://www.dusunbonda.com/
The Sticks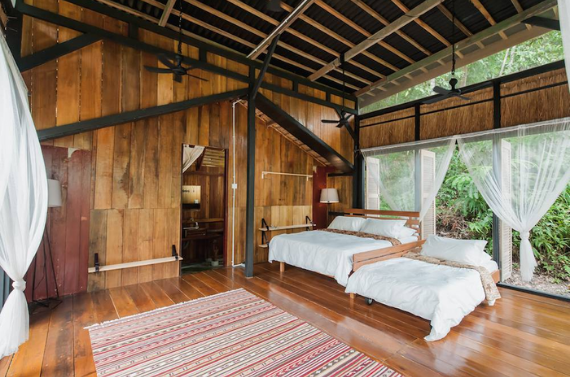 The Sticks natural retreat will set you right in the midst of nature at Fraser's Hill. The Sticks really sticks out with its immaculate wooden houses and tendok with the additional inclusion of home-cooked meals (cherry on top, indeed!).
At Sticks, the accommodations range from basic bamboo huts to rustic wood bungalows and tent-style quarters; some have river access, en suite bathrooms, decks, and are open-sided!
Address: Lot 213 Jalan KKB - Fraser's Hill, 44000 Kuala Kubu Baru, Selangor, Malaysia
Website: https://thesticks.my/
The Dusun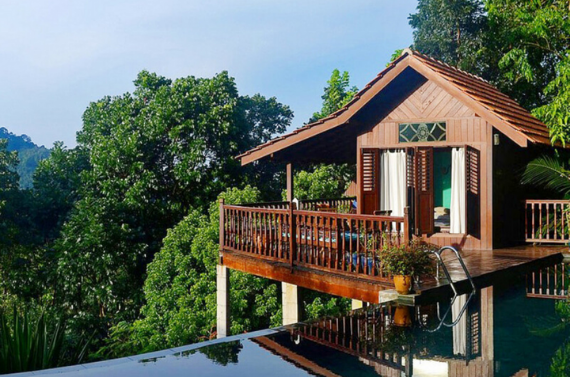 Situated on the outskirts of Hutan Lipur Jeram Toi nature preserve, this serene Dusun resort is the perfect place to Rejuvenate, Recharge, and Rediscover.
Built from dark wood and featuring tropical-style decor, the 4 relaxed 1-bedroom cottages have kitchens, patios and BBQ facilities, plus countryside views (truly majestic!).
Address: The Dusun, 3437, Jalan, Mukim, Kampung Baru Pantai, 71770 Seremban, Negeri Sembilan, Malaysia
Website: http://thedusun.com.my/
Malihom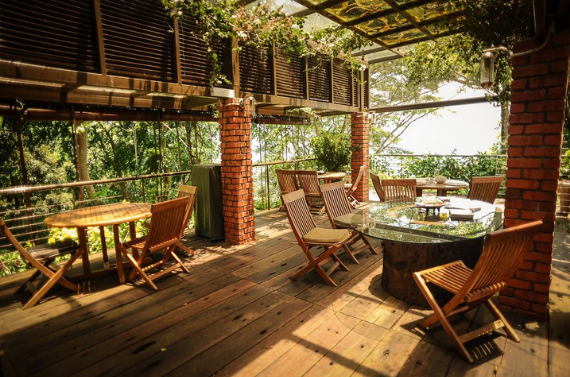 Located on a spacious 16-acre hilltop estate, this luxurious collection of converted rice barns, Malihom is perfect for an out of the world experience!
The 8 traditional Thai rice barns are individually designed and have either private gardens or decks. All have air-conditioning, flat-screen TVs, DVD players and mini bars. Some even have bamboo hammocks and/or outdoor showers (interesting isn't it?!).
Address: Malihom, Kiri NT 168, Jalan Bukit Penara, Mukim 6, 11000 Balik Pulau, Penang, Malaysia
Website: http://malihom.com/
Sepilok Forest Edge Resort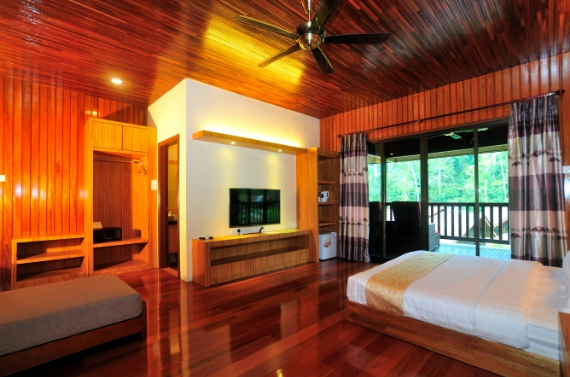 If you are somewhere near Borneo and on a tight budget for a forest retreat, then this little pocket-friendly gem should definitely be on your bucket list
Set in a longhouse and adjacent chalets, serene Sepilok Forest Edge Resort was initially constructed for the backpackers. All the rooms at the Sepilok Forest Edge Resort will give you the most genuine Borneo lifestyle feel - Simple rooms and dorms come with ceiling fans, private or shared bathrooms, and a shared veranda. Detached chalets add wood paneling, beamed ceilings, and private terraces, as well as en suite bathrooms and air-conditioning (insert homely feelings! ).
You can also explore the rich Borneo rich rainforest with its fun-filled activities such as Mangrove firefly cruise, Malay village tour, Gomantong Cave, and Kinabatangan River cruise as well as the Libaran Turtle island exploration (truly adventurous isn't it?!).
Address: Sepilok Forest Edge Resort, Mile 14, Jalan Rambutan, Sepilok, 90009 Sandakan, Sabah, Malaysia
Website: https://www.sepilokforestedgeresort.com/
Awanmulan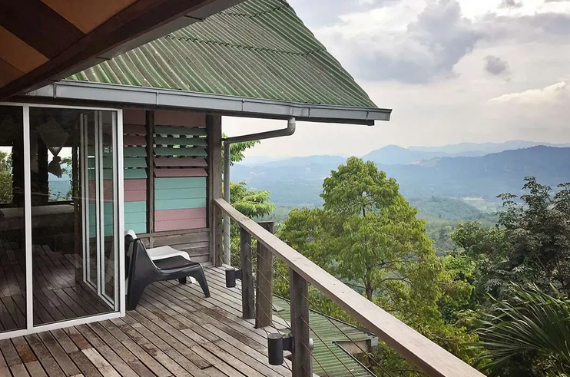 A short distance from the bustling capital city of Kuala Lumpur lies Awanmulan in the hills of Negeri Sembilan, Malaysia, away from the trappings and distractions of modern life.
Awanmulan is foremost a family-owned and family-run guest house and our compound is one acre large consisting of the family home, next to the swimming pool and pool decks. The guest rooms are all in private little houses with their own living spaces and kitchens for the guests to enjoy private time together!
Address: Awanmulan Pantai Orchard, Kampung Baru Pantai, 71770, Negeri Sembilan, Malaysia
Website: https://www.awanmulan.com/home.html
Take a break from your hectic schedule of life and visit these exotic and exclusive Nature Retreats and Resorts Near Klang Valley. In addition to the quaint ambience, the serene locations will surely help to rejuvenate and recharge and re-energize your overall mind, body, and soul- totally mesmerizing and worth the effort!