Malaysia is one such country that can boast of being a genuinely Asian country. We all are familiar with Tourism Malaysia refrain- "Malaysia, Truly Asia," right?! And what's more Asian and tropical than the luscious green rainforests of Malaysia? Also, various research suggests that being surrounded by nature brings about a wealth of health benefits!
We at Kuala Lumpur Hospitality, have listed down a few beautiful forest retreats and resorts Malaysia offers! What's more, these gorgeous resorts would not require you to exchange comfort for nature (you can thank us later, folks!)
So read on-
1. Tiarasa Escapes Resort- Pahang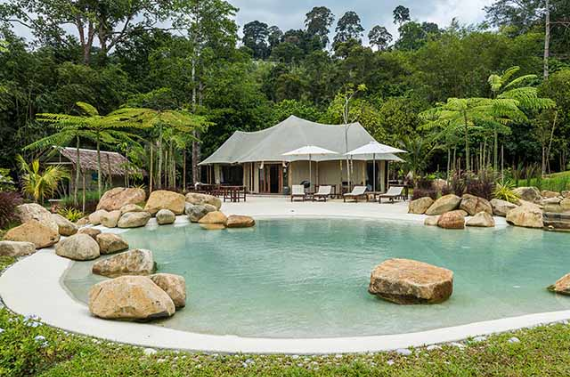 Located on a leafy 3-hectare estate 2 km from the Coniferous Forest nature preserve, this upscale Tiarasa Escapes Resort has aptly described themselves as a place for glamping at its finest.
Tiarasa Escapes Resort's 20 luxurious safari-style tents and five dreamy treehouses,is truly dreamlike! Various facilities and amenities may include refined air-conditioned permanent tents (no TVs though!) feature decks, tea, and coffeemaking facilities, and complimentary Wi-Fi, plus en suite bathrooms with free-standing baths (full five-star experience, duh!).
Surrounded by the beautiful lust green Janda Baik rainforest, we guarantee that there is so much to do at the Tiarasa Escapes Resort - jungle trekking, soaking in the natural stream, picnics by the river, movies under the moonlight and so much more. Kids are more than welcomed too as there are programs specially catered to them also ( a win-win situation for all!)
Address: Tiarasa Escapes Resort, Persiaran Enderong, Kampung Janda Baik, 28750 Bentong, Pahang, Malaysia
Phone: +60 12-887 7777
Website: https://www.tiarasaescapes.com/
2. Sepilok Forest Edge Resort - Sabah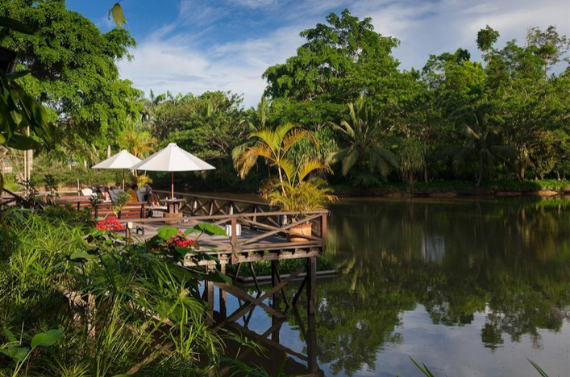 If you are somewhere near Borneo and on a tight budget for a forest retreat, then this little pocket-friendly gem should definitely be on your bucket list
Set in a longhouse and adjacent chalets, serene Sepilok Forest Edge Resort was initially constructed for the backpackers. All the rooms at the Sepilok Forest Edge Resort will give you the most genuine Borneo lifestyle feel - Simple rooms and dorms come with ceiling fans, private or shared bathrooms, and a shared veranda. Detached chalets add wood paneling, beamed ceilings, and private terraces, as well as en suite bathrooms and air-conditioning (insert homely feelings! ).
You can also explore the rich Borneo rich rainforest with its fun-filled activities such as Mangrove firefly cruise, Malay village tour, Gomantong Cave, and Kinabatangan River cruise as well as the Libaran Turtle island exploration (truly adventurous isn't it?!).
Address: Sepilok Forest Edge Resort, Mile 14, Jalan Rambutan, Sepilok, 90009 Sandakan, Sabah, Malaysia
Phone: +60 16-523 3190
Website: https://www.sepilokforestedgeresort.com/
3. Glamz - Pahang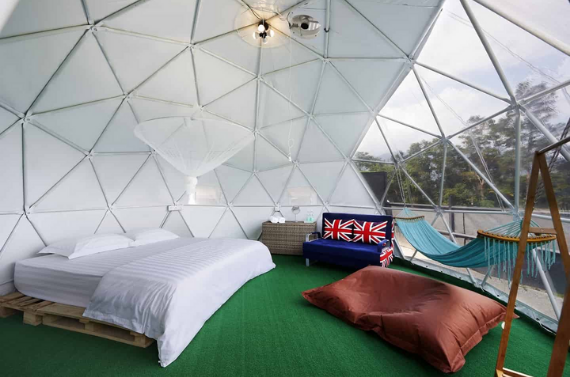 Glamz, a relaxed, stargazing-themed retreat located in the lap of the rural forested area, is truly one of its kind!
Featuring stylish dome-shaped tents is loaded with see-through panel (one of them even comes with a private jacuzzi, yay! ). This glamping site will remind you of the famous Sydney's bubble tent as it promises a memorable "out of the world" experience in the great outdoors beneath a canvas of twinkling stars at night with your loved one!
A small tip- If you are thinking of hosting a gardener any outdoor event (say, for example, a wedding or birthday party!), Glamz Resorts might just fit the bill because Glamz Resort comes with an event space (you can thank us later, people!)
Address: Glamz Resort, 1, JlnMeranti, 69000 Genting Highlands, Pahang, Malaysia
Phone: +60 12-664 5269
Website: https://glamz.com.my/
4. The Shorea Resort- Negeri Sembilan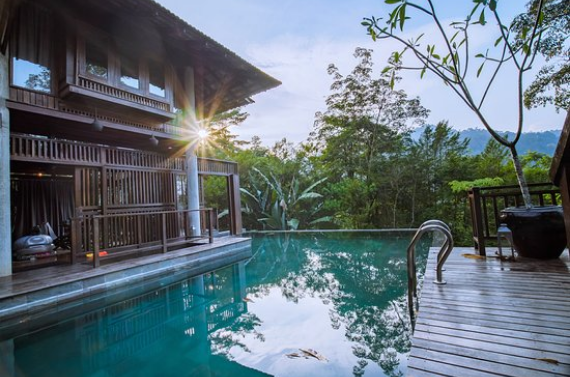 Located in the heart of the Berembun Forest Reserve and on natural terrains, this upscaled Shorea Resort can be considered an architectural beauty as most of the resort's construction and flooring are done from recycled shorea—it is a genus of rainforest tree (timber, duh!). In addition to natural stone and reclaimed tiles.
There are a number of paths leading to the jungle stream and even a waterfall, The Toi Waterfall. But if you are not feeling adventurous, fear not as the Shorea Resort has gorgeous pools set against an equally jaw-dropping backdrop of the forest.
Address: The Shorea Resort, Village Kolam Air, Mukim Pantai,, Jalan Jelebu, 71770 Seremban, Negeri Sembilan, Malaysia
Phone: +60 17-338 5698
Website: https://www.theshorea.com/
5. Banjaran Hotsprings - Negeri Perak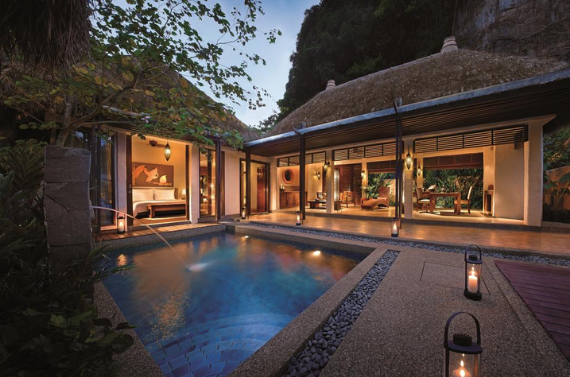 This luxury is set in a valley surrounded by tropical forest cradled by 260 million-year-old towering Paleozoic calcareous hills, lush rainforest, natural caves, and cascading waterfalls. In short, all-villa BanjaranHotsprings is the perfect place that is adapted to strike a comfortable balance between your body, mind, and soul.
Step into here for absolute relaxation and dip in the rejuvenating geothermal hot springs and cascading waterfalls. This exclusive spot is built to luxuriate in your ideal getaway and to help you regain equilibrium and rediscover your sense of true self!
Address: BanjaranHotsprings Resort, 1, Persiaran Lagoon, Sunway 3, 31150 Ipoh, Negeri Perak, Malaysia
Contact: +60 5-210 7777
Website: https://www.sunwayhotels.com/the-banjaran/
6. Japamala Resort- Pahang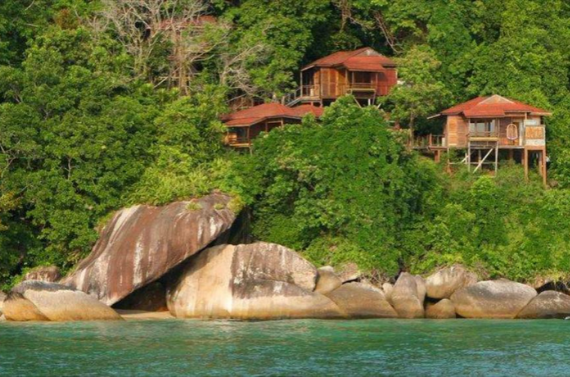 Fun Fact- Did you know that the rooms at Japamala are known as 'Sarang', which means nest in Malay language (exciting isn't it?!).
When you really think about it, it really makes sense considering how their series of wooden houses, hillside sarangs, and beachside villas were designed and built around the resort's natural landscape. Many of them have private plunge pools and wooden sun decks and are fully air-conditioned while both the Hillside Sarang and Jungle Luxe Sarang are a treat,(wanna bet?!). It is the Treetop Chalets that will give you a truly memorable experience (guaranteed!).
Address: JapamalaResort,Kampung Lanting, 26800, Pahang, Malaysia
Phone: +60 9-419 7777
Website: https://www.japamalaresorts.com/
7. Sekeping Serendah - Selangor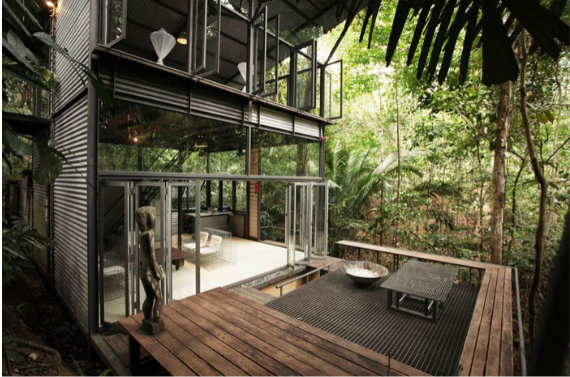 Surrounded by rainforest, this remote Sekeping Serendah resort which is just 10 minutes' walk from Serendah Waterfall will surely Rejuvenate your soul.
Built on platforms, the airy TV-free quarters range from simple glass-and-steel chalets to multi-level industrial-chic structures with forest views, kitchenettes and mosquito nets, as well as open-air showers and ceiling fans.
Fun Fact- Pets are welcome (all pets lover are now most welcome with their fur friends!).
Address: Sekeping Serendah, SERENDAH FS, 43300, 48200, Selangor, Malaysia
Phone: +60 12-324 6552
Website: https://www.sekeping.com/serendah/
8. Dusuntara - Selangor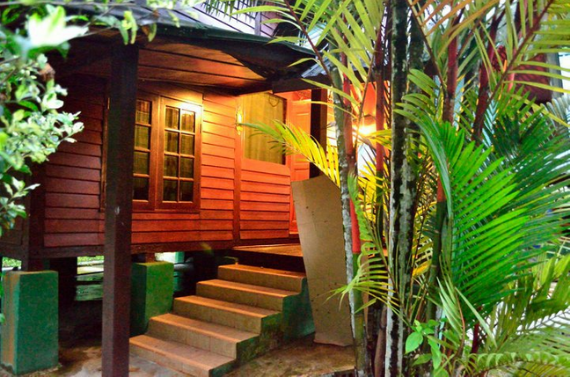 Dusuntara jungle Retreat, is a well-kept secret paradise sitting amidst orchards, lush greenery, tropical rainforest at the foothills scenic and majestic mountains. It is the place to Rejuvenate, Recharge, Rediscover.
A casual family-run jungle resort, Dusuntara offers a saltwater pool, a BBQ area & 8 simple quarters.
Walk in for absolute relaxation and dip in the rejuvenating pool and dig into the mouth-watering BBQ in BBQ area. This exclusive resort will luxuriate in your ideal getaway and to help you regain equilibrium and rediscover your sense of true self!
Address: Dusuntara, 48200 Batang Kali, Selangor, Malaysia
Phone: +60 19-318 4189
9. The Dusun- Negeri Sembilan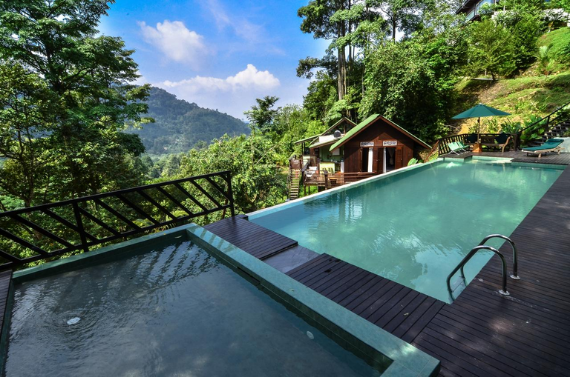 Situated on the outskirts of Hutan Lipur Jeram Toi nature preserve, this serene Dusun resort is the perfect place to Rejuvenate, Recharge, and Rediscover.
Built from dark wood and featuring tropical-style decor, the 4 relaxed 1-bedroom cottages have kitchens, patios and BBQ facilities, plus countryside views (truly majestic!).
Address: The Dusun, 3437, Jalan, Mukim, Kampung Baru Pantai, 71770 Seremban, Negeri Sembilan, Malaysia
Phone: +60 12-616 2585
Website: http://thedusun.com.my/
10. Malihom - Penang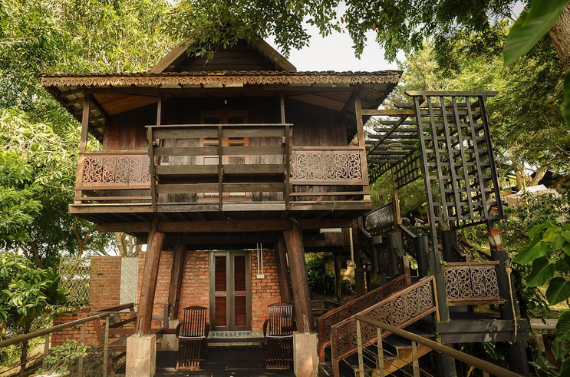 Located on a spacious 16-acre hilltop estate, this luxurious collection of converted rice barns, Malihom is perfect for an out of the world experience!
The 8 traditional Thai rice barns are individually designed and have either private gardens or decks. All have air-conditioning, flat-screen TVs, DVD players and mini bars. Some even have bamboo hammocks and/or outdoor showers (interesting isn't it?!).
Address: Malihom, Kiri NT 168, Jalan Bukit Penara, Mukim 6, 11000 Balik Pulau, Penang, Malaysia
Phone: +60 4-261 0190
Website: http://malihom.com/
We at Kuala Lumpur Hospitality believe that even though you tend to live in the hustle and bustle of the concrete jungle in the cities, there is no harm to take a break from the hectic city life. Give yourself the nature retreat that you truly deserve even it is for a short duration!
So, Happy Exploring, People!