A luxurious and comfortable stay with the beaches tends to make a staycation more relaxing and enjoyable! The beautiful villas on the beach make it an idyllic place for you to stay. In addition, the serene location makes the resort all the more appealing to tourists.
If you love the sun and the sand as much as we do, then these are a few must-visit Beach Resorts in Malaysia that will make you staycation "oh so memorable" (you can thank us later!)
So read on-
1. TANJUNG RHU RESORT– LANGKAWI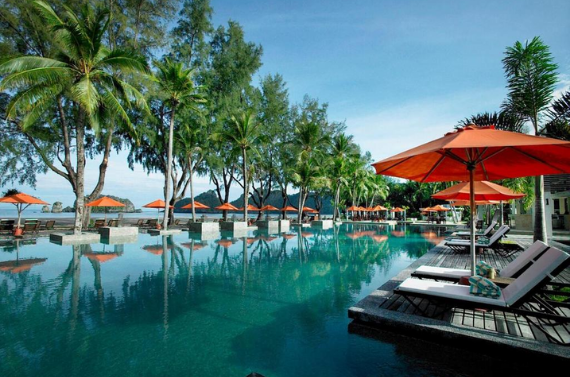 Located on the northern tip of Langkawi, Tanjung Rhu can be considered as one of the most peaceful and beautiful beaches on the island in Malaysia. Tanjung Rhu Resort is the only resort on that part of the island, ensuring its exclusivity and the privacy of its guests. The resort is flanked by a landscape of centuries-old limestone caves and uninhabited islands (#tranquillity).
All the rooms in the resort are spacious, with timber floors and large windows, so that you can take advantage of the tropical breeze! You also have the option to choose the view of your room- an enchanting garden, pool or sea view, as you like it (based on availability, obviously!).
You also have options to choose from the various activities at Tanjung Rhu Resort- a rejuvenating full-body massage, a mangrove riverboat ride, catamaran sailing, or exploring limestone caves — take a pick! (It's all great!)
Address: Tanjung Rhu Resort, Mukim Ayer Hangat, Langkawi, Malaysia
Phone: +6049591033
2. SHANGRI-LA'S RASA RIA RESORT – KOTA KINABALU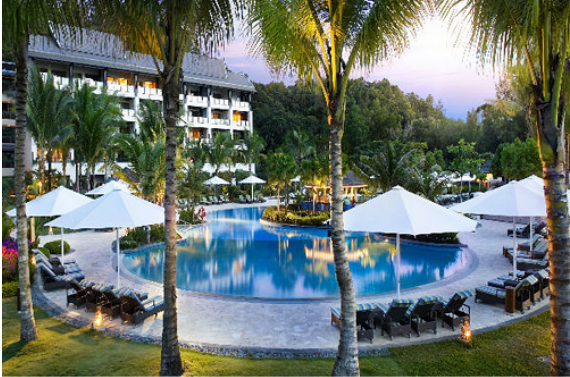 The Shangri-La's Rasa Ria Resort, which is located just over half an hour from the centre of Kota Kinabalu, is close to the crystal clear waters and beautiful pristine beaches. The various facilities that you can enjoy in Shangri-La's Rasa Ria Resort include a restaurant that serves Californian dishes, a gym, a steam room, and a massage service!
In addition, there is also a swimming pool, and the hotel even has its own golf course. In short, an unforgettable staycation!
Address: Shangri-La's Rasa Ria Resort, Pantai Dalit Tuaran, 89208 Kota Kinabalu, Sabah, Malaysia
Phone: +60 88-797 888
3. THE WESTIN LANGKAWI RESORT – LANGKAWI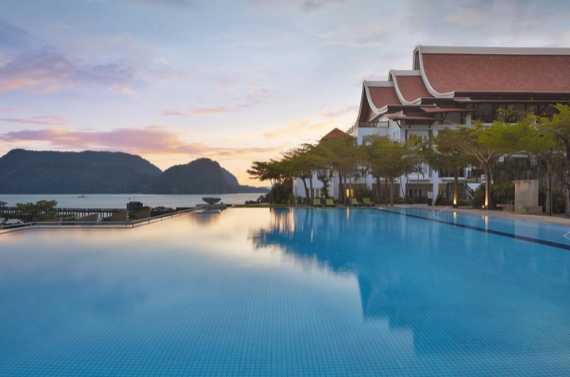 If you are looking for a long holiday filled with fun, tranquillity, and calmness, then we feel that you will fall in love with The Westin Langwaki Resort.
Luxury and comfort are offered in abundance at The Westin Langkawi Resort, which is also a one-stop destination for all your cuisine breaks, sports, and wandering adventures.
Located at a private beach, the resort offers a number of recreational facilities. It lies in very close concurrence to the Langwaki Terminal ferry, Kuah jetty, Eagle square, Lagenda Park, and more. The abundant comfort offered with each of the resort rooms will help you please and relax you on holiday (guaranteed)
Address: The Westin Langkawi Resort, Jalan Pantai, Jalan Dato Syed Omar, 07000 Langkawi, Kedah, Malaysia
Phone: +60 4-960 8888
4. FOUR SEASONS RESORT – LANGKAWI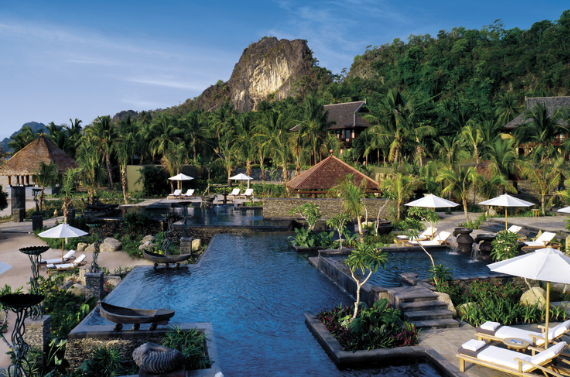 The Four Seasons Resort Langkawi, which is situated is located on the Tanjung Rhu Beach, offers the soothing sounds of the Andaman Sea and the breathtaking views of sunsets beyond the beach. All guest pavilions and villas are a fusion of traditional Malaysian design elements and contemporary resort features such as timber floors, soaring ceilings, and large open verandas.
The standalone villas also offer complete privacy overlooking the scenic azure sea. The spacious patio outside the room is furnished with a dining table for four and an oversized daybed. The living area includes a 42-inch plasma screen television and high-speed internet (welcome to paradise, folks!)
Address: Four Seasons Resort, Jalan Tanjung Rhu, 07000 Langkawi, Kedah, Malaysia
Phone: +60 4-950 8888
5. PANGKOR LAUT RESORT -PANGKOR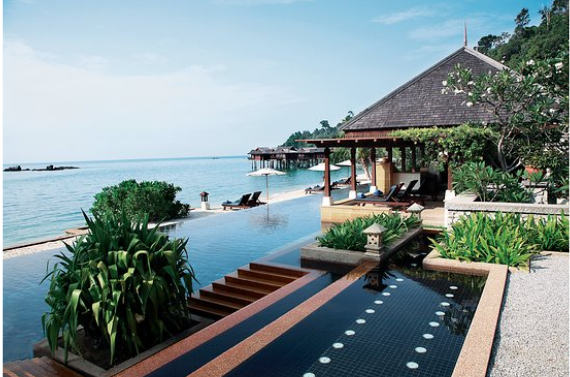 Pangkor Laut Resort is situated on the privately owned island that is located just three miles off the West Coast of Malaysia along the Straits of Malacca. There are no other resorts on the island, only secluded bays curled around pristine beaches and a deep sense of serenity reserved exclusively for the guests!
All the villas of the Pangkor Laut Resort are statically made along the island. Some are on the hillside amongst tropical rain forests, others in lush tropical gardens, and others overlooking the beach with beautiful views of the sea (totally Instagram-worthy staycation!)
Address: Pangkor Laut Resort, Pangkor Laut Island, Pangkor Laut, 32200 Lumut, Negeri Perak, Malaysia
Phone: +60 5-699 1100
6. BERJAYA TIOMAN RESORT - TIOMAN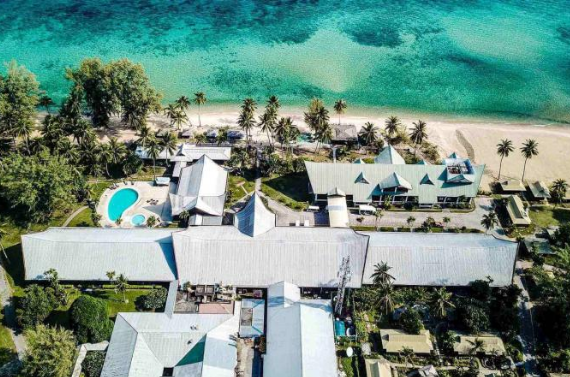 Densely grown palm trees, sandy beaches, pristine waters, outstanding hospitality, great ambience, and food are some of the Berjaya Tioman Resort's trademarks, one of the swankiest resorts in this locality (wanna bet?!)
This five-star resort also has its own golf club in addition to tennis, beach volleyball, cycling, basketball, cycling, island hopping, sunset cruise, marine park, round island tour, playground for kids, snorkelling & diving courses for adventure enthusiasts and so much many more (worth every penny!)
Address: BerjayaTioman Resort, 26800 Tioman Island, Pahang, Malaysia
Phone: +60 9-419 1000
7. CLUB MED RESORT – CHERATING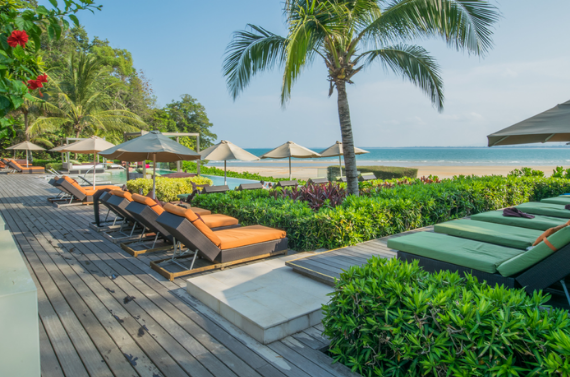 Set along a beach between jungle and the South China Sea, amidst tropical flora and fauna, and the calming waves, this award-winning relaxed all-inclusive, CLUB MED resort is a must-visit for a memorable gate away!
Housed on a lush property, the warm, understated rooms of the resorts offer TVs, mini-fridges, and tea and coffee making facilities. In addition, the Suites provide the options for the sea views, terraces and 4-poster beds, along with espresso machines and minibars. Other amenities include outdoor pools, a spa and a fitness centre, plus kids' and teens' clubs. Sailing and trapeze lessons can be arranged, as can kayaking and jungle walks (Bliss)
Address: CLUB MED, Hvom 29th miles Jalan Kuantan -Kemaman Pahang Darul Makmur, Jalan Kuantan Sungai Lembing, 26080 Kuantan, Pahang, Malaysia
Phone: +60 9-581 9133
8. TAARAS BEACH RESORT – REDANG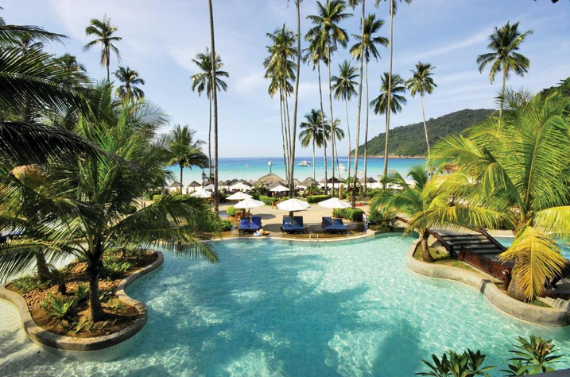 Located against the background of the beautiful South China Sea, the hills and tropical trees, this posh beachfront resort, TAARAS BEACH RESORT is a dream come true for the wanderlust people out there!
All the rooms are refined and fully furnished with balconies, flat-screens and mini-fridges. Suites have an added sitting areas and soaking tubs, some with jungle or sea views. Upgraded suites include Jacuzzis and espresso machines. A 5-bedroom villa features an elevator, a private chef and a butler. In addition, there are 2 upscale eateries, plus a cafe, a lounge and a beach bar. There's also an outdoor pool, a gym and a luxury spa (live life king size indeed!).
Address: TAARAS BEACH RESORT, Peti Surat 126, Main Post Office, 20928 Kuala Terengganu, Terengganu, Malaysia
Phone: +60 9-630 8888
9. SHANGRI-LA'S RASA SAYANG RESORT – PENANG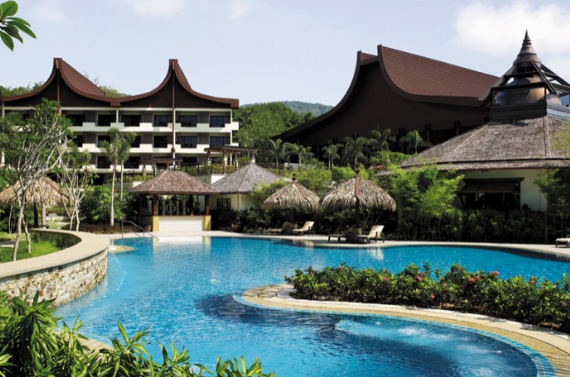 Situated on the Batu Feringgi Beach, amid 12 hectares of tropical gardens, this upscale beach resort, Shangri-La's Rasa Sayang Resort is just 11 km from Gurney Drive, a seafront promenade.
The sophisticated rooms of the beach resort include balconies with pool, garden or area views. All come with free Wi-Fi, flat-screen TVs, and tea and coffee making facilities; upgraded quarters have private gardens (spectacular indeed!)
Address: Shangri-La's Rasa Sayang Resort, Batu Feringgi Main Road Batu Feringgi Main Road, Jalan Batu Ferringhi, 11100 Batu Ferringhi, Pulau Pinang, Malaysia
Phone: +60 4-888 8888
10. JAPAMALA RESORT by Samadhi – TIOMAN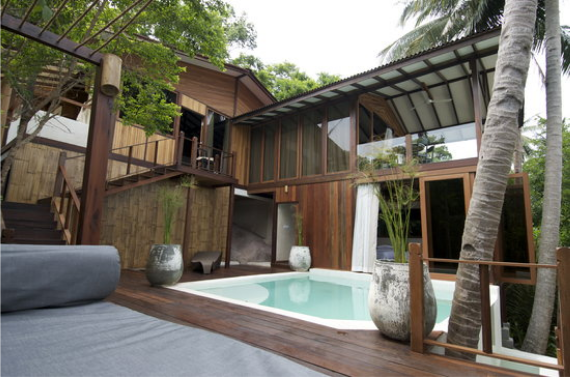 Amid the wildness of the jungle on the shores of a South China Sea island, this secluded, upscale beach resort JAPAMALA RESORT is truly mesmerizing!
The beautiful chic wooden cabins of the beach resort have air-conditioning, Wi-Fi access and iPod docks, plus flat-screen TVs, minibars and coffeemakers. All offer verandas and indoor showers, while some add outdoor showers and bathtubs, kitchenettes and/or hot tubs. There's also a house with a pool (who doesn't love pools, right?!)
Address: JAPAMALA RESORT, Kampung Lanting, 26800, Pahang, Malaysia
Phone: +60 9-419 7777
Take a break from your hectic schedule of life and visit these exotic and exclusive beach resorts Malaysia offers. The serene locations, in addition to the quaint ambience, are surely mesmerizing and worth the effort!