In times of stress, we often turn ourselves to food to provide emotional relief. It not only fills our stomach but also our spirits. Obviously, food is the way to one's heart and especially in Malaysia, food is everything to us. So, what do Malaysians like most? Check out our must-try comfort foods below:
1. Nasi lemak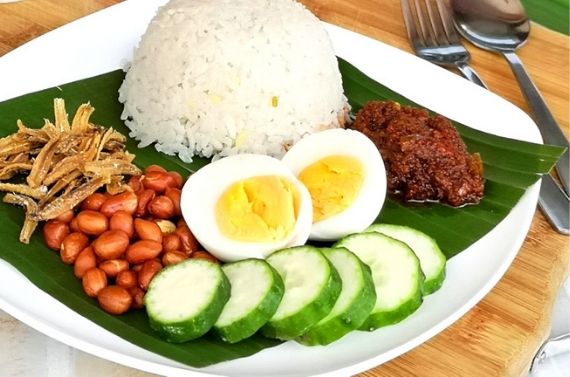 Nasi lemak is a Malay dish with fragrant rice cooked in coconut milk and betel nut. It is commonly found in Malaysia, where it is considered a national dish. It is also a native cuisine in neighbouring areas with significant Malay populations such as Singapore, Brunei and southern Thailand. In Indonesia it can be found in many parts of Sumatra; Notably Riau Islands and the Malay region of Medan. Sambal, anchovy, peanuts and boiled eggs are found in this traditional favourite. This is the most traditional version. The Nasi Lemak Stall can be served with fried eggs, cockle - a local favourite, Sambal Squids, Sambal Fish, Chicken or Chicken / Beef Rising, Squid Fritter or even Fried Chicken or Fish. It can also be consumed for breakfast, brunch, lunch, tea and dinner.
2. Laksa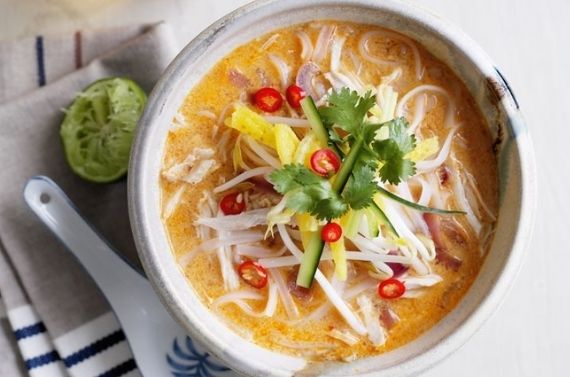 Laksa is a spicy noodle soup popular in Peranakan cuisine of Southeast Asia. Laksa consists of chicken, shrimp or fish with coarse wheat noodles or rice vermicelli, which is either rich and spicy curry based on coconut milk or on sour Asam (tamarind or jelgur) in spicy soup. Laksa is found in Indonesia, Malaysia, Singapore and southern Thailand. Different dishes of lac have gained popularity in Malaysia. In Indonesia, laksa is a traditional comfort food; Spicy hot noodle soup is very much appreciated on cold days. However, its popularity derives somewhat from Soto, a similarly hearty hot soup dish, often eaten with rice instead of noodles. In modern homes, it is common to mix and match luxe dishes. If traditional laksa noodle is not available, Japanese udon noodles may be used instead.
3. Kaya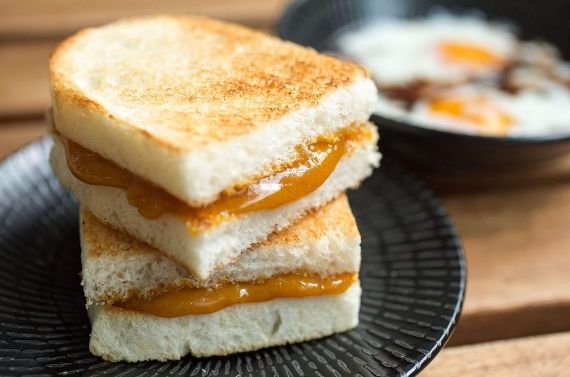 Kaya Toast is a Singaporean breakfast dish. A famous snack in the area, it can be eaten during breakfast or as an afternoon snack. Considered to have been invented by Hainan immigrants in Singapore, Singaporeans often consume this food with tea or coffee, which has included snack in many coffee houses. Singaporean companies such as Kun Kun Kaya Toast and Kilni Kopitiam are franchises that have served this popular snack. Kaya toast is usually made with kaya (coconut jam), sugar, coconut milk and eggs, pandan and sometimes margarine or butter. Kaya is usually served on toast, and sometimes on crackers. It is considered a breakfast staple, and remains popular in Singapore. The dish is sometimes dipped in soft boiled eggs with a little deep soy sauce and white pepper.
4. Curry puff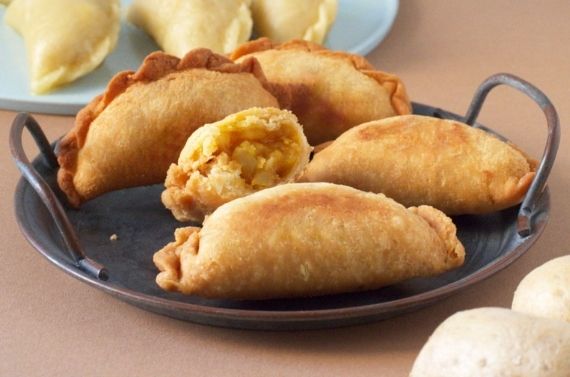 It is a snack of Malayan origin. It is a small pie that consists of chicken with curry and potatoes in a deep-fried or baked pastry shell. The curry is thick enough to prevent it from coming out of the snack. Although the origin of this snack is uncertain, the snack is believed to have originated in Malaya, due to the various influences of British Cornish pasties, Portuguese imperialism, and Indian samosa during the colonial period. Curry puff is one of several "puff" types that are pastries with various fillers, although now this is the most common. Other common varieties include eggs, sardines, and onions or sweet fillings such as yams.
5. Teh Tarik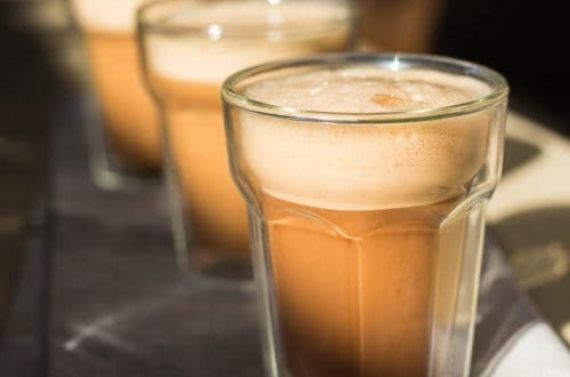 Teh tarik is a popular hot milk tea beverage most commonly found in restaurants, outdoor stalls and kopitiams within the Southeast Asian countries of Malaysia, Indonesia and Singapore. Its name is derived from the pouring process of "pulling" the drink during preparation. It is made from a strong brew of black tea blended with condensed milk. It is the national drink of Malaysia and extremely popular in Singapore
6. Jemput-jemput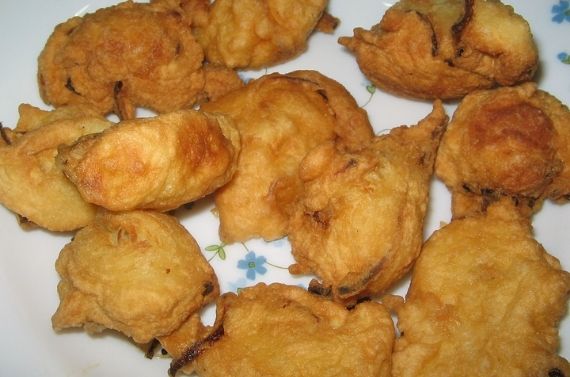 Jemput-jemput or cekodok is a traditional fritter made in Indonesia, Brunei, Malaysia and Singapore which is made from wheat flour. It is usually round in shape and varies in size. There are many varieties of this snack, some using bananas, anchovies or prawns, onions or corn.
7. Rojak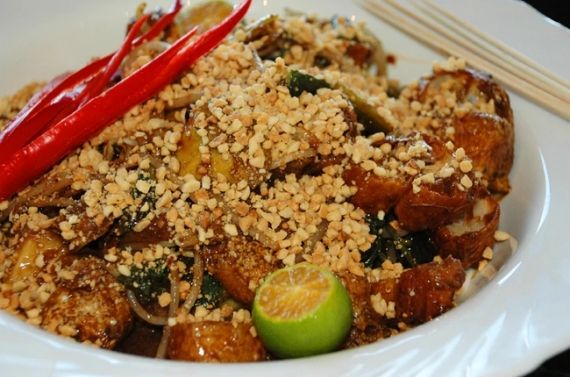 Rojak or Rujak is an Indonesian — Javanese traditional fruit and vegetable salad dish, commonly found in Indonesia, Malaysia and Singapore. Other than referring to this fruit salad dish, the term rojak also means "mixture" or "eclectic mix" in colloquial Malay
8. Cendol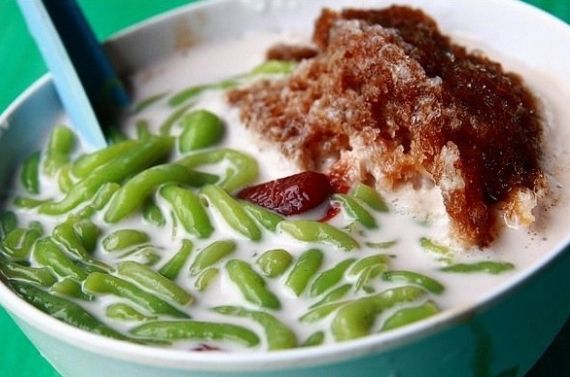 Cendol is an iced sweet dessert that contains droplets of green rice flour jelly, coconut milk and palm sugar syrup. It is commonly found in Southeast Asia and is popular in Indonesia, Malaysia, Brunei, Cambodia, East Timor, Laos, Vietnam, Thailand, Singapore, and Myanmar.
9. Kuih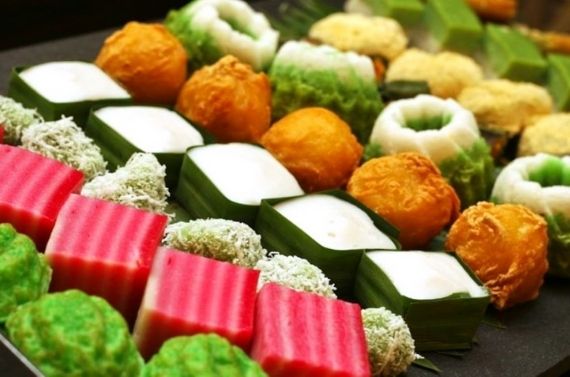 Kuih are bite-sized snack or dessert foods commonly found in Southeast Asia. It is a fairly broad term which may include items that would be called cakes, cookies, dumplings, pudding, biscuits, or pastries in English and are usually made from rice or glutinous rice.
10. Bubur Lambuk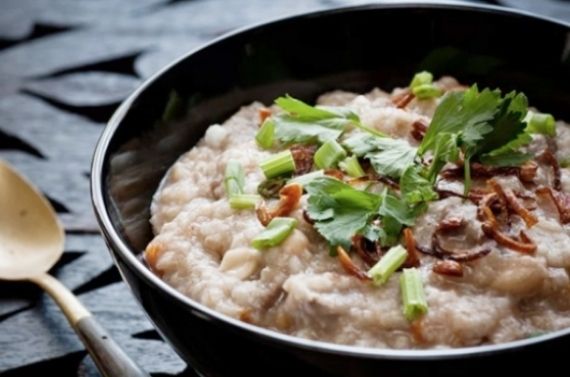 Bubur Lambuk is a Malaysian porridge dish that is considered a Ramadan speciality. The term 'bubur' means porridge and this particular recipe has been traced back to a mosque in the mid-20th century Kuala Lumpur. This lightly spiced porridge is an extremely delicious counterpart to the Cantonese or Chinese porridge, Bubur Ayam. Bubur Lambuk can be eaten without any side dishes because it comes with all the trimmings in it- vegetables, beef and traditional spices like cardamom, cumin and cloves. It is the ultimate comfort food for Malaysians during the fasting month of Ramadan.
So, which of these dishes is your comfort food? Malaysian street food has been and will always be the highlight of food diversity in the country. To know more about food and travel in KL, visit our website kualalampurhospitality.com.