Kuala Lumpur, Malaysia 's capital and one of the major cities in Asia, is a vibrant city that offers plenty to do for all. Kuala Lumpur or KL, as it is called by the locals, is so large and has so much to offer that you could possibly spend a lifetime exploring it but still find daily surprises in the city. This city has a variety of attractions for almost every taste, from the stunning urban spires of Kuala Lumpur's Petronas twin towers to major shopping malls like Bukit Bintang. There are several must-see day trips to explore for those staying a while. Here is a glimpse at some of Kuala Lumpur 's top 10 day trips_
1. Putrajaya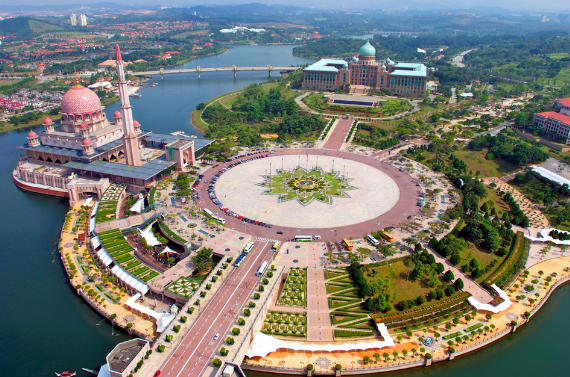 As of 2012, nearly all of Malaysia's government ministries reside in Putrajaya. This organized city is the country's administrative center while its capital remains Kuala Lumpur. It is the spot to go and see the buildings of the embassy, see the government in action, and explore beautiful architecture. Your trip to Putrajaya starts at Agriculture Heritage Park, where a large selection of commercial crops from Malaysia is kept. You will learn about the rubber manufacturing process here, from cutting trees for raw materials to smoked final product sheets. From the ornate splendor of the Putra Mosque and Istana Melawati to the lush expanse of the Putrajaya Botanical Gardens, this town offers a rich cultural experience for the thousands of civil servants residing here, and also the visitors who occur to explore Putrajaya for themselves.
How to reach Putrajaya from KL
Malaysia 's administrative center couldn't be easier to reach by public transport; the KLIA Transit train takes only 20 minutes to get to KL Sentral. Then it is a short bus journey from Putrajaya Sentral to the city center; signs and a ticket office will help you identify the route. (35 min (35.2 km) via Lebuhraya Kuala Lumpur - Seremban/E37)
2. Genting Highlands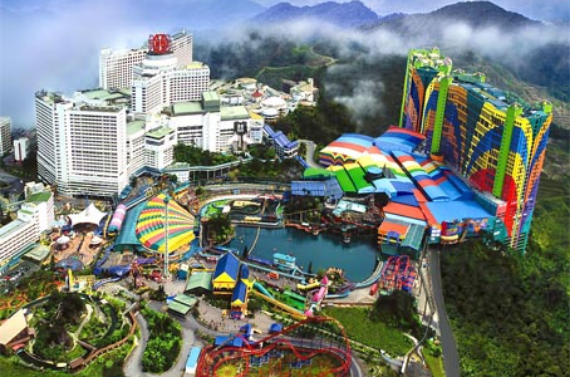 The Genting Highlands, the hilltop resort, with a theme park that is reachable by cable car from the skyway. Next to green wooded hilltops, visitors would be surprised to see a wide array of theme hotels and resorts similar to the Las Vegas strip. If the casinos aren't your favorite place, you can enjoy the enormous indoor/outdoor theme park. With roller coasters, Asia's only skydiving experience, and many more attractions, adrenaline rushing is sure to get into your veins.
How to reach Genting Highlands from KL
Situated northeast of Kuala Lumpur, every hour the bus departs from KL Sentral to the Genting Highlands. You can either take a bus right there or get off at Awana Skyway and take a wonderful cable car ride up the hill to the park for the last 15 minutes. This trip will take in total about an hour and fifteen minutes. (The distance among KL and Genting Highlands is 33 km. The road distance is 58.5 km.)
3. Bukit Fraser (Fraser's Hill)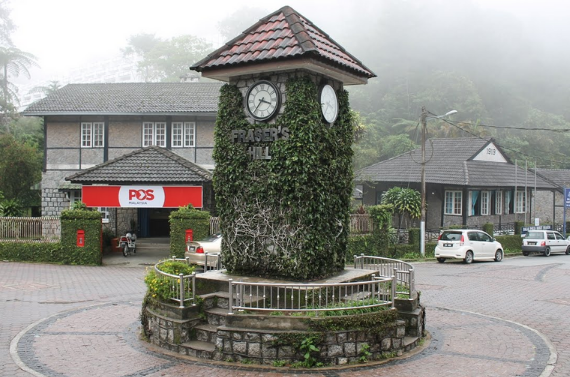 A quirky slice of colonial-era nostalgia lies deep in the highlands of rainforest-clad Malaysia. Centered around a clocktower, a golf course, a mountaintop village. From birdwatching to hiking, there are so many fun things to do at Fraser 's Hill (also known as Bukit Fraser in Bahasa Malaysia). This ancient forest, covered with hanging moss, is very well known for its diverse population of birds, and several bird watchers often come here and stay in the half a dozen hotels around the place. Golfers find great courses here, in areas once cleared to establish a small tin mining field. This is a very popular location with native Malays and Singaporeans, many of whom absolutely adore walking the region's many trails and enjoying the cool weather.
How to reach Bukit Fraser from KL
Unfortunately, Bukit Fraser 's beautiful hill resort has no direct connection to the capital, so it's not possible to take public transport to visit. The closest train you can get from KL Sentral to the town of Kuala Kubu Bahru, where you can take a 45-minute taxi ride to the resort, is an hour and fifteen-minute train. This will cost an estimated 80 MYR.
(1 h 59 min (100.9 km) via Jln. Temoh and Route 55)
4. Kuala Selangor Nature Park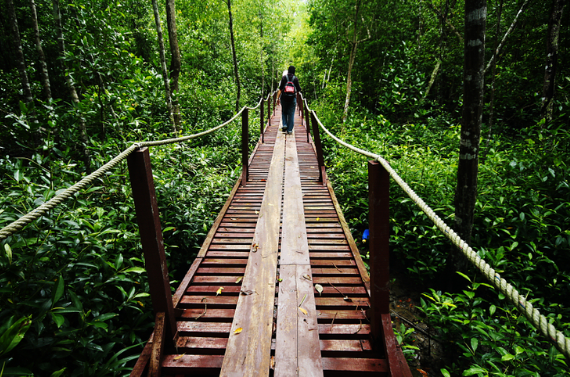 In 1987 the Malaysian Nature Society (MNS) and the Selangor State Government established Kuala Selangor, Nature Park. The Kuala Selangor Nature Park is just another famous day trip from Kuala Lumpur and serves as one of the finest examples of a preserved estuarine wetland across Asia. Home to the endangered milky stork, the park supported breeding programs when funds were allowed, and preserved the home for important species such as storks, herons, silver leaf monkeys, and macaques. But the main reason people go here is to amaze at the fireflies along the banks of the Selangor River. There is nothing like strolling in the night on a boat along the river to seize the beauty of this marvelous view.
Malaysia has been hiding somewhere inexpensive and just as remarkable, if not more, for far too long now. Sasaran is very equivalent to the illustrious Salar de Uyuni salt flats in Bolivia. This beach, awash with seagulls, is situated in the state of Kuala Selangor and offers travelers and photographers a stunning seascape of endless seas, mirroring the sky above. Sasaran is only gathered to tourists twice a month, that is, during the new moon and the full moon. Majestic sky-mirror phenomena occur only just a few select days of each month – during the 1st and 15th of the lunar month, and 4 days before and after those days.
How to reach Kuala Selangor Nature Park from KL
Lying on the western coast of Malaysia, Kuala Selangor Nature Park is around two hours away by bus from Kuala Lumpur. Catch a bus 100 from Medan Pasar Bus Center, which moves away every half hour to Kuala Selangor. When you get there, Nature Park is just a short taxi ride away.
(57 min (68.8 km) via Lebuhraya Utara - Selatan/E1 and Lebuhraya Kuala Lumpur-Kuala Selangor/E25)
5. Port Dickson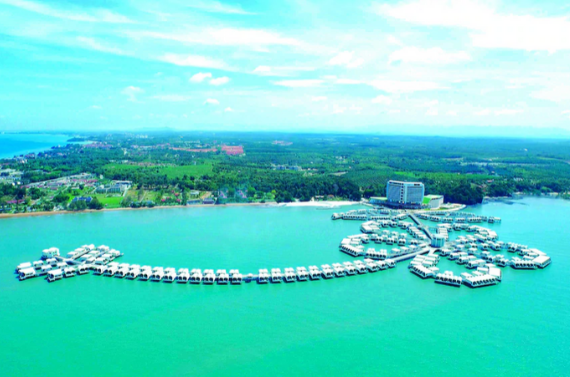 This cape town is only an hour's journey from Kuala Lumpur. It has been a busy port town since the colonial era when it acted as an exporting site for charcoal and tin ore. In more recent times, it has added a pair of refineries and holds its importance in shipping. Enjoy a day at the beach of round-trip transportation from Kuala Lumpur to Port Dickson, where you'll have leisure time to sunbathe, stroll to Cape Rachado Lighthouse, or try some enjoyable beach activities. Pre-arranged transport from Kuala Lumpur to Port Dickson allows you to get early on the day for far more time on the beach and relaxation, without the trouble of navigating complicated public transportation.
How to reach Port Dickson from KL
Just as Port Dickson does not have a direct public transport link with Kuala Lumpur, visitors wanting to take a trip to the beach resort town will need to take two busses to get there. You need to take an hour-long bus-ride from Pudu Sentral to Serembam. From here, the T30A bus will take you to Port Dickson; this trip takes about an hour.
(The distance between Kuala Lumpur and Port Dickson is 69 km. The road distance is 91.7 km.)
6. Kuala Gandah Elephant Sanctuary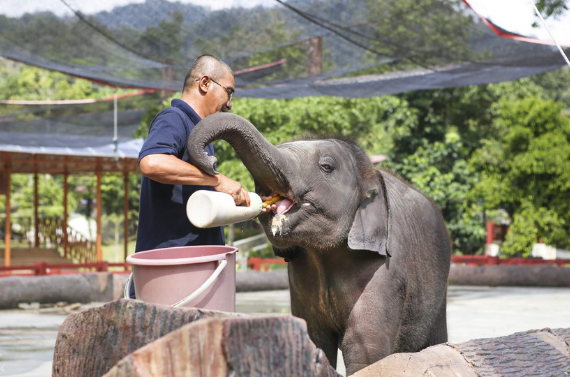 The Kuala Gandah Elephant Sanctuary is situated within the boundaries of the Krau Game Reserve. It is recognized to rescue elephants that are unfit for the typical use of farming or packaging animals and to move them to safe environments that give them independence without the need for conflicts with rural farmers. Visit the Kuala Gandah Elephant Sanctuary and know about orphaned elephants under the protection of the Malaysian Wildlife Society. See much more wildlife in Deerland Park or explore an Indigenous settlement on this full-day trip. The center also operates an educational center where visitors can see elephants showered and fed, explore educational videos, to get an opportunity to donate to the initiative to preserve the small population of Asian elephants even though they don't play well with others.
How to reach Kuala Gandah Elephant Sanctuary from KL
Although Kuala Gandah Elephant Sanctuary is a little bit complex by public transport from Kuala Lumpur, the end of the journey still requires a 15-kilometer taxi ride to the sanctuary. Once you're in town, you have to take a taxi to the Krau Game Reserve, where you'll find the sanctuary.
7. Bukit Tinggi_ Bentong village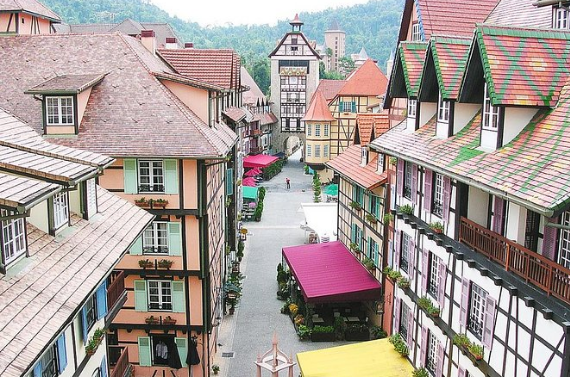 Bukit Tinggi French Village situated 2,000 feet above sea level is a busy little town hill village, full of activities and visitors. Certainly, cooling and refreshing weather is just what makes such a slight hill town one of the most famous attractions to visit in Malaysia. Here's a brief list of a few of the spots famous to Bukit Tinggi tourists_
1. Colmar Tropicale French Village
2. Japanese Village
3. La Cigogne Restaurant
4. Horse Trail Rides
5. Colmar Adventure Park
6. Botanical Garden
7. Rabbit Farm
How to reach Bukit Tinggi from KL
You can take a taxi, or you can hire a car to drive yourself, or (the choice you want to take) there will be a shuttle bus from the Berjaya Time Square Hotel, which runs twice a day, departing Kuala Lumpur at 9:30 a.m. and 2:30 p.m. and leaving Colmar Tropicale (Berjaya Hills) at 12:30 p.m. and 4:30 p.m.
(52 min (54.3 km) via Lebuhraya Kuala Lumpur - Gua Musang/E8)
8. Janda Baik_ River side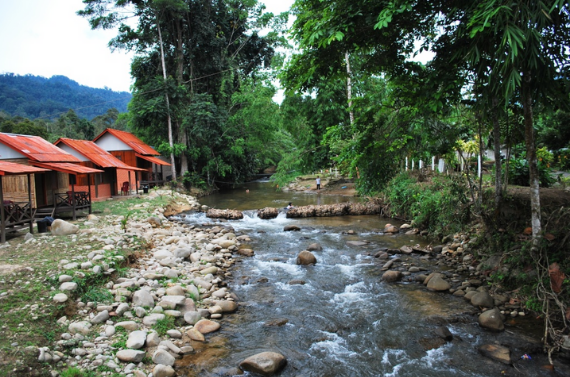 Janda Baik has a lot more to offer as a day trip from KL or a weekend getaway from Kuala Lumpur. Only a 45-minute drive from the city center, the location is graced with rainforest – one of the very few places in Malaysia that palm oil plantations have yet to take over. There are various waterfalls and picnic areas where you can soak up the fresh air of the hill. We suggest going early to avoid crowds and traffic. You would want to schedule a breakfast picnic and enjoy having a stream or jungle patch on your own.
How to reach Janda Baik from KL
Janda Baik is 45 km north of Kuala Lumpur and 1/2 hour drive from K.L. From the Gombak-Karak Highway. Kuala Lumpur International Airport is 100 km from the nearest airport. If you're flying in, you should use either the ERL (Express Rail Link), a taxi or a shuttle bus and get off at KL Sentral. You can either hire a car from KL Sentral or get a taxi to Janda Baik.
9. Melaka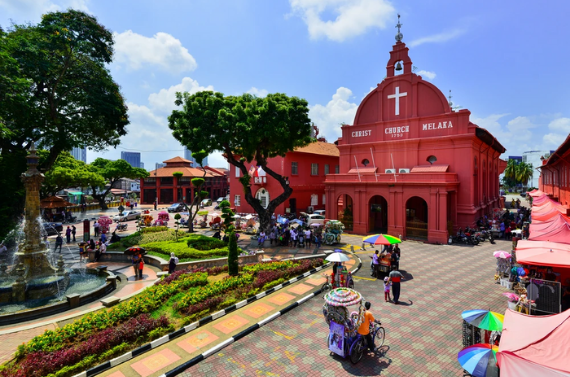 Only got a day off from work but don't know where to go? Why not immerse yourself in an abundance of culture, history, and gastronomic delight? Malacca used to be a prosperous trading port. It is overflowing with history today! Although it no longer enjoys the golden days of centuries gone by, it is still a melting pot of cultures that came to develop themselves via ancient conquests and trading. A day trip to Malacca is certainly going to be a great day out, particularly if you do it in a group; your family, friends, or colleagues. There are also plenty of attractions to fulfill your day and whet your repeat visit thirst.
1. A'Famosa Resort Malacca
2. Melaka Wonderland Theme Park & Resort
3. Jonker Walk
4. Air Keroh Lake
5. Malacca On Bike – Day Tours
6. Malacca River
7. Dutch Square
8. The Shore Sky Tower
9. The Stadthuys Malacca
How to reach Melaka from KL
The easiest way to get to Melaka is by taking a train from KL Sentral to Bersepadu Selatan Terminal (TBS) bus station, then booking a bus from TBS bus station to Melaka city. The bus ride from the TBS bus station to Melaka takes approximately 2 hours. The bus is the option which is the fastest, cheapest, and most convenient. Taking a taxi might be considered by small groups of travelers and families. But because of Kuala Lumpur's congestion, this will probably not be any faster than the bus. A car can be rented and gives you the ability to visit local attractions along the way.
(1 h 47 min (145.4 km) via Lebuhraya Utara-Selatan/E2)
10. Sekinchan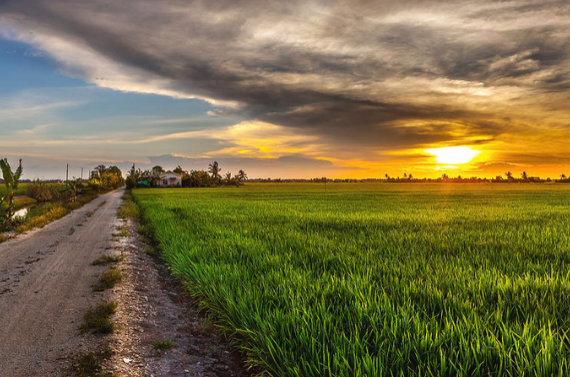 Sekinchan is a fascinating little town in the north-west corner of the state of Selangor called Sabak Bernam, about 100 km from Kuala Lumpur. Emerald-green rice fields await the Sekinchan, a fishing village with the highest rice production in Malaysia, on this full-day tour. Take a glance at this beautiful location for migrating birds, popular with Kuala Lumpur day-trippers. A fresh seafood lunch will be served in a local restaurant, between fruit orchards and Redang Beach visits.
How to reach Sekinchan from KL
Take the Kuala Lumpur E25 to Kuala Selangor (LATAR) Expressway. From Kuala Selangor follow Highway 5 through Tanjong Karang to Sekinchan. Sekinchan is about 1 and a half hour's drive away from the city center of KL. You can get there by car or bus from Puduray Bus Terminal (SPT Sabak Bernam-Kuala Lumpur).
(1 h 19 min (94.9 km) via Jalan Klang - Teluk Intan/Route 5)
What do you think of the above day trips from KL? If you haven't visited these day trips, make sure to add them to your bucket list. Subscribe to our mailing list and get more updates on KL and Malaysia.